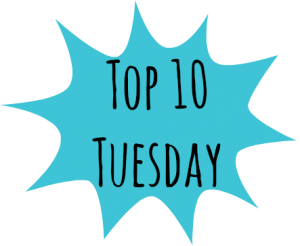 Top Ten Tuesday is a weekly bookish meme hosted by The Broke and the Bookish! 
This week we're talking about our favorite heroines! I'm going to split my list up and do five from books and five from TV/movies!
Books:
1. Celaena Sardothien from Throne of Glass series by Sarah J. Maas: OH THIS GIRL. She rattles the stars, she KICKS ASS, she inspires and I want to BE HER. There's not enough I could say about how much I love her.
2. Rose Hathaway from Vampire Academy series by Richelle Mead: I just want to be as snarky as she is. She will take on the world singlehandedly and I admire her determination, strength and loyalty! LOVE. HER.
3. Alina from The Grisha series by Leigh Bardugo: I'd follow her wherever she leads! She handles everything thrown at her and you can't help but love and admire her!
4. Scarlet from Scarlet series by A.C. Gaughen: She pretends to be a boy, Will Scar, just another member of Robin Hood's band. And she's AWESOME.
5. Feyre from A Court of Thorns and Roses by Sarah J. Maas: Let me just say… Sarah writes THE BEST heroines. Feyre supports her family, takes it all on herself and then when she's thrust into the Fae world, she keeps her head and fights for what she wants. Oh I just loved her. PREORDER THIS YOU GUYS.
TV/Movies:
1. Sydney Bristow: I ADORED Alias. (Okay and I still need to watch that last season though.) Sydney is BADASS. She's a double agent, she's fluent in how many languages?? And whenever she kicks ass I just want to BE here. When I took kick boxing classes I always tried to channel my inner Sydney Bristow. She's loyal, she's selfless and gah. I just love her.
2. Buffy Summers: BUFFY!! She saves the world. What else needs to be said?? She puts everything and everyone before herself and she's the best!
3. Echo: If you guys haven't watched the show Dollhouse, please DO! So amazing and Echo is fantastic. I think we're seeing a trend of kick ass girls, aren't we?
4. Hermione: Okay I stuck her in the movie section because I ran out of room in books. She's smart, she's loyal and she got things DONE! Where would Harry and Ron be?! Voldemort would be taking over the world, that's where we'd be…
5. Mulan: In order to save her dad, she pretended to be a man and went to WAR. Hello, how much more awesome can you get! (Did I make anyone else start singing "Be A Man" in their head?)
I pretty much want to be all of these heroines. Tell me who your favorites are!
Related Posts