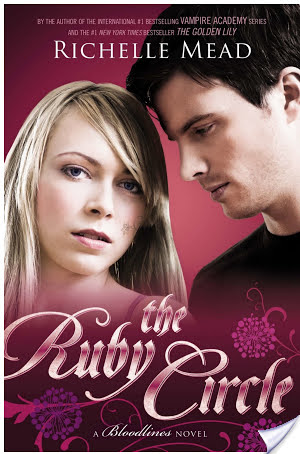 The Ruby Circle

by Richelle Mead
Published by Penguin on February 10th 2015
Genres: Friendship, Love & Romance, Paranormal, Young Adult
Pages: 368
Format: Hardcover
Source: Bought
Buy on Amazon
Goodreads


The epic conclusion to Richelle Mead's New York Times bestselling Bloodlines series is finally here...Sydney Sage is an Alchemist, one of a group of humans who dabble in magic and serve to bridge the worlds of humans and vampires. They protect vampire secrets—and human lives.After their secret romance is exposed, Sydney and Adrian find themselves facing the wrath of both the Alchemists and the Moroi in this electrifying conclusion to Richelle Mead's New York Times bestselling Bloodlines series. When the life of someone they both love is put on the line, Sydney risks everything to hunt down a deadly former nemesis.  Meanwhile, Adrian becomes enmeshed in a puzzle that could hold the key to a shocking secret about spirit magic, a secret that could shake the entire Moroi world.
As you all know, I binge read the Bloodlines series like crazy (five books in four days!) and when The Ruby Circle released, I read it that night. In one sitting. And now it's over! *cries*
My Thoughts:
I have to admit, when I first pulled the book out of the box I was a little distraught by how short it was. This is the END. I needed more pages! So it really wasn't actually that hard to binge it all in one sitting. 🙂
In the Ruby Circle, Adrian and Sydney go on a wild chase to find and rescue Jill. I liked the action parts of the storyline, liked seeing them work together and having other characters we've met along the way in the series make appearances. There was one side storyline I didn't like as much… not a big deal, but just throwing that out there. I wanted more Adrian and Sydney time together.
I really loved seeing Rose and Dimitri in it and having them play a larger role in this book. I adore them both and I really liked seeing all four of them work together. Adrian has come a long way than the beginning of the series when he couldn't even stand to be in the same room as those two! Honestly, Adrian and Sydney have had so much incredible growth in the series and I really liked the people they became. I mean, that's some fantastic character growth right there.
I have another minor annoyance but I'm not sure if that would count as a spoiler so I just won't say. Overall, there were some story lines that I wanted to see MORE of. If the book had just been longer, I think it could've touched on many of the things I'm thinking of. All that to say though, I still liked this series ender. Series enders are scary, they can totally define a series for me. I think things wrapped up well and it was an enjoyable end to the ride.
In Short…
While some areas left me wanting more, I was so happy to see Adrian and Sydney work together alongside so many other favorite characters. If the book length had been longer, I think some of my minor peeves may have been addressed. If you're a Sydrian fan, you need to read this, obviously. It left me sad to say goodbye to these characters I love so much!
My Rating: 
Related Posts