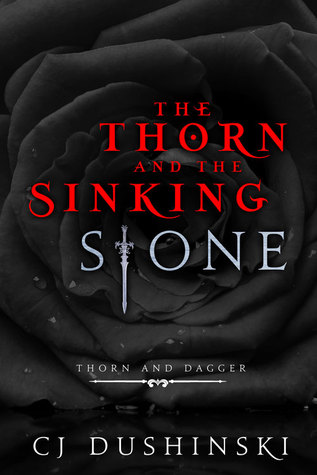 The Thorn and Sinking Stone

by CJ Dishinski
Series: Thorn and Dagger #1
Published by Entangled Teen on March 10, 2015
Genres: Friendship, Love & Romance, Paranormal, Young Adult
Pages: 247
Format: eARC
Source: Netgalley
Buy on Amazon
Goodreads


Warring families. Forbidden love. And danger they can't escape…

Daggers. Roses. Cowboys. Boat Men. Survivors of Earth's Last War, four "families" vie to rule the dreary streets of Rain City through violence and blood. Valencia Hara, Princess of the wealthy Black Roses, is raised in warrior ways with sharpened steel. But she is no ordinary Rose. She is Cursed—tainted with the ability to see seconds into the future…

To avenge his father's death, Sebastian Leold, of the rival gang Two Daggers, must face off against the Black Princess, he with his dagger, she with her katana sword. Yet a secret from a shared past leaves him unable to kill beautiful Valencia; nor can she kill him. For they once knew each other beyond their blood feud…and they have more secrets in common than they know.

But in a world filled with vengeance and violence, there can be no room for love…
I received this book for free in exchange for an honest review. This does not affect my opinion of the book or the content of my review.
Why Did I Read?
Danger and forbidden love? The synopsis sucked me right in!
My Thoughts:
Basically, in this dystopian-esque world, there are four different groups (also called gangs or families) that exist and they're all kind of enemies. The two we focus on in particular are the Daggers and the Roses. I like this concept of rivalry but with the rivaling families I guess I should've known that it would take a Romeo and Juliet spin. Unpopular opinion: I'm not a big Romeo and Juliet fan. I think the main thing that irritated me here with the R&J feel was that the war between the Daggers and the Roses just seemed stupid from the start. I feel like if I could've seen a really legitimate reason for the hatred even one that's since become muddled since the beginning, I could've been more on board with it.
Anyway, another part of the R&J feel came from our two main characters, Sebastion, from the Daggers and Valencia, from the Roses. I am all about forbidden love, I really am. But these two felt insta-lovey to me and I was skeptical at their sudden love. Maybe I'm just cynical.
So far, it makes me sound like I really didn't like the book which isn't true! I enjoyed the story. There is a paranormal aspect here, because there are people in this city who have what they call Curses which are supernatural abilities. This part I found really interesting — think X-men-like. There are also the Watchmen who are kind of like police? Except the scary dystopian government kind, not the trustworthy, help the people kind. I kind of wanted more insight on the Watchmen but that may be coming in the sequel. I also wanted more plot focus on the Curses, and less Garrett (Valencia's stupid older brother in charge of the Roses) being stupid and picking fights with the Daggers. I have a feeling we'll also get more of this in the sequel but the other two gangs — the Boat Men and the Cowboys: do they just not care? Because they were barely in the plot and I was curious.
In Short…
I really liked the concept of this world and the paranormal aspect with the Curse abilities. I was less excited about the romance part which felt like instalove. I wanted more in depth plot but it's set up for a sequel so perhaps that will focus more about the things I'm curious about and hope it will explore!
My Rating: 
Related Posts