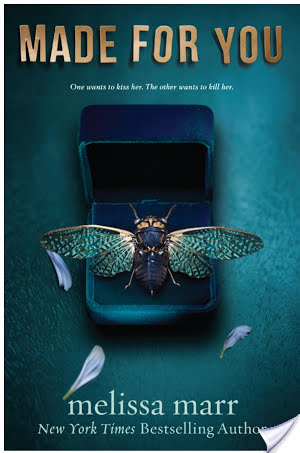 Made for You

by Melissa Marr
Published by Harper Collins on September 16th 2014
Genres: General, Love & Romance, Thriller, Young Adult
Pages: 368
Format: Hardcover
Source: Library
Buy on Amazon
Goodreads


Thrilling contemporary romantic suspense from New York Times bestselling author Melissa Marr. Eva Tilling wakes up in the hospital to discover an attempt has been made on her life. But who in her sleepy little North Carolina town could have hit her with their car? And why? Before she can consider the question, she finds that she's awoken with a strange new skill: the ability to foresee people's deaths when they touch her. While she is recovering from the hit-and-run, Nate, an old flame, reappears, and the two must traverse their rocky past as they figure out how to use Eva's power to keep her friends—and themselves—alive. Chilling twists, unrequited obsession, and high-stakes romance drive this southern Gothic, racy thriller—a story of small-town oppression and salvation. Melissa's fans and every YA reader will find its wild ride enthralling.
Why Did I Read?
I like thrillers! This one sounded creepy and interesting with that paranormal twist!
My Thoughts:
I entered this looking for a mystery and a thriller and for the most part, I got that. Eva is involved in a hit and run with someone clearly targeting to kill her. Other deaths pile up as well and no one knows who is behind it. In the meantime, Eva realizes that when someone touches her, she can see their deaths.
Unfortunately, I figured out the person behind it after the first chapter… maybe I'm just a good guesser. However, the story was still an enjoying ride. We never really get a good explanation or in depth detail about how Eva seeing people's deaths is happening, but, oh well. The death visions were actually really intriguing. Eva and her friend Nate try to use these visions to her advantage and figure out what will happen and prevent it from happening. I do wish there had been a bit more explained about this though. It's a big focus, obviously, in the plot and it's sort of just accepted. One thought I kept thinking was… isn't Eva going to be traumatized for the rest of her life from people touching her because she's going to be sucked into seeing their deaths?! No one thought about this, I guess…
The small Southern town setting was unique and the small town played a part in some of the killer's warped thoughts… at least it seemed to me. There are different POVs from the characters and the POV from the killer gives a special glimpse into the killer's mind which is… creepy. The killer believes fervently in what he/she is doing and has such an obsession with Eva it's unnerving.
I also really liked the family aspect in the story. At first it doesn't seem like it, but Eva's parents definitely took steps to remedy what was lacking in their relationship. It's refreshing to see that in YA and have parental involvement especially in mysteries.
In Short…
This story was definitely a page turner! I couldn't put it down and basically read it in one sitting. While I wished it was more of a thriller, it was still sufficiently thrilling that it satisfied my need for a mystery.
My Rating: 
Related Posts