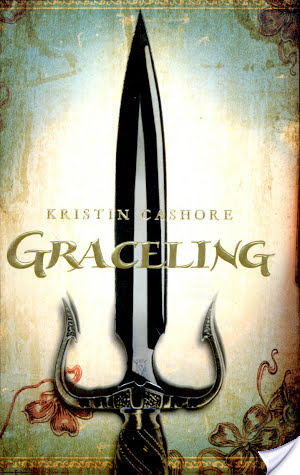 Graceling

by Kristin Cashore
Published by Houghton Mifflin Harcourt on September 7th 2009
Genres: Action & Adventure, Fantasy & Magic, Social Issues, Young Adult
Pages: 480
Format: Paperback
Source: Gifted
Buy on Amazon
Goodreads


Kristin Cashore's bestselling, award-winning fantasy Graceling tells the story of the vulnerable-yet-strong Katsa, a smart, beautiful teenager who lives in a world where selected people are given a Grace, a special talent that can be anything from dancing to swimming. Katsa's is killing. As the king's niece, she is forced to use her extreme skills as his thug. Along the way, Katsa must learn to decipher the true nature of her Grace… and how to put it to good use. A thrilling, action-packed fantasy adventure (and steamy romance!) that will resonate deeply with adolescents trying to find their way in the world.
Why Did I Read?
I've been meaning to read this for so long! My Secret Sister got it for me and I read it with Racquel and Betty!
My Thoughts:
This is everything I love about fantasy! There are different kingdoms and there are things called Graces that people can be born with. You can be Graced with an extraordinary ability to cook, or to fight, or to sew. When your Grace manifests, your eyes also change color — each of your eyes will be differently colored. Katsa, our main character, is Graced with killing. She is skilled in killing people and because of it, people are scared of her. Her uncle, the King, also uses her however he wants as his weapon.
Oh Katsa. I mean, of course I was going to love her. She is strong, courageous, loving and badass! She is independent and can take care of herself. She just needs to figure out that her Grace is not a curse. Enter, Prince Po. Po is a Graced fighter (oh those silver and gold eyes!) who becomes her friend. He supports her, in every way, and doesn't care that she can beat him to a pulp. He also doesn't shy away from her gaze like almost everyone else in her life does. I adored their relationship and that they fit SO well together.
Together, Po and Katsa journey to try and unravel what is going on behind a kidnapping of Po's grandfather. There is a whole big conspiracy going on and as they travel together, Po and Katsa find out more about not just each other but also themselves and it's amazing and wonderful. Katsa shows her grit and inner strength and is all that I love in my heroines! And Po! He is so wonderful and swoon worthy, not only because of his easy manner and charisma but he cares. He just has such a good heart.
In Short…
Graceling had all the components of fantasy I love. Action, amazing characters, strong heroine, peril and journeys and beautiful fantasy world. If you haven't read this yet, you must! Don't wait like I did because I loved this!! I didn't want to say goodbye to Katsa and Po, my heart was constricting as I neared the end. And THAT is a sign of a great book. 🙂
My Rating: 
Related Posts