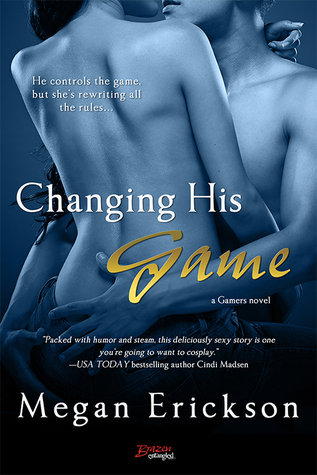 Changing His Game (Entangled Brazen)

by Megan Erickson
Series: Gamers #1
Published by Entangled Brazen on April 28th 2015
Genres: Contemporary, Fiction, Romance
Pages: 210
Format: eARC
Source: Netgalley
Buy on Amazon
Goodreads


A sexy category romance from Entangled's Brazen imprint...He controls the game, but she's rewriting all the rules...Marley Lake is no stranger to awkwardness, but getting caught watching a dirty GIF by the company's hot new IT guy exceeds even her standards. That is, until she realizes he's as turned on by it as she is. But with a big promotion on the line, she refuses to let her current dry spell be her downfall. Maybe. Austin Rivers has no business lusting after the irresistible editor of Gamers Magazine. He's a secret partner in the business-and technically Marley's boss. One look at that GIF, though, and he's ready to install a whole lot more than just software...as long as she never finds out who he really is. But reality's not as virtual as it seems, and when Austin's identity jeopardizes Marley's promotion, he has to change his game or risk losing the only woman with the cheat code to his heart.
I received this book for free in exchange for an honest review. This does not affect my opinion of the book or the content of my review.
Why Did I Read?
I really liked Megan Erickson's Bowler University series and was so excited to hear that she had a Brazen coming out — featuring a nerdy guy no less!
My Thoughts:
Marley is working at a gaming magazine, trying to get a promotion, when she meets Austin – the super hot IT guy that comes to help her fix her computer. Except Austin is really the secret partner of the magazine and technically her boss. We now have the set up for forbidden workplace romance! And Austin. He is sexy, smart, hilarious, nerdy and a video game fan. Helloo everything that I love. Austin was described in the book as speaking "encyclopedia talk" and yes, that is so accurate but it comes off as just adorable plus Austin is a dirty. talker. Just FYI.
I really loved the video game aspect! I love them — from shooting games to RPGs and everything in between! That's why I loved the nerdy video game side! Also Austin's quiet, cute, adorable nerdiness is to die for. Megan can write a nerd that's for sure!
I also liked Marley's dedication to her work! I loved seeing her work hard to get what she wanted while in a male dominated tech world. She's good at what she does and she strives to show it and get what she wants.
I also really liked the secondary characters! Austin's co-partner and best friend Grant tells Austin things like it is. I loved their frank honesty and how they could rely on each other! Plus I adored every single scene with Grant's daughter hanging out with "Uncle" Austin. Marley's brother Chad is also a funny addition. He helps balance Marley out and oh my gosh, his geeky jokes and innuendos. Hilarious!
In Short…
Nerds are the way to my heart and you all definitely need to meet this dirty talking nerd — Austin will make you smile and want to pick up a video game. 😉 This was such a great, quick, sexy read.
My Rating: 
Related Posts