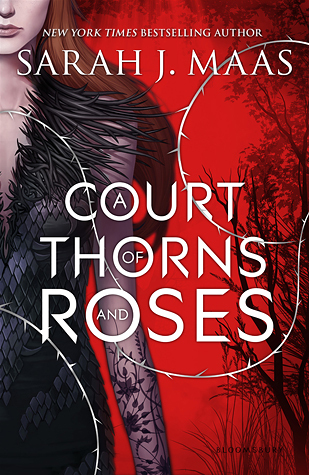 A Court of Thorns and Roses

by Sarah J. Maas
Series: A Court of Thorns and Roses #1
Published by Bloomsbury USA on May 5th 2015
Genres: Action & Adventure, Fantasy & Magic, Love & Romance, Young Adult
Pages: 432
Format: ARC
Source: Borrowed from Jessica at Lovin' Los Libros
Buy on Amazon
Goodreads


When nineteen-year-old huntress Feyre kills a wolf in the woods, a beast-like creature arrives to demand retribution for it. Dragged to a treacherous magical land she only knows about from legends, Feyre discovers that her captor is not an animal, but Tamlin-one of the lethal, immortal faeries who once ruled their world. As she dwells on his estate, her feelings for Tamlin transform from icy hostility into a fiery passion that burns through every lie and warning she's been told about the beautiful, dangerous world of the Fae. But an ancient, wicked shadow over the faerie lands is growing, and Feyre must find a way to stop it . . . or doom Tamlin-and his world-forever. Perfect for fans of Kristen Cashore and George R. R. Martin, this first book in a sexy and action-packed new series is impossible to put down!
I received this book for free in exchange for an honest review. This does not affect my opinion of the book or the content of my review.
Why Did I Read?
Are you kidding me? It's SARAH J. MAAS. I adore her. I will read anything she writes ever and I had only been anticipating this one since she first announced it!!
My Thoughts:
Sarah is the QUEEN of fantasy and let me just go follow her wherever she leads. I'm serious. Sarah must sprinkle magic onto her pages because THEY ARE MAGICAL.
A Court of Thorns and Roses tells the story of Feyre. It opens with her trying to support her family singlehandedly. They don't have enough money and barely enough food to get by and they all rely on her to fulfill their needs. (I was really irritated by them at the beginning.) While hunting, she kills a wolf in the woods — unbeknownst to her, the wolf was a Fae and a huge beast shows up to demand retribution for the life she took. Like the badass that she is, she agrees to go with him to his land, the land of the Fae — known for housing scary, vicious creatures. The Fae are immortal and crazy deadly; the Fae land is broken up into different regions, also known as Courts, and each is very different and really intriguing. Sarah just opens up this whole new awesome Fae world and it's just fascinating and makes me think "this is why I love fantasy!!" as I read.
And, ohhh the Fae. There are a lot of gorgeous Fae men in this book, let me just say. In a beautiful and inventive and amazing retelling of Beauty and the Beast, Tamlin and Feyre gradually strike up a friendship. HI TAMLIN. Okay, so Sarah just writes the BEST characters of all time. Tamlin is… fierce, genuine, loyal, good, brave, amazing — oh and totally sexy. And his best friend Lucien! Did I mention he's sexy too? Lucien is more… unpredictable, but cut from the same loyal cloth that Tamlin is. I love all the back story and detail that Sarah writes into her characters — I seriously come to know and love these people.
Sarah's storytelling is just on a whole new level. As the plot unfolds, I found myself glued to the pages and unwilling to stop turning them. (I read this in one sitting, staying up late to finish.) Like I said, the pages are magic. Not only did I love the characters and the romance and the sexy Fae and the friendships… it has that EXTRA something, that kick that ignites your emotions and has your heart exploding with how much you love everything. I can't put a name on that spark, but it just made me LOVE and ADORE this book so so much. I've had this preordered since forever and will most likely be rereading when it releases!
In Short…
Amazing badass heroine. Fierce, sexy Fae. Beautiful fantasy world and beautiful retelling. There are so many little details that make a nod to the original fairytale and they were perfect! The best part is, while I can't WAIT for the second in this series, this could be read as a standalone too! No cliff hangers. Now you go, and you get this book in your hands and thank me later.
My Rating: 
Related Posts