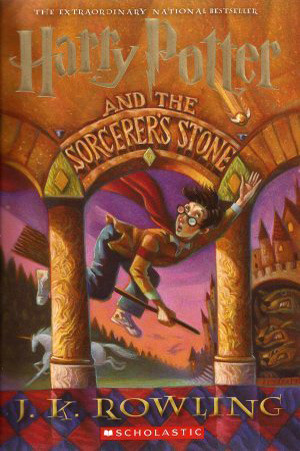 Harry Potter and the Sorcerer's Stone

by J.K. Rowling
Series: Harry Potter #1
Published by Scholastic on June 26, 1997
Genres: Action & Adventure, Fantasy & Magic, Friendship
Pages: 310
Format: Hardcover
Source: Bought
Buy on Amazon
Goodreads


Orphan Harry Potter is miserable in an under-stairs closet. Dursleys - his witch mother's sister, husband, Dudley - held no birthday party for Harry in 11 years. Owls fly notices to attend Hogwarts School. Giant Hagrid brings birthday cake. Wizard Harry flies on broom, hides under Cloak of Invisibility, sneaks past 3-headed dog with friends Hermione and Ron. A great destiny awaits if Harry can survive.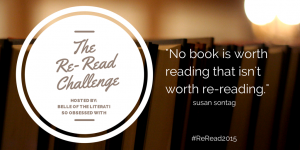 For my reread reviews for the Re-Read Challenge, I'll be adopting Kelly's reread review format!
When I First Read: Oh geez, I don't even know. Elementary school? 5th grade? I can't remember, but I know that I was swept up in it and would reread the books before the newest came out (so yes, I've reread Sorcerer's Stone like a gazillion times).
What I Remember: Glorious, amazing world that I wanted to live in! Wanted… pfft, still do!
Why I Wanted to Reread: This series has been such a big part of my life! I love all the characters and I hadn't reread in ages and knew this challenge would be great to go back and revisit one of my greatest loves! 🙂
How I Felt After Rereading: So when I first cracked it open, I was so excited! I smelled the pages and went "it smells like my childhood!" (I'm not crazy, I swear) It was like greeting an old friend. And afterward, I just felt so happy! I loved seeing everyone and everything when things weren't that bad. And it left me eager to delve into the next!
Would You Read Again? Umm hell yeah!
Tell me your thoughts on the first Harry Potter! How old were you when you first discovered the series??
Related Posts