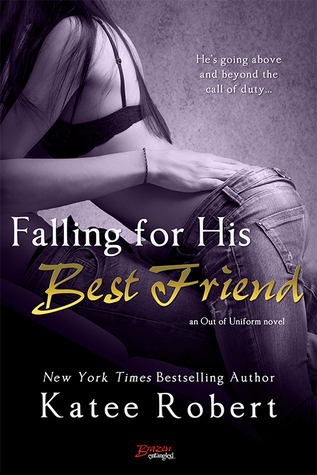 Falling For His Best Friend (Entangled Brazen)

by Katee Robert
Series: Out of Uniform #2
Published by Entangled Brazen on May 19th 2015
Genres: Contemporary, Fiction, Romance
Pages: 200
Format: eARC
Source: Netgalley
Buy on Amazon
Goodreads


He's going above and beyond the call of duty...Avery Yeung's biological clock just went off early. Thanks to her family's medical history, she's running out of time to get knocked up. And the only guy within donating distance? Her overprotective-and irritatingly hot-best friend. So clearly she needs an anonymous donor...

Anonymous donor? Over Sheriff Drew Flannery's dead body. While daddyhood will never be in the cards for a man with his past, Drew won't let Avery shop for a "popsicle pop." He'll do what's right for his best friend by doing his best friend. But only if they do it properly.But there's nothing "proper" about it. Between the bed, the kitchen counter, and against his squad car, Avery and Drew are having the hottest sex ever. They can't get enough of it-or each other. And without knowing it, they've crossed the one line that could ruin their friendship forever...
I received this book for free in exchange for an honest review. This does not affect my opinion of the book or the content of my review.
Why Did I Read?
Sometimes the mood just calls for something short and sexy.
My Thoughts:
Best friends to lovers is one of my favorite tropes, so of course I was excited about this one! Drew and Avery have been best friends since they were little kids and have been there for each other through thick and thin. They have always known they could rely on each other and have a great friendship. Avery has a family medical issue that haunts her thoughts and if she wants to have a child, she needs to do it now, or she may not be able to in the future. She decides on a donor because she desperately wants to have a child.
Drew is, of course, protective of Avery and he'd be damned if she was going to have some random guy's DNA making half of her child. He decides it has to be him. We can all tell where this is going. Lots of sexy times and they're forced to face the issue of their feelings for each other and if it is something real enough to risk their friendship.
While I enjoyed the story and I really liked Drew and Avery, I sometimes would feel maybe they were good as just best friends. I don't know if it's because I read the previous book (a companion) and we saw Drew and Avery as best friends there and I sort of just had that image in my head? Or maybe Drew's character is just so big brother-ly that I kept thinking of him like that? However, when the chemistry heats up between them, it does ratchet up quickly so that was good.
One thing that I really liked was that Katee was accurate in the Asian culture scenes that we see. While Avery's family is on the very traditional side, as someone who is Asian, it was nice to see the little details be accurate! Her grandfather she calls "yei yei". For those who don't know, in the Chinese language, they decided to be as confusing as possible and each relative has a different name you call them, depending on if it's paternal or maternal side, etc (it's complicated). A grandfather on her dad's side is yei yei. On her mom's side it'd be wai gong. (Forgive the pinying spelling if it's wrong.) It's cool to see the little details be correct. Fun fact. Last year I remember Katee asking some questions about Chinese culture on twitter and I remember talking to her about it so it was super cool to realize this book was what it was for!
In Short…
Overall, I enjoyed Drew and Avery's story! Their connection seemed a bit off to me at times, but I really did like them! They're so good to each other. If you're looking for a fun, sexy read with great characters, Falling For His Best Friend will get the job done!
My Rating: 
Related Posts