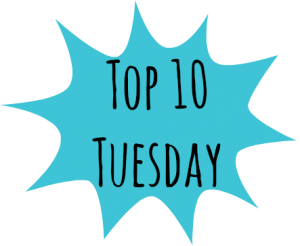 Top Ten Tuesday is a weekly bookish meme hosted by The Broke and the Bookish!
This week is a TTT freebie! I wasn't sure what to do at first but I've just finished binging Lisa Kleypas' Wallflowers series. The series features SUCH an amazing group of friends and I just adored their friendship so much. So it struck me. My favorite friendships!
The Wallflowers series by Lisa Kleypas: 
Annabelle, Lillian, Evie and Daisy. <3 !! They support each other, they're great listeners, advice givers; they comfort and laugh with each other and gosh I loved their friendship so so much.
Since You've Been Gone by Morgan Matson: 
I adored Emily and Sloane and everything this book said about friendship. It made me nostalgic for childhood best friend days.
Code Name Verity by Elizabeth Wein: 
*bursts into tears* KISS ME HARDY, KISS ME QUICK. Just go read it.
Open Road Summer by Emery Lord: 
Reagan and Dee! I loved how they had each other's backs and they knew and got each other. The type of friendship I just envied!
Harry Potter by J.K. Rowling: 
Hermione, Harry and Ron. They would not have survived without their friendship! There are SO many amazing friendships in this series though. Neville. Luna. Ginny. The twins. OH EVERYONE. So much love.
Pushing the Limits series by Katie McGarry:
Noah, Isaiah, Beth are like FAMILY. They're not blood but that doesn't matter, they would do anything for each other. I loved how close they are!
The Sea of Tranquility by Katja Millay: 
Drew and Josh! They seem like such opposites but I loved how they were still friends despite it all. Drew can reach Josh. Love those two.
The Covenant series by Jennifer Armentrout: 
Guys, I can't even tell you how much I loved all the characters, especially at the end. They sacrifice so much for their friends. <3
Heir of Fire by Sarah J. Maas: 
Chaol and Dorian! Oh was there ever more of an amazing friendship?? It doesn't matter if things drive them apart, because their friendship runs deeper than that! And THAT SCENE at the end…. oh god.
Tell me who your favorite friendships are! Do we have any ones in common?
Related Posts