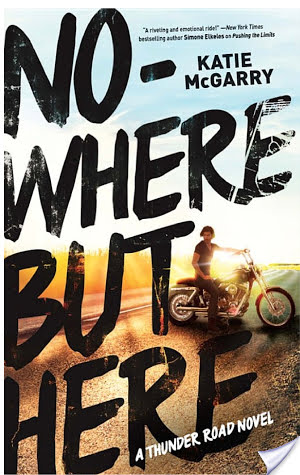 Nowhere but Here

by Katie McGarry
Published by Harlequin on June 1st 2015
Genres: Love & Romance, Motorcycles, Social Issues, Young Adult
Pages: 496
Format: ARC
Source: Gifted
Buy on Amazon
Goodreads


An unforgettable new series from acclaimed author Katie McGarry about taking risks, opening your heart and ending up in a place you never imagined possible.

Seventeen-year-old Emily likes her life the way it is: doting parents, good friends, good school in a safe neighborhood. Sure, she's curious about her biological father—the one who chose life in a motorcycle club, the Reign of Terror, over being a parent—but that doesn't mean she wants to be a part of his world. But when a reluctant visit turns into an extended summer vacation among relatives she never knew she had, one thing becomes clear: nothing is what it seems. Not the club, not her secret-keeping father and not Oz, a guy with suck-me-in blue eyes who can help her understand them both.

Oz wants one thing: to join the Reign of Terror. They're the good guys. They protect people. They're…family. And while Emily—the gorgeous and sheltered daughter of the club's most respected member—is in town, he's gonna prove it to her. So when her father asks him to keep her safe from a rival club with a score to settle, Oz knows it's his shot at his dream. What he doesn't count on is that Emily just might turn that dream upside down. No one wants them to be together. But sometimes the right person is the one you least expect, and the road you fear the most is the one that leads you home.
I received this book for free in exchange for an honest review. This does not affect my opinion of the book or the content of my review.
Why Did I Read?
I freaking adore Katie McGarry and was so excited that she was coming out with a new series! I was ECSTATIC when Danielle snagged me an ARC from ALA (<3!!)
My Thoughts:
So the setting and premise sounded really intriguing to me. Emily's biological father is the head of this motorcycle club and because of some family issues, she ends up visiting him and gets enveloped in a whole motorcycle club community and culture. The motorcycle club culture still mystifies me in some ways, probably because it's so far removed from anything I know. However, at its core, Emily's father's club is less on the side of the illegal and more on the side of protection and honor and respect. If you're one of them, they'll do anything for you.
However, Emily is not one of them and she is completely new to everything that has to do with her biological father. She doesn't want to know these people she's suddenly thrust upon and she doesn't want to have anything to do with the club. But due to some rivalry club's actions, she's forced to stay with them for awhile, for her safety.
Now, this book is about 500 pages. The first half dragged for me. I think at least 100 pages of that first half could've been chopped. I just really didn't think it was all necessary and instead just made me frustrated that nothing had really happened yet. There's also this big secret, a big something that happened in the past regarding her mom and biological father and no one will tell her details. This drove me nuts. I absolutely hate when something isn't revealed for plot purposes like that. Sometimes when you don't know something, it drives anticipation and builds excitement and THAT I am totally fine with. This just made me upset. The book is told in two POVs, Emily and Oz (I'll get to him in a minute) and Oz has some inkling of this secret. So when we're in his POV and he thinks something like "Emily thinks this" but "she doesn't know" this but doesn't say anything about what THIS is, it just feels like an annoying way of withholding something JUST to withhold it so the big reveal will work. I hope my rambling about that makes sense.
Anyway. Oz. He's not in the club yet, but his dad is and he expects to join after he graduates from high school. He has the whole bad boy vibe going on and while Emily is visiting, is instructed to watch her and keep her safe. This was the saving grace of this book for me. The romance was so well done and perfectly built up and amazing. Katie McGarry knows her romance! I loved seeing them go from hate to tolerating to reluctant liking to love. It's the kind of love that makes you smile and makes you happy. Despite everything these two have going against them, you can't help but root for them.
Katie writes her relationships, not just the romantic ones, so well. I loved seeing the family interactions, especially between Emily and her biological father. There are also the grandparents she never knew and a whole slew of club members that have all known about her. The secondary characters were fun to get to know and despite the rough beginning of this one for me, I'm still eager to see what's in store for some of these guys in the next book.
In Short…
While the beginning dragged for me, the romance in this one is pretty amazing. The culture of the motorcycle club is new to me and sometimes it's hard to understand the motivations of some people because of that disconnect. However, it was an eye opener to something I didn't know much about before! If anything, read this one for the romance because Katie McGarry just excels at that!
My Rating: 1/2
Related Posts