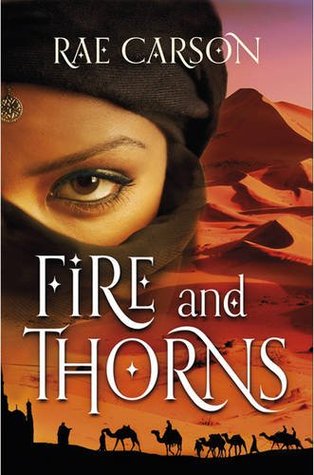 The Girl of Fire and Thorns

by Rae Carson
Published by Harper Collins on September 20th 2011
Genres: Fantasy & Magic, Royalty, Young Adult
Pages: 448
Format: Paperback
Source: Gifted
Buy on Amazon
Goodreads

Once a century, one person is chosen for greatness. Elisa is the chosen one. But she is also the younger of two princesses. The one who has never done anything remarkable, and can't see how she ever will. Now, on her sixteenth birthday, she has become the secret wife of a handsome and worldly king—a king whose country is in turmoil. A king who needs her to be the chosen one, not a failure of a princess. And he's not the only one who seeks her. Savage enemies, seething with dark magic, are hunting her. A daring, determined revolutionary thinks she could be his people's savior. Soon it is not just her life, but her very heart that is at stake.Elisa could be everything to those who need her most. If the prophecy is fulfilled. If she finds the power deep within herself. If she doesn't die young. Most of the chosen do.
 Why Did I Read?
This has been a fantasy series on my must read list for so long and I finally got to delve into it for my March series a month read! (Also I had the UK covers which is why I put those up and I actually really love the UK ones!)
My Thoughts:
I had heard SO much about this series from people and I knew I was in for some good fantasy! In A Girl of Fire and Thorns, we are introduced to Elisa. She is sixteen years old and she's getting married off to a king of a neighboring land (Joya d'Arena) by her father, the King of Oravelle. Elisa doesn't want to be married to a stranger, she's self conscious and she's (rightly) nervous. She carries a Godstone in her belly, signifying her as special and God-chosen to perform some great task — but she doesn't feel special and has no idea what to do with the expectations surrounding her. She is described as a heavier girl and because of that, she has these self image issues and wonders what her new king, new husband and new court will think of her. She gets shuttled off with her new husband and has a harrowing journey to Joya d'Arena.
After her arrival, there is political intrigue, talk of war, and lots of secrets, especially surrounding her Godstone. There is lots of action and adventure and in the process we see Elisa beginning to grow and change and gain confidence. Friendships are made and there is happiness and heartbreak and I fell in love with the world! The one thing I will say for this first book is that a certain Lord Hector who people talk about all the time is not really in it too much. Just FYI for those who haven't read and get confused when Hector is barely in it (namely, me, haha).
And while I thoroughly, very much enjoyed A Girl of Fire and Thorns, The Crown of Embers is where my heart truly took off with this series. Keep in mind I read the trilogy in a hazy blur of three (or four?) days and the details are sort of blending together. Also, if you haven't read the 2nd or 3rd books, there MAY be minor spoilers ahead.
Elisa started to really become a leader in the first book but she truly takes off in the 2nd and 3rd. In Crown of Embers, there is all this dissent about her leadership and doubt about her (there were a few people I truly wanted to clock in the head) but she keeps her head up. She is so smart and determined and she loves her country and her people! She matures and grows into this fantastic character that I adoredddd. There are lots of crazy magic and religion and prophecies and stuff going on that are all well and good and I LOVED the plot but you guys. HECTORRRRR. Lord freaking commander of my heart, Hector. My immediate reaction upon finishing Crown of Embers was this:

So you can see how I felt about that. 🙂 This is what ships are made of. Hector is the type of loyal, brave, good hearted man that you want as not only the commander of the royal guard but you know, AS THE LOVE OF YOUR LIFE.
The Bitter Kingdom picks up right where the Crown of Embers heartbreakingly ends. There is more action, adventure, Elisa trying to figure out how to save her kingdom and gah. In this last book, Elisa truly comes into her own and becomes this amazing, badass queen that grapples with huge decisions but never loses her head. All the secondary characters are amazing too if I forgot to mention that because they have just been developed so well! I found myself terrified that something bad was going to happen to one of them at every turn. And amidst the land being on the cusp of war and destruction, amidst the crazy, magic things happening, the reveals about Godstone related things and everything, there is the breath taking, heart stopping, drop everything and swoon romance. Elisa and Hector have joined the ranks of my all time favorite ships!
The series ended perfectly and I completely loved the last book. I found myself emotional but so happy at the end and with my heart just bursting.
In Short…
This series has everything I love in a good fantasy. The world building is beautiful, the magic is intriguing, the adventure nonstop. Best of all we get such an amazing character arc with Elisa and seeing her growth from a self-conscious young girl to a confident, smart, determined leader. I love awesome heroines like her! And of course the SHIP. I do love my ships and Elisa and Hector is a heart stopping one! If you haven't read this yet — DO IT. READ THIS. NOW.
Did you love this trilogy as much as me? This is definitely one I'll be rereading in the future!
Related Posts