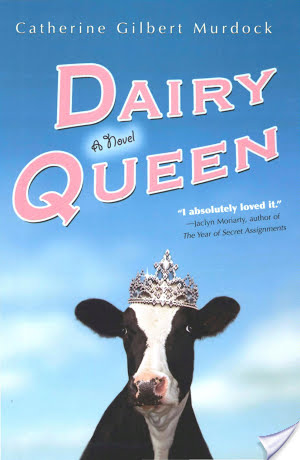 Dairy Queen

by Catherine Gilbert Murdock
Published by Houghton Mifflin Harcourt on June 4th 2007
Genres: Farm & Ranch Life, Football, Love & Romance, Sports & Recreation, Young Adult
Format: Audiobook
Source: Library
Buy on Amazon
Goodreads


When you don't talk, there's a lot of stuff that ends up not getting said. Harsh words indeed, from Brian Nelson of all people. But, D. J. can't help admitting, maybe he's right. When you don't talk, there's a lot of stuff that ends up not getting said. Stuff like why her best friend, Amber, isn't so friendly anymore. Or why her little brother, Curtis, never opens his mouth. Why her mom has two jobs and a big secret. Why her college-football-star brothers won't even call home. Why her dad would go ballistic if she tried out for the high school football team herself. And why Brian is so, so out of her league. When you don't talk, there's a lot of stuff that ends up not getting said.Welcome to the summer that fifteen-year-old D. J. Schwenk of Red Bend, Wisconsin, learns to talk, and ends up having an awful lot of stuff to say.
My audiobook reviews will be split into two parts — The Sound and The Story where I'll review the audio itself and then review what I thought about the story.
The Sound:
I really liked the narrator! She was exactly how I'd picture DJ to sound like plus the Wisconsin accent was great. I swear I started thinking in an accent on days when I'd listen to large chunks of the audio!
The Story:
A girl who plays football. How could I pass up this story?? (Firstly, ignore the awful cover. Like… what? Haha.) DJ Schwenk lives on a dairy farm and helps her parents out with the work around the farm. There's a lot of work that needs to be done especially since her two older brothers are off at college now. DJ is basically the sole person that keeps the barn running! One of my peeves with this book is that her parents didn't seem to have her best interests in mind! DJ is struggling in school and also stops playing basketball because she needs more time to work on the farm. Come on, parents. Sure, her dad is injured but no kid should have to shoulder that much responsibility.
Anyway, the whole Schwenk family loves football. Her older brothers were football stars in high school and DJ loves the sport too. I loved seeing all the fun football references! You know me, I love my football. Anyway, when the quarterback of her school's rivalry team is sent to the farm to work, an interesting bargain is struck. Basically, Brian, thinks he doesn't have to train all summer, but his coach had the brilliant idea that DJ could help him. DJ looks down at Brian because she's helped and watched her brothers train before and Brian just seems lazy. Slowly, the two become friends and I absolutely adored their training sessions!!
Firstly, the sessions were fun. DJ finds creative ways to train and help Brian improve his arm and his accuracy. Secondly, they gradually become friends and it was so nice to see DJ have someone to talk to. The people in her family DON'T talk and that lack of communication causes some serious problems. I really disliked how DJ never spoke out against all the demands her parents made or things they said — I just wanted her to SAY something! But gradually through the course of the story, she learns how to be more herself and I really liked seeing her grow into a more confident person.
I thought Brian and DJ's relationship was beyond cute. The whole book had a more MG vibe to me for some reason, even though they're in high school. Maybe just DJ's maturity level? But it didn't matter, I really enjoyed it!
My favorite part was the football element, obviously. It was fun to see DJ practicing, to see her playing with the guys and being GOOD at it. I think that's how I'd describe the majority of the book — fun! On the more serious side, it was nice to see her family start to talk to each other. Things aren't going to do a 180 right away but you can see things starting to change and that was nice.
In Short…
A fun story with a lot to say about family, football and growing up! I really enjoyed the cute romance start up between Brian and DJ and I LOVED seeing DJ be even better than the guys. Plus all the football references. Right up my alley!
My Rating: 1/2
Related Posts