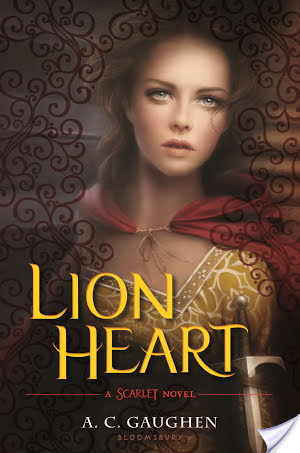 Lion Heart

by A.C. Gaughen
Series: Scarlet #3
Published by Bloomsbury Publishing USA on May 19th 2015
Genres: Action & Adventure, Adaptations, Fairy Tales & Folklore, Historical, Love & Romance, Medieval, Young Adult
Pages: 352
Format: eARC
Source: Netgalley
Buy on Amazon
Goodreads


Scarlet has captured the hearts of readers as well as the heart of Robin Hood, and after ceaseless obstacles and countless threats, readers will finally find out the fate of the Lady Thief. Only the greatest loves can survive great danger. . . Imprisoned by Prince John for months, Scarlet finds herself a long way from Nottinghamshire. After a daring escape, she learns that King Richard's life is in jeopardy, and Eleanor of Aquitaine needs Scarlet's help to free him. For a lifelong thief, this newfound allegiance to the crown-her family-is a strange feeling. Scarlet knows that helping Eleanor will put her and those she loves back in Prince John's sights. Desperate not to risk anyone's life but her own, Scarlet formulates a plan to help save the king on her own. But fate-and her heart-won't allow her to stay away from Nottinghamshire for long. Even if Scarlet and Rob can together stop Prince John from going through with his dark plans for England, will their love be enough to save them once and for all?
I received this book for free in exchange for an honest review. This does not affect my opinion of the book or the content of my review.
Why Did I Read?
The long awaited series ender! Would Rob and Scarlet finally get their happy ending? Would there be more heartache? I couldn't wait for it!
My Thoughts:
There may be spoilers for the previous books but no spoilers for Lion Heart! Lion Heart picks up right where we left off. Scarlet has been taken captive by Prince John. No one, it appears can save her. Thanks to a guard loyal to Queen Eleanor, Scarlet makes an escape. To be honest, the first 40% was a little slow for me. Perhaps Lady Thief just had so much action in it, but I was yearning for something to start happening. We also don't see Rob for a large chunk and I was dying to see him!
But. When we finally get the Rob and Scarlet reunion, it was everything I wanted it to be. I've spent this series rooting so hard for these two and loving them so much that I was SO happy to see something good happen. So while I think Lion Heart was a bit scant in the plot department, it was overflowing in the swoons/romance department and made my shippy heart all kinds of happy!
I always love when I love secondary characters just as much as the main ones and become invested in them. This can sometimes be dangerous (*eyes the heart achingly horrible thing that happened in Lady Thief*) but when you get that type of emotion, you know the author's done something right in building the characters! I really really loved Allan and David. They bicker and crack me up and I just love Allan's sense of humor. Of course, we can't forget about Much and I really liked seeing his character arc too!
However, I think the ending was way too abrupt for me. For the majority of the book, I thought not much was happening, but then a LOT of stuff happened all at once and bam! The end. It was surprisingly abrupt and I felt like we could have used another chapter or so at the end. Some kind of denouement. Other than that though, I thought this was a solid series ender.
In Short…
While I thought the plot was a little thin, the romance and ship between Rob and Scarlet was simply amazing. The book ended way too suddenly for me and I wish that it hadn't felt so abrupt. However, Lion Heart was a solid end to a truly fun series with an amazing heroine that I really enjoyed! If you haven't started this series, you must try it!
My Rating: 1/2
What are your thoughts on Lion Heart? Did you think it was a satisfactory series ender?
Related Posts