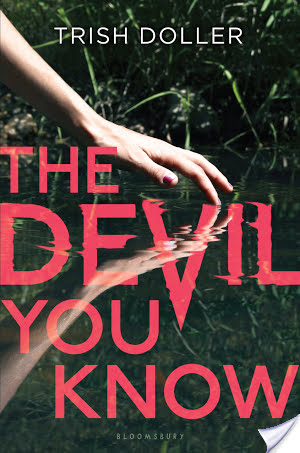 The Devil You Know

by Trish Doller
Published by Bloomsbury Publishing USA on June 2nd 2015
Genres: Action & Adventure, Love & Romance, Social Issues, Violence, Young Adult
Pages: 304
Format: ARC
Source: Publisher
Buy on Amazon
Goodreads


From critically-acclaimed author Trish Doller comes a powerful new psychological page-turner perfect for fans of Lauren Oliver and Sara Zarr. Eighteen-year-old Arcadia wants adventure. Living in a tiny Florida town with her dad and four-year-old brother, Cadie spends most of her time working, going to school, and taking care of her family. So when she meets two handsome cousins at a campfire party, she finally has a chance for fun. They invite her and friend to join them on a road trip, and it's just the risk she's been craving-the opportunity to escape. But what starts out as a fun, sexy journey quickly becomes dangerous when she discovers that one of them is not at all who he claims to be. One of them has deadly intentions. A road trip fling turns terrifying in this contemporary story that will keep readers on the edge of their seats.
I received this book for free in exchange for an honest review. This does not affect my opinion of the book or the content of my review.
Why Did I Read?
I have always been a fan of thrillers!
My Thoughts:
I've always liked reading thrillers. I like the sense of mystery and being on the edge of your seat and unable to put the book down. I pretty much had all of this with The Devil You Know! Granted, I sort of had the killer pegged from the start… but even so, I was still glued to the pages! Despite knowing, the ride to get to the end was still filled with twists and turns and I really enjoyed it!
The story is set in Florida and Cadie has had enough of being the responsible one, of being the one keeping her family together. She's basically raised her little brother since her mom passed away and her dad wasn't able to step up. As a result, she's had to waylay a lot of things in her life. She stopped playing soccer. She broke up with her boyfriend. She has all these plans and places she wants to travel to one day. She just doesn't know when that will ever happen. Then one night, at a bonfire party, she meets two attractive guys and she hangs out with them. It's fun. It's carefree. It ignites something in her and she just wants to put off her life for a little while and go, have fun, be someone she hasn't been able to be. So she and her friend go off with them on a little road trip.
Now, you might be thinking to yourself, really, Cadie? That doesn't sound safe. But when I was reading it, I could sympathize with Cadie. I could understand how she felt, that she just wanted this bit of fun for herself. And these guys seemed nice enough, her friend was with her and she had her cell phone. I could get it. So while I can see people saying how naive Cadie was, I could also understand her emotions and motivations, and see how she got swept up in this.
Now, you've got these two guys. Matt and Noah. I had an inkling about the twist and I ended up being right but like I said, I still thoroughly enjoyed it. It was interesting getting to know Matt and Noah and seeing their differences. I won't say much more about them because it's just better to enter with a blank slate. View Spoiler »I knew it couldn't be Noah because of his dog! That dog clearly loved him and trusted him. She followed him everywhere. Psychopaths don't form emotional bonds, especially with animals and even if they pretend, you can't pretend up that kind of dog relationship. Maybe that's naive of ME, haha, but I was like, that dog loves and trusts him. There's no way. « Hide Spoiler
One thing I really loved about this one was how I felt as if I was there, exploring the backwoods of Florida. The descriptions and writing was so well done that I could imagine everything so vividly. This was actually my first Trish Doller book but it certainly won't be my last! Her writing is superb!
In Short…
I really enjoyed this thrilling ride! While I figured the twist out relatively early, it didn't hamper my enjoyment at all. I read it in one sitting, not wanting to put it down. I felt as if I was right there with Cadie, road tripping through Florida, and I loved being swept up in the story!
My Rating: 
Related Posts