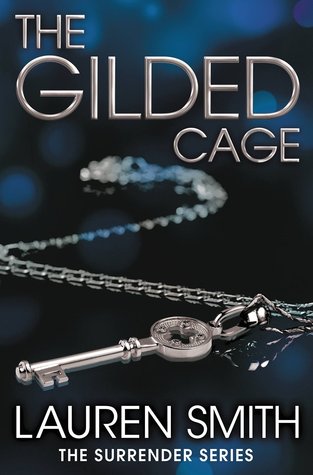 The Gilded Cage

by Lauren Smith
Series: Surrender #2
Published by Grand Central Publishing on June 2nd 2015
Genres: Contemporary, Fiction, Romance, Suspense
Pages: 384
Format: eARC
Source: Publisher
Buy on Amazon
Goodreads


Passion that takes no prisoners, and love that tests the limits of ecstasy . . . Fenn Lockwood comes alive in the shadows. Though he might have physically survived the kidnapping that stole his childhood, the trauma and pain he lived through have marked him forever. Now the only place where Fenn can be himself is within the walls of his private BDSM world-a place of erotic obsession, where desire isn't just captured . . . it's bound. Hayden Thorne knows that behind Fenn's hardened exterior is a man worth fighting for. Yet to save him from the past that still haunts him, Hayden will have to abandon every inhibition she's ever had and venture into Fenn's intoxicatingly sensual world. Each tantalizing second she spends in Fenn's searing embrace is more delicious than the last and soon Hayden begins to think that she may never want to leave such torturous bliss . . .
I received this book for free in exchange for an honest review. This does not affect my opinion of the book or the content of my review.
Why Did I Read?
Estelle asked me if I would like to read it for review and I'm so glad I said yes!
My Thoughts:
I was so surprised by this book. I don't think I realized how much suspense would be in it and how wonderfully balanced the suspense and the romance was! I was seriously roped in from page one and was immersed into the story! Technically, this is a companion to book 1, The Gilded Cuff, and I think I would recommend reading that first to get some of the background of the story and characters (no, I haven't read it yet, but YES, I totally am going back to read it!)
So basically, Fenn Lockwood is the long lost twin of Emery Lockwood. They were both kidnapped when they were eight years old and everyone thought Fenn died. After the events of book 1, it is discovered that Fenn is alive — except he has no memories of his childhood and has no idea he was kidnapped all those years ago. Fenn has grown up in Colorado and is a rancher and bull rider. You all know I have a weakness for a man in wranglers and a cowboy hat! I pretty much fell in love with him from the start. He's kind of gruff but kind, fierce and protective and loyal. It's interesting because while he has a long lost family he has no idea exists, he's been living with another family that has taken him in and he has this dedication to them that I loved seeing.
So anyway, the people that kidnapped Fenn and Emery way back when are trying to finish the job of killing them. Hayden Thorne and her brother Wes, have come to warn Fenn and hopefully help him remember. Hayden is this little spitfire and I just loved her. She is so independent and determined to make a path for herself in the world. She wants to do something that matters, not just be the type of trophy wife her rich parents want her to be. She has such an unbeatable spirit and I really admired her! Anyway, when she meets Fenn, serious sparks fly. It's a little instalovey but I didn't really care — especially because the way their relationship builds is in depth.
What I really enjoyed is that the romance didn't overshadow the suspense plot and vice versa. The romance was weaved in and around the high stress suspense plot so seamlessly and didn't make me raise eyebrows at any point. (It always bugs me if say, something serious is going on — gunfire, a kidnapping, whatever — and the leads are about to tear their clothes off. Umm, really, you may get killed right now, are you really in the mood? So a big hurray for that not being the case here!) We get both amazing romance and amazing edge of your seat plot line.
You know what else surprised me in this book? The emotions! Did you know that you can almost cry while reading an erotica? The familial relationships and deep friendships in this book were amazing. Lauren will make you feel each relationship and connection between the characters so acutely and there is just so much.. DEPTH in the secondary cast of characters! I feel like I'm doing a poor job communicating how much I loved these relationships so you should just read it and then you'll know what I'm talking about. 🙂
In Short…
The Gilded Cage was filled with the perfect balance of suspense and romance; you will not want to put it down! I loved the characters and was invested in the outcome. I'm excited to go back and read the first for Emery's book. I think I'm biased toward Fenn right now so we'll see who takes the upper hand afterward. Not to mention, I'm also looking forward to the next in the series!
My Rating: 
Related Posts