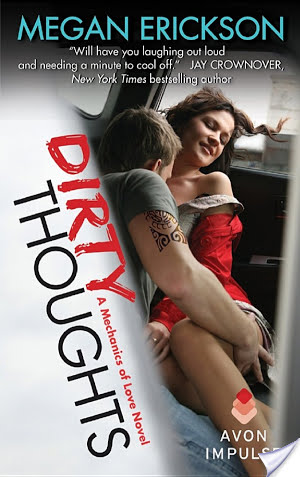 Dirty Thoughts

by Megan Erickson
Series: Mechanics of Love #1
Published by HarperCollins on June 16th 2015
Genres: Contemporary, Fiction, Romance
Pages: 304
Format: eARC
Buy on Amazon|Buy on Barnes and Noble
Goodreads


Some things are sexier the second time around

Cal Payton has gruff and grumbly down to an art...all the better for keeping people away. And it usually works. Until Jenna Macmillan—his biggest mistake—walks into Payton and Sons mechanic shop all grown up, looking like sunshine, and inspiring more than a few dirty thoughts.Jenna was sure she was long over the boy she'd once loved with reckless abandon, but one look at the steel-eyed Cal Payton has her falling apart all over again. Ten years may have passed, but the pull is stronger than ever...and this Cal is all man.

Cal may have no intention of letting Jenna in, but she's always been his light, and it's getting harder to stay all alone in the dark. When a surprise from the past changes everything, Cal and Jenna must decide if their connection should be left alone, or if it's exactly what they need for the future of their dreams.
I received this book for free in exchange for an honest review. This does not affect my opinion of the book or the content of my review.
My Thoughts:
I absolutely loved Megan's Bowler University series so when I heard that she was going to be doing a spin off series about Max Payton's brothers, I was ALL over that. Cal Payton works at Payton and Sons mechanic shop with his brother Brent and his dad Jack. Cal is so grumpy and stubborn but he has SUCH a soft heart underneath all his gruffness! I loved how grumpy he was. Being the oldest, he was the one who basically raised his two younger brothers when his mom up and left them when he was six. He hasn't had it easy. Now that his brothers are grown men, he wants to settle in his house, alone, with his bike, and live happily ever after in his bachelorhood.
But he wasn't always like that. He once had a high school love — Jenna MacMillan. And when she waltzes back into town and his life, it's like those ten years didn't happen. He was right back to how he felt about her back then. I love reading second chance romance stories and this one seriously takes the cake. There were times I felt like I was near tears with how much emotion and love Cal felt for Jenna but he kept trying to stow it away. He was content in his stubborn ways and he didn't want that heartbreak or as he so eloquently puts it "fucking feelings". (You've just gotta love him, am I right?) Things are just so much easier when he's alone.
But Jenna slowly integrates into his daily life and maybe it's not so bad. I really liked Jenna — she's this no nonsense girl that's strong and knows what she wants and goes after it. She's working for her family's company now and she's great at it. I love that she knows she's good at what she does and isn't going to take shit from people that are trying to put her down. She also brings out the soft side of Cal and it's absolutely freaking adorable watching them interact. Their argument about brownies in the grocery store? Best. Ever. They're so perfect together and every single scene they're together I just wanted to hug and squeeze them together.
I've read almost all of Megan's books and I want to say that her sexy times in this one are my favorite! Is it because I just can't get enough of Cal in coveralls and oil and sweat and grime? In a truck? In a bed? (I'm starting to sound like a dirty Dr. Seuss book, I'll stop now.) Anyway, Cal may be biasing me. 🙂 There is also a really strong family element in it that I loved. Cal starts to come to terms with what he wants when a big surprise drops in his lap and let me just say — I can't get enough of the Payton brothers together. Every single one of them is so different but gosh, do I love them all. Brent, especially, brought so much humor to the story line – I kept grinning at Cal and Brent bickering. (I am SO excited for Brent's book to come!)
In Short…
Dirty Thoughts is such a great second chance romance with an amazing emphasis on family and love and relationships. The array of characters is so special and they made me laugh and even want to cry. Grumpy, gruff Cal has found a nice cozy spot in my heart and I hope he finds a spot in yours too! (But a less cozy spot because he needs to stay here, with me.) I can't wait for the next book!
My Rating: 1/2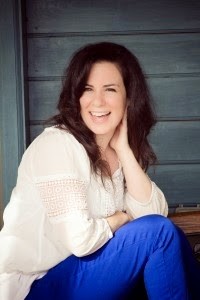 About MEGAN ERICKSON
Megan Erickson grew up in a family that averages 5'5" on a good day and started writing to create characters who could reach the top kitchen shelf.
She's got a couple of tattoos, has a thing for gladiators and has been called a crazy cat lady. After working as a journalist for years, she decided she liked creating her own endings better and switched back to fiction.
She lives in Pennsylvania with her husband, two kids and two cats. And no, she still can't reach the stupid top shelf.
Praise for MEGAN ERICKSON
"A super sweet, extra sexy second chance romance that will have you laughing out loud and needing a minute to cool off. Dirty Thoughts is right!"
— Jay Crownover, New York Times bestselling author
"Megan Erickson ratchets up the romance and sizzle in her sexy new series. The Mechanics of Love will rev readers' hearts."
— Jennifer Ryan, New York Times and USA Today bestselling author
"Megan Erickson writes hot, hot, HOT stories packed with emotion and humor. You're going to want to read everything she's ever written!"
— Sophie Jordan, USA Today bestselling author
Related Posts