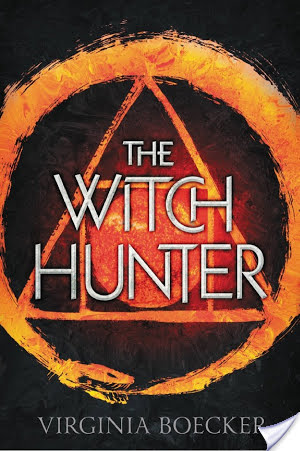 The Witch Hunter

by Virginia Boecker
Series: The Witch Hunter #1
Published by Little, Brown Books for Young Readers on June 2nd 2015
Genres: Action & Adventure, Fantasy & Magic, Love & Romance, Prejudice & Racism, Social Issues, Young Adult
Pages: 368
Format: eARC
Source: Netgalley
Buy on Amazon
Goodreads


The magic and suspense of Graceling meet the political intrigue and unrest of Game of Thrones in this riveting fantasy debut.Your greatest enemy isn't what you fight, but what you fear.Elizabeth Grey is one of the king's best witch hunters, devoted to rooting out witchcraft and doling out justice. But when she's accused of being a witch herself, Elizabeth is arrested and sentenced to burn at the stake.Salvation comes from a man she thought was her enemy. Nicholas Perevil, the most powerful and dangerous wizard in the kingdom, offers her a deal: he will save her from execution if she can break the deadly curse that's been laid upon him.But Nicholas and his followers know nothing of Elizabeth's witch hunting past--if they find out, the stake will be the least of her worries. And as she's thrust into the magical world of witches, ghosts, pirates, and one all-too-handsome healer, Elizabeth is forced to redefine her ideas of right and wrong, of friends and enemies, and of love and hate.Virginia Boecker weaves a riveting tale of magic, betrayal, and sacrifice in this unforgettable fantasy debut.
I received this book for free in exchange for an honest review. This does not affect my opinion of the book or the content of my review.
Why Did I Read?
The witches and historical fiction premise sounded so interesting!
My Thoughts:
When I first heard about this book, I was so excited for it because I had this phase back when I was younger where I just loved historical fiction. I also was highly interested in the Salem witch trials (I loved the play The Crucible and the book The Witch of Blackbird Pond— the latter I read when I was really young and probably started my whole phase!) All that to say, I was ecstatic to hear about this one!
The Witch Hunter was actually a lot different than I expected but I still very much enjoyed it. The story is about Elizabeth, a witch hunter for the king. It's set in what appears to be the 1600s. The whole historical fiction + fantasy aspect was what really drew me in but to be honest, the story sounded more modern than what I expected. I kind of ignored that because the plot intrigued me.
Elizabeth has been groomed to think a certain way her whole life so when she's accused of being a witch, her whole life is sort up upended. She's thrown in prison and is saved by a wizard who takes her in, introduces her to a whole slew of people (a witch, a healer) who she would've arrested in her previous life.
I felt like the plot was fast paced and it was interesting to find out new things about the world, especially more about magic in that world, as things progressed. It was an adventurous, fun ride to see what was going to happen. I enjoyed seeing Elizabeth and George (a Fool) strike up a friendship, because George is just fun and easy to be around. I also enjoyed the romance aspect between Elizabeth and John (a healer) even though it was really light and sweet because it was just so cute.
I think the only thing that frustrated me was that Elizabeth didn't seem to think for herself regarding the witches and magic, until much later on. I wanted her to form her own opinions and thoughts. She did read a bit young as well.
In Short…
I think I expected the book to be darker but this was very much a light fantasy read. I did really enjoy the story though and felt like it was a fun, adventurous book! I think I'll definitely continue the series!
My Rating: 
Have you guys read this? Did you feel the same way as I did? What are some of your favorite witches books?
Related Posts