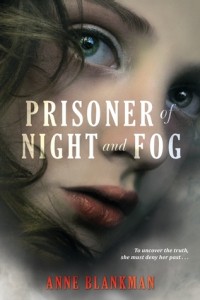 Prisoner of Night and Fog
Published by Balzer + Bray on April 22, 2014
Genres: Young Adult, Historical Fiction
Format: Audiobook
Source: Library
Rating: 4.5 stars
Goodreads
In 1930s Munich, danger lurks behind dark corners, and secrets are buried deep within the city. But Gretchen Müller, who grew up in the National Socialist Party under the wing of her "uncle" Dolf, has been shielded from that side of society ever since her father traded his life for Dolf's, and Gretchen is his favorite, his pet.

Uncle Dolf is none other than Adolf Hitler. And Gretchen follows his every command.

Until she meets a fearless and handsome young Jewish reporter named Daniel Cohen. Gretchen should despise Daniel, yet she can't stop herself from listening to his story: that her father, the adored Nazi martyr, was actually murdered by an unknown comrade. She also can't help the fierce attraction brewing between them, despite everything she's been taught to believe about Jews.

As Gretchen investigates the very people she's always considered friends, she must decide where her loyalties lie. Will she choose the safety of her former life as a Nazi darling, or will she dare to dig up the truth—even if it could get her and Daniel killed?

From debut author Anne Blankman comes this harrowing and evocative story about an ordinary girl faced with the extraordinary decision to give up everything she's ever believed . . . and to trust her own heart instead.
The Sound:
I LOVED listening to this duology on audio! The narrator, Heather Wilds, is amazing and all the accents were so good. I think it really added to the whole story and experience. Hearing all the German words pronounced like they should totally placed me right into that time period. I think I enjoyed it even MORE than I would have if I had simply read it.
The Story:
Gretchen Muller is a young girl growing up in Germany right as Hitler is gaining power and popularity. I really do love historical fiction so this was so interesting to read a story from her POV. Hitler is actually a close family friend of hers and she calls him "Uncle Dolf" and is generally a believer and supporter of everything he says. So it definitely was different to hear her thoughts about him at the beginning.
However, all her beliefs are turned upside down when she finds out her father, who she and everyone else, had been told had bravely gave up his life for Hitler, was actually murdered. The whole reason Gretchen and her family are close family friends with Hitler is because of her father's martyr status so this new information is life changing, to say the least.
In her pursuit for the truth about her father, she meets Daniel Cohen, a reporter who stops at nothing to find out the facts and the truth. Their relationship starts out strained and tenuous because Daniel is Jewish and Gretchen has grown up thinking Jews are lesser. Gradually she sees otherwise and realizes that "Uncle Dolf" may not have been right after all.
The writing is truly beautiful in this book. Everything was just so well described that I could just envision everything happening. Combined with the amazing audio, I felt like I was being taken back to that time period. I love when books can transport me like that and Anne Blankman's writing was just phenomenal.
One thing I love about historical fiction is when the fictional story blends seamlessly into the history part of it. It just makes it so cool to read, having the feeling that perhaps all this COULD have happened. That's what I really love about historical fiction stories.
The romance in this one was just my favorite because Gretchen and Daniel are just so sweet together. Their actions for each other speak louder than words and I liked seeing the build up from forced partnership to friendship to love. They are such a great couple.
In short…
Fantastic historical fiction from a very unique POV during the time right as Hitler is on the cusp of power. The writing is superb and I highly recommend listening to the audio because it heightens the experience so much more!
My Rating: 1/2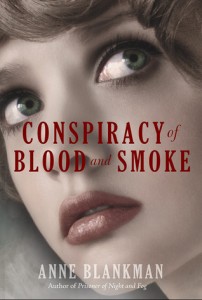 Conspiracy of Blood and Smoke
Published by Balzer + Bray on April 21, 2015
Genres: Young Adult, Historical Fiction
Format: Audiobook
Source: Library
Rating: 3 stars
Goodreads
The girl known as Gretchen Whitestone has a secret: She used to be part of Adolf Hitler's inner circle. More than a year after she made an enemy of her old family friend and fled Munich, she lives with a kindly English family, posing as an ordinary German immigrant, and is preparing to graduate from high school. Her love, Daniel Cohen, is a reporter in town. For the first time in her life, Gretchen is content.

But then, Daniel gets a telegram that sends him back to Germany, and Gretchen's world turns upside-down. And when she receives word that Daniel is wanted for murder, she has to face the danger she thought she'd escaped-and return to her homeland.

Gretchen must do everything she can to avoid capture and recognition, even though saving Daniel will mean consorting with her former friends, the Nazi elite. And as they work to clear Daniel's name, Gretchen and Daniel discover a deadly conspiracy stretching from the slums of Berlin to the Reichstag itself. Can they dig up the explosive truth and get out in time-or will Hitler discover them first?
The Sound:
Like I mentioned above, adored the narrator for this duology. Just starting up the audiobook and hearing the voice took me back to Germany and that time period.
The Story:
So don't get me wrong. I really did enjoy the story and the world and writing is once again beautiful. However, I did have this nagging thought in the back of my mind… that this story was almost unnecessary. Prisoner of Night and Fog most definitely could have been a wonderful standalone. And while I did want to see Gretchen and Daniel again, I felt the circumstances that happened to make this story a story didn't have to happen. If that makes sense.
Anyway, Gretchen and Daniel find themselves in danger and in Germany once again. It was cool to see a new group brought into the picture — the Ringverine (I am unsure of the spelling because I did this on audio…). They were highly intriguing to learn about. The thing that I found most interesting about this one is seeing Hitler's gradual rise to power, knowing what will happen.
I did feel like this one was a bit too slow, especially in the beginning. My major issue though is the matter of what is distancing Gretchen and Daniel. I understand there are problems at play here, but I also felt like those problems could have been addressed and dealt with earlier on. I felt like I could see a solution and they just felt like it couldn't be resolved. It was really frustrating and it almost seemed repetitive when this issue would come up.
However, that being said, the writing is still unparalleled. While I personally didn't like the story as much as the first and had some issues, this is still a fantastic historical fiction.
In Short…
If you enjoyed the first, you will probably enjoy this as well! I had some issues with it but the writing is still so good!
My Rating: 
Have you read this duology? What did you think? Did you have similar feelings as me about the second book? Did you listen to audio? How amazing was the narrator??
Related Posts