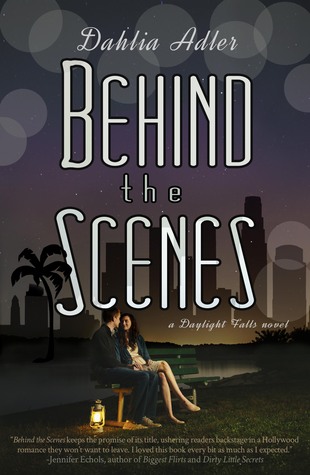 Behind the Scenes

by Dahlia Adler
Series: Daylight Falls #1
Published by Spencer Hill Press on June 24th 2014
Genres: Friendship, Love & Romance, Performing Arts, Social Issues, Television & Radio, Young Adult
Pages: 328
Format: eBook
Source: Bought
Buy on Amazon
Goodreads


High school senior Ally Duncan's best friend may be the -- Vanessa Park -- star of TV's hottest new teen drama -- but Ally's not interested in following in her BFF's Hollywood footsteps. In fact, the only thing Ally's ever really wanted is to go to Columbia and study abroad in Paris. But when her father's mounting medical bills threaten to stop her dream in its tracks, Ally nabs a position as Van's on-set assistant to get the cash she needs. Spending the extra time with Van turns out to be fun, and getting to know her sexy co-star Liam is an added bonus. But when the actors' publicist arranges for Van and Liam to date for the tabloids just after he and Ally share their first kiss, Ally will have to decide exactly what role she's capable of playing in their world of make believe. If she can't play by Hollywood's rules, she may lose her best friend, her dream future, and her first shot at love.
My Thoughts:
I've always really enjoyed plots that involve celebs and Hollywood and this story was great! Ally is your normal teen girl except her best friend, Vanessa, is an actress and now new star of a teen show! Ally and Van couldn't be more different but through it all they've been there for each other and best friends. I loved seeing how supportive they are of each other! Anyway, Ally and her family are struggling financially due to her father's medical bills so Van comes up with the idea of having Ally be her assistant on set so her parents won't have to worry about her school money (Ally is all set to attend Columbia after graduation!)
It's on set that Ally meets Liam, the hot actor co-star on the show. They really hit it off and I really loved them! Liam is so sweet and adorable and their movie dates seem so cute. However. Van's publicist wants Van and Liam to "date" for publicity reasons and Ally doesn't want to mess up Van's success so she agrees to this and secretly dates Liam. This screams bad idea. Obviously you can tell where this is going. The one thing I could not understand is why Ally didn't tell Van. I mean, why?? She's your best friend. Her reasons didn't really make sense to me and to be honest, I can't remember the specifics of those now because they didn't seem to compute to me. So that is my only complaint about this one, is that the drama seemed too… Ally-induced. Like, she kept thinking she wasn't good enough and that issue was repetitive.
However, the cast of characters was so great. I loved Liam and I loved Ally's parents. Her dad's situation really tugged on my heart and I was so happy to see such a great relationship she had with them. It's nice to see that in YA and to see parents be present.
In Short…
I think this is a great balance of fluff with some serious notes and highly enjoyable! I'd definitely recommend to anyone who likes a Hollywood setting and a swoony romance with strong friendships!
My Rating: 1/2
Related Posts