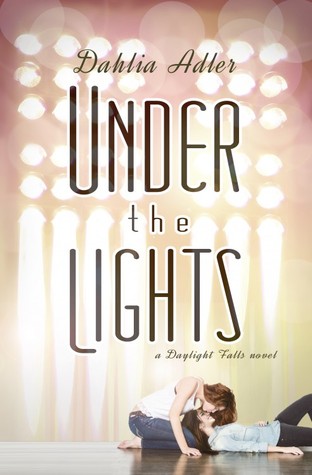 Under the Lights

by Dahlia Adler
Series: Daylight Falls #2
Published by Spencer Hill Press on June 30th 2015
Genres: Dating & Sex, Friendship, LGBT, Love & Romance, Performing Arts, Social Issues, Television & Radio, Young Adult
Pages: 312
Format: eARC
Source: Netgalley
Buy on Amazon
Goodreads


Josh Chester loves being a Hollywood bad boy, coasting on his good looks, his parties, his parents' wealth, and the occasional modeling gig. But his laid-back lifestyle is about to change. To help out his best friend, Liam, he joins his hit teen TV show, Daylight Falls...opposite Vanessa Park, the one actor immune to his charms. (Not that he's trying to charm her, of course.) Meanwhile, his drama-queen mother blackmails him into a new family reality TV show, with Josh in the starring role. Now that he's in the spotlight--on everyone's terms but his own--Josh has to decide whether a life as a superstar is the one he really wants. Vanessa Park has always been certain about her path as an actor, despite her parents' disapproval. But with all her relationships currently in upheaval, she's painfully uncertain about everything else. When she meets her new career handler, Brianna, Van is relieved to have found someone she can rely on, now that her BFF, Ally, is at college across the country. But as feelings unexpectedly evolve beyond friendship, Van's life reaches a whole new level of confusing. And she'll have to choose between the one thing she's always loved...and the person she never imagined she could.
I received this book for free in exchange for an honest review. This does not affect my opinion of the book or the content of my review.
Why Did I Read?
I really enjoyed the first and was interested to see what was in store for some of the other characters!
My Thoughts:
I was super intrigued to see how I was going to like reading from Josh's POV. I mean, let's be honest, he's kind of a douche. But the thing is, he knows it and doesn't try to make excuses for it. Also, in this one we get to see more of him and his family situation and what he's like. And what he IS like is incredibly loyal to his friends and a good person.
Van is feeling kind of lost now that Ally is at Columbia. She's dealing with a lot too. Her parents don't support her career choice and it is hard for her as a Korean actress to land big roles. She has a lot going against her and she's just trying to do the best she can. Enter Brianna. Bri is the daughter of her publicist and they hit it off right away. I loved Bri. I loved that she was straightforward, to the point and knew what she wanted. She has this vibrant personality that kind of sucks you in. Anyway, as Van realizes that her feelings for Bri is turning into more, she has to deal with a whole lot of confusion. And what if she comes out to the media? Will her sexual orientation just be yet another thing that goes against her?
I really liked that the two POVs are not the POVs of the main couple because that seems rare. It was great to see Josh and Van actually become friends. Van seems so… out of her element without Ally and watching her deal with confusion by herself was sad. But I love how the story unfolds and how we see Van discovering herself and owning who she is. She has so many goals and dreams and I was just rooting for her to get all she wanted out of life. I just wanted her to be happy!
In Short…
I got completely sucked into these characters lives to the point that now I still want more — I want to see what Josh does after, I want to see Van land some huge role, I still want to see more glimpses of Liam and Ally! Under the Lights was fluffy and fantastic and I highly recommend!
My Rating: 
Related Posts