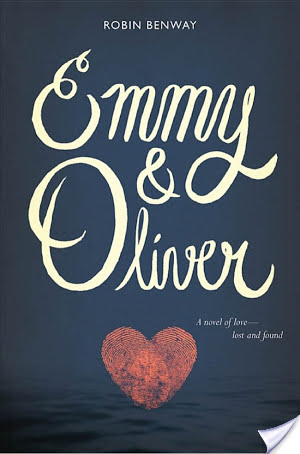 Emmy & Oliver

by Robin Benway
Published by HarperCollins on June 23rd 2015
Genres: Emotions & Feelings, Family, Love & Romance, Marriage & Divorce, Social Issues, Young Adult
Pages: 320
Format: Audiobook
Source: Publisher
Buy on Amazon
Goodreads


Emmy's best friend, Oliver, reappears after being kidnapped by his father ten years ago. Emmy hopes to pick up their relationship right where it left off. Are they destined to be together? Or has fate irreparably driven them apart?

Emmy just wants to be in charge of her own life.

She wants to stay out late, surf her favorite beach—go anywhere without her parents' relentless worrying. But Emmy's parents can't seem to let her grow up—not since the day Oliver disappeared.

Oliver needs a moment to figure out his heart.

He'd thought, all these years, that his dad was the good guy. He never knew that it was his father who kidnapped him and kept him on the run. Discovering it, and finding himself returned to his old hometown, all at once, has his heart racing and his thoughts swirling.

Emmy and Oliver were going to be best friends forever, or maybe even more, before their futures were ripped apart. In Emmy's soul, despite the space and time between them, their connection has never been severed. But is their story still written in the stars? Or are their hearts like the pieces of two different puzzles—impossible to fit together?

Readers who love Sarah Dessen will tear through these pages with hearts in throats as Emmy and Oliver struggle to face the messy, confusing consequences of Oliver's father's crime. Full of romance, coming-of-age emotion, and heartache, these two equally compelling characters create an unforgettable story.
I received this book for free in exchange for an honest review. This does not affect my opinion of the book or the content of my review.
The Sound:
I thought the narrator Phoebe Strole was fantastic. I feel like all the emotion was transferred so well into Emmy's voice! I loved listening to this one.
The Story:
This story is so interesting because the situation is just so.. well, messed up. Emmy and Oliver were best friends as kids and next door neighbors — until Oliver's dad kidnapped him and everyone's lives changed. Now, ten years later, he's back. Everyone wants him to hate his dad for his crime but he just feels like a fish out of water and despite what happened… he still loves his dad. How can you hate a parent who has raised you? And how do you start living with one that you don't know? I totally felt for Oliver. There's no easy solution, no easy fix to make everything okay. It's a very real situation and I loved how Robin fleshed out all the pain and emotion and hope that was involved.
In the midst of the crazy messy family situation for Oliver, he starts striking up his friendship with Emmy again. I just ADORE these two. They are so perfect. Emmy has this sarcastic sense of humor that I really liked and I really enjoyed the witty banter that went on between these two. Oliver is able to talk to Emmy and vice versa. I loved their conversations and also their time surfing together. Emmy has been surfing since she was 14 and she loves it. Watching her teach Oliver is just pretty funny. I really enjoyed seeing the flashbacks to their time as kids too and how those scenes worked into the present time.
All the other relationships in this book are so good, too. First, we've got Emmy's best friends, Drew and Caro. Drew has his own issues with his family after coming out recently. Caro has kind of the opposite problem, of being the youngest among many siblings and not having much attention from her parents at all. But they are THERE for each other. Through whatever. They celebrate the good things, they are there for a shoulder to cry on, they are this close knit trio that embodies friendship. I loved their banter but most of all their love for each other!!
Emmy's relationship with her parents is a good one but ever since Oliver was kidnapped, her parents have locked into overprotective mode and haven't let up. This causes her to tell many lies to keep what she wants (surfing, applying to college). You can clearly tell how much they love her and she them though, so I was so glad to see them eventually work through some major issues. We so need more fantastic family presence like this in YA. At times I got so irritated with her parents but the funny thing is, it reminded me of my mom. Emmy's mom and mine are basically clones, I swear. So not only did I love the parental relationship, it was realistic.
In Short…
This was my first Robin Benway book but it definitely will not be my last! I need to go back and read her other books because wow, did I enjoy this one. The friendships and relationships blew me away and I fell in love with all of the characters. Emmy and Oliver have such a special connection and they are a couple that I think will always have a place in my heart.
My Rating: 
Related Posts