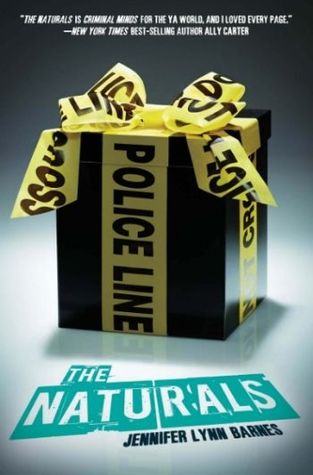 The Naturals

by Jennifer Lynn Barnes
Published by Disney Electronic Content on November 5th 2013
Genres: Young Adult, Law & Crime, Mysteries & Detective Stories, Social Issues, Adolescence
Pages: 320
Format: Audiobook
Source: Library
Buy on Amazon
Goodreads


Seventeen-year-old Cassie is a natural at reading people. Piecing together the tiniest details, she can tell you who you are and what you want. But, it's not a skill that she's ever taken seriously. That is, until the FBI come knocking: they've begun a classified program that uses exceptional teenagers to crack infamous cold cases, and they need Cassie. What Cassie doesn't realize is that there's more at risk than a few unsolved homicides—especially when she's sent to live with a group of teens whose gifts are as unusual as her own. Soon, it becomes clear that no one in the Naturals program is what they seem. And when a new killer strikes, danger looms close. Caught in a lethal game of cat and mouse with a killer, the Naturals are going to have to use all of their gifts just to survive. Think The Mentalist meets Pretty Little Liars—Jennifer Lynn-Barnes' The Naturals is a gripping psychological thriller with killer appeal, a to-die-for romance, and the bones of a gritty and compelling new series.
This one was really interesting because I really wasn't sure what to expect! The premise of The Naturals is that the FBI has a group of teens that are "naturals" at certain things. (To be honest, this part confused me a tad because I was like, are these abilities supernatural? Answer: no, they aren't.) Cassie, our MC, is a natural profiler. She gets recruited and meets a cast of other teens who also have abilities such as a natural liar, natural with numbers and statistics, natural at sensing emotions and another profiler just like her.
It was pretty interesting seeing all these teens interacting together especially because of their individual abilities. However, I wasn't a fan of the love triangle/romance aspect at all. The thriller/killer aspect of the plot was way more intriguing and I didn't feel like a triangle should have been necessary. Oh well.
The killer POV was seriously creepy listening to it! I feel like it would have been creepy reading it anyway, but the voice was like… I didn't want to listen at night by myself kind of thing, ha.
Anyway, all in all, if you are a fan of thrillers, I would highly recommend this one! I was intrigued with the mystery and really liked the characters introduced! I'm excited to read the sequel!
My Rating: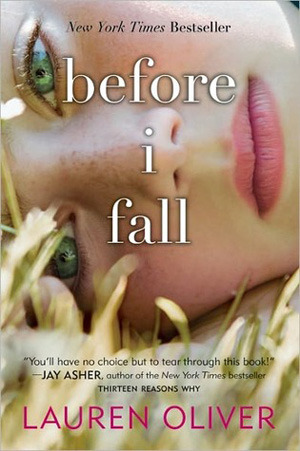 Before I Fall

by Lauren Oliver
Published by HarperTeen on October 25th 2010
Genres: Contemporary, Fiction
Pages: 470
Format: Audiobook
Source: Library
Buy on Amazon
Goodreads


With this stunning debut novel, New York Times bestselling author Lauren Oliver emerged as one of today's foremost authors of young adult fiction. Like Jay Asher's Thirteen Reasons Why and Gayle Forman's If I Stay, Before I Fall raises thought-provoking questions about love, death, and how one person's life can affect so many others.For popular high school senior Samantha Kingston, February 12—"Cupid Day"—should be one big party, a day of valentines and roses and the privileges that come with being at the top of the social pyramid. And it is…until she dies in a terrible accident that night.However, she still wakes up the next morning. In fact, Sam lives the last day of her life seven times, until she realizes that by making even the slightest changes, she may hold more power than she ever imagined.Named to numerous state reading lists, this novel was also recognized as a Best Book of the Year by Amazon.com, Barnes & Noble, The Daily Beast, NPR, and Publishers Weekly. It has been optioned for film by Fox 2000 Pictures.Supports the Common Core State Standards.
This book is like Groundhog's Day in a YA book. I'd heard amazing things of people loving it and I'm a little on the black sheep side of things. Honestly, I almost wanted to give up on this one because these people aren't nice people. Just about every single character is so mean and bitchy and horrible and shallow! I wanted to yell at these characters and slap some sense into them! There is more to life! Maybe it's just me but I never had these type of mean girls at my high school. The bullying is just the worst and Sam, our MC? She doesn't feel bad nor does she have any redeeming qualities — at first. I kept waiting for the change, for her arc to grow but it didn't come until after the 50% mark so honestly I was just frustrated for most of the book. The audio exacerbates the bitchiness of the girls and the douchiness of the guys so it probably didn't help to be listening to it.
I will say this though. By the time I got to the end, I was emotional. Sam's eventual revelations and growth do make up for the first 50% to an extent. It was a little heart breaking to see things unravel. I do wish maybe we had seen other characters besides Sam grow but maybe that is too farfetched seeing as it is essentially the same day that Sam is reliving. Anyway. That being said, I am in the minority and most people loved it. If by chance you haven't gotten to this one yet, give it a try. However, I personally wouldn't recommend the audio version because it definitely exacerbates the annoying aspects of all the characters (to me).
My Rating: 1/2
What did you guys think about these two? I know I'm on the outs a bit on the latter one but I'm excited to continue the Naturals series!
Related Posts