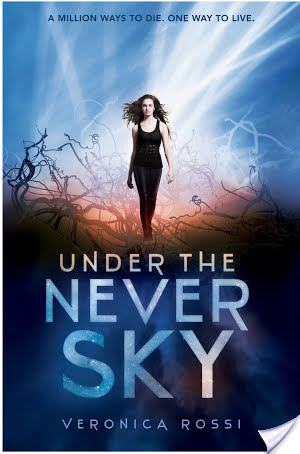 Under the Never Sky

by Veronica Rossi
Published by Harper Collins on January 3rd 2012
Genres: Young Adult, Science Fiction, Love & Romance, Dystopian
Pages: 400
Format: eBook
Source: Bought
Buy on Amazon
Goodreads


Fighting to survive in a ravaged world, a Dweller and a Savage form an unlikely alliance in New York Times bestselling author Veronica Rossi's "unforgettable dystopian masterpiece" (Examiner.com).
Exiled from her home, the enclosed city of Reverie, Aria knows her chances of surviving in the outer wasteland—known as The Death Shop—are slim. Then Aria meets an Outsider named Perry. He's wild—a savage—and her only hope of staying alive. A hunter for his tribe in a merciless landscape, Perry views Aria as sheltered and fragile—everything he would expect from a Dweller. But he needs Aria's help too; she alone holds the key to his redemption.
In alternating chapters told in Aria's and Perry's voices, Under the Never Sky subtly and powerfully captures the evolving relationship between these characters and sweeps readers away to a harsh but often beautiful world. Continuing with Through the Ever Night and concluding with Into the Still Blue, the Under the Never Sky trilogy has already been embraced by readers in twenty-six countries and been optioned for film by Warner Bros.
Supports the Common Core State Standards
I am probably the last blogger ever to have FINALLY read this series. I decided to do it for my June Summer of Series Challenge and I'm SO happy I did! I binged it in a matter of days! I completely get what the fuss is about because the story sucked me in and I loved it so.
The premise of the series is that these aether storms came and basically wiped out most of the world — except for those who were able to get into these pods that sheltered them from the storms. Those people are called "Dwellers" and reside in these huge pods, kind of like confined cities. They have this "eye" technology that basically transports you into whatever world you want to be in and you can virtually hang out and do stuff essentially in your head all day. "Better than real" is the motto. I mean, if you're going to be stuck in a pod, you have to do something to entertain yourself right?
Anyway, I thought this dystopian setting was refreshing and unique. I got a little burned out of dystopian but I gobbled this series right up. The world with the aether was just so intriguing and the technology aspect really cool as well. It was a little jarring when the book first opens up because all these terms and the world building is kind of just thrown at you but then again, it immersed me pretty quickly.
Our main character is Aria, a Dweller who after a bizarre series of events, gets thrown out of Reverie, her home, and into the outside world and is left there to die. Because Dwellers can't survive out there. Enter, Perry. Peregrine, better known as Perry, is an Outsider and has been one all his life. Some Outsiders have evolved heightened senses and Perry is one of them. This sense thing was really cool, I loved this aspect. And it makes sense in a dystopian, post apocalyptic type world. Anyway, they meet and clash right away because of their different backgrounds but their dependency on each other to get to their individual goals forces them to work together. Gradually, they start to not hate each other because Perry is too cuddly to hate. (Okay, so their relationship builds really well and I loved seeing them get to know each other but I had to emphasize his cuddliness.)
Roar, Perry's best friend, is another character we come to meet and oh my gosh, I loved him. While Perry can be quiet and reserved, Roar is the one who has all the smart remarks and cracks jokes. His friendship with Aria is just the BEST. We need more male-female JUST friendships like this in YA!
I won't get into too much of the plot of the 2nd or 3rd books because I think most are familiar with the story but I have to say that the plot and storyline had me mesmerized. I couldn't put these books down! I was wholly invested in what was going to happen. Not only that, I was just in love with the characters. And that's the best part. When I love the characters, I care and Perry, Aria and Roar just came to life for me and I was just rooting for everything to work out.
In short…
I loved this series because the world building was amazing and unique. The aether storms were really cool as was the development of the different senses some people have. The characters formed a special place in my heart and I cheered for them, celebrated with them and cried for them. The series took me through a gamut of emotions. The romance was so good. A hate to love with great build to the relationship and just the right amount of swoon! I honestly didn't want the series to end because I didn't want to say goodbye!
My Rating: 
I'm so glad I finally read this series! Is there anyone else out there who hasn't read it yet? DO IT! 🙂
Related Posts