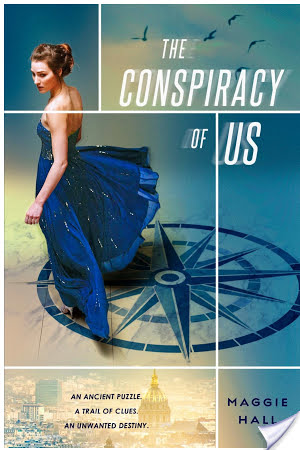 The Conspiracy of Us

by Maggie Hall
Published by Penguin on January 13th 2015
Genres: Young Adult, Love & Romance, Mysteries & Detective Stories, Historical, Europe
Pages: 336
Format: Audiobook, Paperback
Source: Borrowed from Jessica at Lovin' Los Libros, Library
Buy on Amazon
Goodreads


A fast-paced international escapade, laced with adrenaline, glamour, and romance--perfect for fans of Ally Carter

Avery West's newfound family can shut down Prada when they want to shop in peace, and can just as easily order a bombing when they want to start a war. Part of a powerful and dangerous secret society called the Circle, they believe Avery is the key to an ancient prophecy. Some want to use her as a pawn. Some want her dead.To unravel the mystery putting her life in danger, Avery must follow a trail of clues from the monuments of Paris to the back alleys of Istanbul with two boys who work for the Circle—beautiful, volatile Stellan and mysterious, magnetic Jack. But as the clues expose a stunning conspiracy that might plunge the world into World War 3, she discovers that both boys are hiding secrets of their own. Now she will have to choose not only between freedom and family--but between the boy who might help her save the world, and the one she's falling in love with.
Why Did I Read?
It sounded really interesting! The synopsis grabbed my attention with the talk of a "dangerous society".
My Thoughts:
This is a solid example of how sometimes audiobooks just don't work well for certain books. There are secret groups, two in particular that oppose each other. The Circle and the… crap I don't remember the name of the other group but I kept getting the two confused. And that was a problem because I couldn't keep straight who was "good" and who was "bad". There's also a prophecy and lots of other stuff that just started to terribly confuse me when I was listening to it on audio. I ended up borrowing a copy from Jess and reading the second half which alleviated my confusion considerably.
That being said, I didn't like this one too much. The main character's decisions were just so questionable! (I would've never gone off with someone who had pointed a knife at me, and is now offering me a ride on a private plane out of the country while I don't have a passport. What if he strands me somewhere and I can't get back to the US because um… NO PASSPORT? Yes, these were the things I kept thinking about.)
Basically, the MC, Avery, is trying to find out more about her father and these two guys out of nowhere tell her they know stuff so off she goes, globetrotting. There's two guys involved, so of course some type of triangle forms and that was really odd for me. Wasn't a fan of the triangle. Or the romance for that matter.
The scavenger type hunt that goes on across Europe was pretty interesting and I could picture it in a high stakes action film or something like that. So while the second half was more interesting and action packed, the romance really detracted from things for me. Also… I mean, the plot is pretty farfetched but still entertaining. However, I was not happy that the ending didn't really solve anything and I just didn't like this enough to continue the series. So, when it comes out, I expect anyone who reads it to tell me what happens! 🙂
In Short…
The two opposing secret groups had kind of similar names. It was confusing. The MC made a lot of questionable decisions that had me raising my eyebrows. While the second half was exciting, it's just not enough to overcome the things I didn't like and I don't think I'll continue the series. Also, if this is up your alley, I would definitely recommend reading over audio for this one!
My Rating: 1/2
Have you read this one? Am I more on the outs on my feelings about this one?
Related Posts