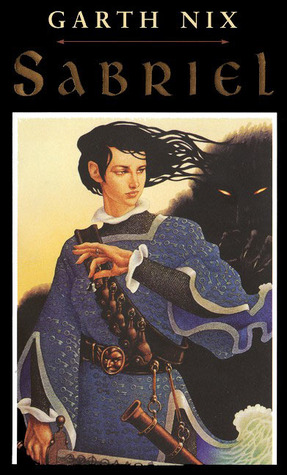 Sabriel

by Garth Nix
Series: Abhorsen #1
Published by Harper Collins on September 30, 1996
Genres: Young Adult, Fantasy & Magic, Action & Adventure, General, Fiction, Fantasy, Epic
Pages: 352
Format: Paperback
Source: Bought
Buy on Amazon
Goodreads


Sabriel, the first installment in the trilogy, launched critically acclaimed author Garth Nix onto the fantasy scene as a rising star.
Since childhood, Sabriel has lived outside the walls of the Old Kingdom, away from the power of Free Magic, and away from the Dead who refuse to stay dead. But now her father, the Abhorson, is missing, and Sabriel must cross into that world to find him. With Mogget, whose feline form hides a powerful, perhaps malevolent spirit, and Touchstone, a young Charter Mage, Sabriel travels deep into the Old Kingdom. There she confronts an evil that threatens much more than her life and comes face-to-face with her own hidden destiny. . . .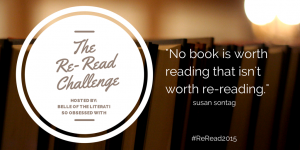 For my re-read reviews for the Re-read Challenge hosted by Kelly and Hannah, I'll be adopting Kelly's reread review format!
When I First Read: I first read this series sooo long ago. I can't remember exactly when but I do remember that this series made me fall in love with fantasy. So it really holds a special place in my heart!
What I Remember: Being in love with the world! To be honest, it was so long ago, the plot points escape me. I just remember loving the characters and the world and thinking I wanted to read all the fantasy books.
Why I Wanted to Reread: I originally was going to reread last year when Clariel came out! Major fail there. So now I'm working my way through and then reading Clariel!
How I Felt After Rereading: Loved it! It's funny because I love the world set up so much and I was completely sucked into the story and was on the edge of my seat. Yet. The romance part? OH gosh, major instalove! Haha! If I were reading this for the first time, I'd totally dock it in rating because of the romance factor. And here is where I think sometimes the time at when you read a certain book will really impact you forever. Because the feelings I have associated to this story just override that instalove misstep. I just don't even care. I love the world, I love Sabriel, I love the plot. Love, love, love.
Would You Read Again? Yes!
Have you read this series yet? Do you have a particular book/series that made you fall in love with a genre when you were younger?
Related Posts