This book may be unsuitable for people under 17 years of age due to its use of sexual content, drug and alcohol use, and/or violence.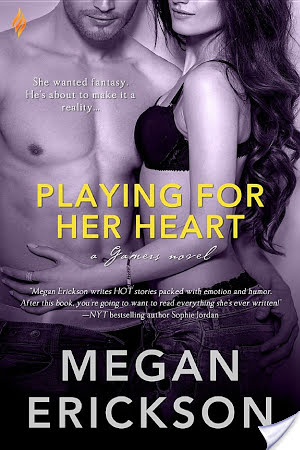 Playing For Her Heart

by Megan Erickson
Series: Gamers #2
Published by Entangled Brazen on August 11th 2015
Genres: Fiction, Romance, Contemporary, General
Pages: 189
Format: eARC
Source: Netgalley
Buy on Amazon
Goodreads


A sexy category romance from Entangled's Brazen imprint...She wanted fantasy. He's about to make it a reality...
Grant Osprey just had the hottest sex of his life. Sure, they were both in costume, and yes, it was anonymous, but he never expected her to bolt in the middle of the night without so much as a good bye, let alone exchanging numbers. Or names. All he's left with are her panties and some seriously X-rated memories...until he meets his business partner's little sister.
Only Chloe Talley isn't the bold, sexy vixen he remembers. And she wants nothing to do with him.
Cosplay is Chloe's only chance to leave her boring, socially awkward world behind. To forget that she's failing at life and can't be with anyone, let alone a single-father like Grant. But the raw hunger between them is undeniable. With him, she can be a misbehaving maid. A sexy call girl for hire. Each scene pushes Chloe beyond her strict boundaries, until Grant demands the one character she can't play.
Herself.
I received this book for free in exchange for an honest review. This does not affect my opinion of the book or the content of my review.
Why Did I Read?
It's no surprise that I'm a huge Megan Erickson fan (she was even on my list of most read authors!) and this Brazen series is just so much fun!
My Thoughts:
I think one of my favorite things about this series is that there are these nerdy characters that are just so fun and maybe nerdy things like video games and cosplay aren't "uncool" because whoa, the sexy times were sexy. I was so excited to jump back into this series and see Grant and Chloe's story! We start off exactly where we left off from Changing His Game, where Grant meets Chloe at Comic-Con — or rather I should say, Breck meets Sari because that is what both of them are respectively dressed as.
Their chemistry together shoots off the charts right off the bat but Chloe is only confident when she is in a role, playing a different person than who she is. She's convinced the real her is bland, boring and disinteresting and so she continuously hides behind different roles. Grant however, is determined to not let Chloe go quite so easily. Even after he discovers that Chloe is his new business partner's sister.
There are several things I loved about this story. One, Grant didn't need to fix Chloe and he also wasn't the reason for her being able to be herself. She eventually will sort her own stuff out on her own. (I dislike if romantic interests magically solve everything.) Two, the humor! There were multiple times I found myself laughing to myself as I read! (Penetrative testing — who is not going to giggle at that? Yes, I am just as mature as Grant.) Three, Chloe is so smart and capable and she talks about how there needs to be more women in the STEM fields! Yes, yes, there should be. Four, Sydney! Sydney is Grant's daughter and I really just loved her and the light hearted moments she brings to the book. Also, she made me crave cookies. I wanted cookies and burritos after reading.
I feel like I said this about Changing His Game, but I think this is Megan's hottest book! Like, seriously, these scenes will melt butter. All these books should come with a little warning label: do not read at work. I read half before I had to go to work and tried to open it on my kindle app to no avail — but that was probably a good thing, ha!
In Short…
If you want something quick, sexy, funny, nerdy, full of heart and all around awesome — look no further! You need to pick this up!
My Rating: 
Related Posts