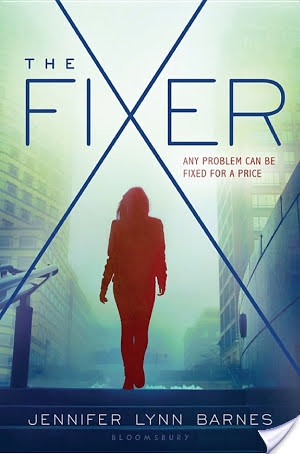 The Fixer

by Jennifer Lynn Barnes
Published by Bloomsbury Publishing USA on July 7th 2015
Genres: Young Adult, Family, Siblings, Law & Crime, Mysteries & Detective Stories, General
Pages: 304
Format: eARC
Source: Netgalley
Buy on Amazon
Goodreads


When sixteen-year-old Tess Kendrick is sent to live with her older sister, Ivy, she has no idea that the infamous Ivy Kendrick is Washington D.C.'s #1 "fixer, ? known for making politicians' scandals go away for a price. No sooner does Tess enroll at Hardwicke Academy than she unwittingly follows in her sister's footsteps and becomes D.C.'s premier high school fixer, solving problems for elite teens.Secrets pile up as each sister lives a double life. . . . until their worlds come crashing together and Tess finds herself in the middle of a conspiracy with one of her classmates and a client of Ivy's. Suddenly, there is much more on the line than good grades, money, or politics, and the price for this fix might be more than Tess is willing to pay.Perfect for fans of Pretty Little Liars and Heist Society, readers will be clamoring for more in this exciting new series.
I received this book for free in exchange for an honest review. This does not affect my opinion of the book or the content of my review.
Why Did I Read?
The premise sucked me in! I love a good thriller! Plus, I really enjoyed Jennifer Lynn Barnes' book The Naturals!
My Thoughts:
So basically I should go watch Veronica Mars and Scandal ASAP because I really enjoyed this one! And if those two comparisons are accurate, then I bet I'd love those shows too! In The Fixer, Tess is shuttled off to live with her sister in DC. The change is abrupt and she's not a fan of having to live with her sister she hasn't talked to in years and having to adjust to a school of kids from wealthy, well known families.
I have to admit, it took me a bit to get into the story at the beginning but when I got sucked in? Could not put it down! Tess slowly finds out what her sister's job is — she works for the White House and "fixes" problems for the president, politicians, you name it. Tess unwittingly starts doing the same for kids at her school until she meets a problem that spirals into pretty crazy dangerous territory.
I absolutely loved the twists and turns in the story! I was constantly on the edge of my seat, trying to figure out clues and figure out different theories and possibilities! I would suspect one person only to change my mind a few chapters later. I didn't know who to trust! And that's just part of the fun of this exciting thriller. You just don't know what will happen. I honestly did not see any of the reveals coming. Which only left me to mutter things like "oh my god" and "no way!" while I read. It was seriously one crazy, amazing ride!
I also really came to like Asher, one of Tess' new friends — he provided the much needed comic relief, in my opinion. When things got dire, he tries to lighten the mood and he'd always make me smile. I don't really want to say too much else because I think it's better to go into this one blind. Then you just don't have any preconceptions and it'll just leave you guessing!
In Short…
This was such a fantastic thriller! The twists and turns will surprise you and the plot is fast paced and will keep you frantically turning the pages. I stayed up until I finished! I can't believe I have to wait until the sequel — I desperately want the next book now!!
My Rating: 1/2
What did you think of this one? Was your mind in a whirl afterward like mine was??
Related Posts