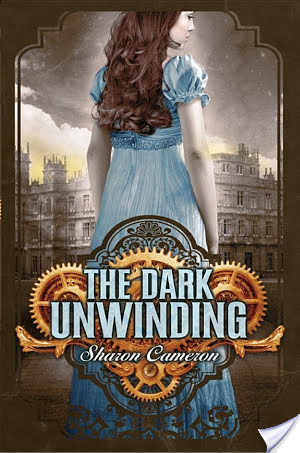 The Dark Unwinding

by Sharon Cameron
Published by Scholastic Inc. on September 1st 2012
Genres: Young Adult, General, Love & Romance, Historical, Europe
Pages: 336
Format: Audiobook
Length: 9 hrs and 42 min
Source: Library
Buy on Amazon
Goodreads


From the award-winning author of Rook comes a delicious and twisty tale, filled with spine-tingling intrigue, juicy romance, and dangerous family secrets. When a rumor that her uncle is squandering away the family fortune surfaces, Katharine Tulman is sent to his estate to have him committed to an asylum. But instead of a lunatic, Katharine discovers a genius inventor with his own set of childlike rules, who is employing a village of nine hundred people rescued from the workhouses of London. Katharine becomes torn between protecting her own livelihood and preserving the peculiar community she grows to care for deeply -- a conflict made more complicated by her developing feelings for her uncle's handsome apprentice. As the mysteries of the estate begin to unravel, it is clear that not only is her uncle's world at stake, but also the state of England as Katharine knows it. With twists and turns at every corner, this extraordinary adventure will captivate readers with its thrills and romance.
I really hadn't heard much about this one and decided to listen to it on audio after I read Tonya's review of it. It sounded interesting and I haven't read much steampunk so I wanted to check it out. I'm so glad I did! It was such an enjoyable book!!
Katharine Tulman is sent to her uncle's estate to report back to her aunt that her uncle is mentally ill — essentially because her aunt is greedy and wants to take over her uncle's assets. Once there, Katharine discovers while her uncle is quite eccentric, he's rather a genius as well. There is also a multitude of people working there so it's like a whole village operating at Stranwyne Keep. Everyone looks at her with distrust because they know that if her aunt takes over, their only option would be going back to terrible workhouses.
As Katharine spends more time at Stranwyne, she starts to enjoy herself there — despite some strange things happening to her. She strikes up a relationship with her Uncle Tully and I have to say that I adored Uncle Tully. He is such a fantastic character and the audio for him is amazing. I highly recommend listening to this on audio because I think it made me love the book more than I would have if I had read it.
I also think this book is light on the steampunk and seemed more historical fiction to me. I was curious and anxious to find out what exactly was going on and sped through this audio! There is a LIGHT romance here too in the form of quiet and brooding Lane. While it is light, I still thought it was perfect and loved the moments between Katharine and Lane!
In Short…
This one was such a highly interesting story! The characters were so unique and the mystery behind Stranwyne and the unusual events happening to Katharine had me hooked. I think Uncle Tully will always be one of my favorite characters and the audio truly brought him to life!! I really want everyone to try the audio for this one because I loved it so much!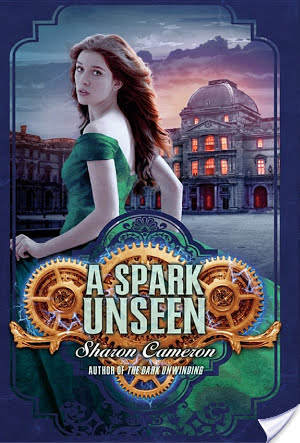 A Spark Unseen

by Sharon Cameron
Published by Scholastic Inc. on September 24th 2013
Genres: Young Adult, Love & Romance, Historical, Europe, General
Pages: 352
Format: Audiobook
Length: 10 hrs and 5 min
Source: Library
Buy on Amazon
Goodreads


Sharon Cameron, award-winning author of ROOK and THE DARK UNWINDING, weaves a thrillingly dark mystery brimming with intrigue and romance, in which things are not always what they seem to be. When Katharine Tulman wakes in the middle of the night and accidentally foils a kidnapping attempt on her uncle, she realizes Stranwyne Keep is no longer safe for Uncle Tully and his genius inventions. She flees to Paris, where she hopes to remain undetected and also find the mysterious and handsome Lane, who is suspected to be dead. But the search for Lane is not easy, and Katharine soon finds herself embroiled in a labyrinth of political intrigue. And with unexpected enemies and allies at every turn, Katharine will have to figure out whom she can trust--if anyone--to protect her uncle from danger once and for all. Filled with deadly twists, whispering romance, and heart-stopping suspense, this sequel to THE DARK UNWINDING whisks readers off on another thrilling adventure.
WARNING: There may be spoilers for The Dark Unwinding in this review of its sequel, A Spark Unseen
A Spark Unseen is very different than The Dark Unwinding! At least it seemed like it to me. This one seemed much more fast paced and mystery driven to me. The setting is also different — we are in Paris now! It's a year and a half after the events of the first book and Katharine is searching for Lane and also trying to keep her Uncle Tully hidden from those that want to use him and his genius mind for nefarious means.
This was such an adventure from beginning to end. I was dying to know what had happened to Lane and dying to figure out the hidden agendas of different people! We meet a lot of new people as well as seeing beloved returnees and as I read (or rather, listened) I was placed right into the city of Paris! I loved the historical fiction feel of it all.
I won't say too much about the plot itself because it really is a crazy journey and there were a LOT of twists and turns that I wasn't expecting. I loved every second of it though and loved being in Katharine and Uncle Tully's world. His inventions are so crazy amazing. While this was a great end to the duology, I couldn't help being sad and wanting more! I just didn't want to say goodbye. To be honest, I think I definitely fell into an audio book slump after these two (and it didn't help that the audio following this one I really did not enjoy…) I highly recommend this duology to any who haven't yet read!
Have you guys read steampunk before? Any recs for me? I'd love to try more, especially since this was on the light side of that!
Related Posts