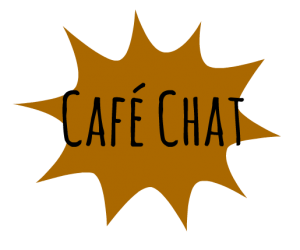 So I haven't done many discussion posts mostly because most topics I want to chat about have already been talked about! So I think I'm going to start doing occasional posts that I'll title Cafe Chats! That way it leaves it open for me to chat about non bookish things as well! And because I love little coffee shops and chatting over coffee so it seemed appropriate (you don't have to like coffee though! ;))
So today I wanted to chat about meeting authors and signed books! I started thinking about this when I went to an author event the other weekend. I actually hadn't read any books by any of the authors that were at this event but I had several friends I knew would be there so I decided to go mostly to hang out with them. Hilary Smith was one of the authors there and I actually have one of her books, Wide Awake, but I haven't read it yet! So while it was great to hear her talk, I really had no inclination to get it signed. Why? Because for me, a signed book isn't special because of the fact that it's signed. It's special because I got to meet the author and talk about their book with them and maybe gush and flail a little bit too. It's the experience of the meeting that makes the signature special to me.
Some people might be reading this and going, Wendy, seriously, you didn't get her to sign your book?? But since I haven't read it, it just seems… empty, in a sense. I know lots of people like signed books. After authors have events at bookstores, I know the stores will often have signed stock available. And if I see one on a book I'm going to buy, that's great! Added bonus! Or if I win a signed book? Awesome! But I don't specifically order one from the bookstore that's signed. Because to me, that doesn't have the experience attached and just doesn't seem special to me.
Basically, it's not the signature that matters. It's what happened around the signing of my book that does. Even if it's one of my absolute favorite authors, I wouldn't order a signed copy of their book because gosh, I just want to meet them! Having it signed would be cool, no doubt about that, but it's just a signature to me. If that makes sense.
Let's take for instance, Sarah J. Maas. I adore her to death. At BEA last year when the line to get an Heir of Fire ARC was beyond insane? I waited. I mean, yes, I was desperate to get ahold of the book, but even though I could borrow one from someone potentially, or wait for its release instead of waiting… that didn't matter. I wanted to MEET her. I'm not entirely sure what I managed to babble when I did meet her, I think something about my love of Chaol and how I thought her eyes were pretty (I get nervous and babble, okay?!), but the whole point is I treasure that signed ARC because of that EXPERIENCE.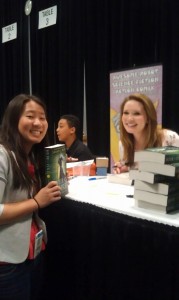 Another example, also from BEA, is when I met Morgan Matson. I had never read anything from her. I met her briefly there, got Since You've Been Gone signed and left. Later that year, I read both that and another of her books and fell in love and man, I want to meet her again so I can gush to her and chat!
I feel like I'm rambling a bit. But long story short, I don't actively seek out signed books. Because for me, what makes them amazing is meeting the author and the experience around the signature. It also depends if I've read the author. What makes it special is my emotional attachment to that author and that book. If I haven't read them, I don't have the desire to actively seek them out to sign a book. Does that make sense? I hope I haven't just come off sounding crazy.
What about you guys? Do you love signed books or do you not care? What about meeting authors? Do you like the experience more if you've read their books or does that not matter? Tell me your thoughts regarding meeting authors and signed books!
Related Posts