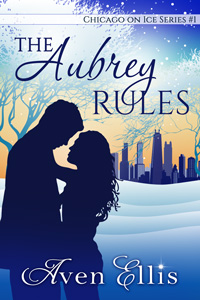 The Aubrey Rules

by Aven Ellis
Series: Chicago On Ice #1
Published by Soul Mate Publishing on August 26, 2015
Genres: Contemporary, Romance, Sports
Format: eARC
Source: Author
Buy on Amazon
Goodreads


Some of the Aubrey Rules to Live By:

*If I'm going to indulge in French fries, I must add extra time to the treadmill the next day.
*Always keep your work and private life separate.
*Being open to new experiences will never involve eating kale.
*Never, ever date a professional athlete.

For Chicago social media professional Aubrey Paige, the rules are everything. So much so that Aubrey has painstakingly written her rules for living into a polka-dot Kate Spade notebook that she carries with her at all times. It's her personal guidebook to living her life. These rules are the Holy Grail—ones never to be broken. They guide her actions for everything, from dealing with workplace drama to finding a great guy to date. After all, these are her own rules, built from her life experiences and observations. So they have to be perfect, right?

Or are they?

Because when Aubrey meets a cute Canadian, she suddenly finds her rules being tested and challenged in ways she never dreamed possible. Beckett Riley is the shy, quiet, determined captain of the Chicago Buffaloes, a hockey team on the verge of turning the corner to becoming a winning organization. He's Aubrey's opposite, with so many qualities that Aubrey had listed as ones she'd never want in a man.

Yet Aubrey finds herself drawn to Beckett in ways she's never known. And when she unexpectedly finds herself working with Beckett, she wonders if rules are meant to be broken after all . . .
I received this book for free in exchange for an honest review. This does not affect my opinion of the book or the content of my review.
My Thoughts:
If you are looking for a sweet, feel-good romance with funny, witty banter, look no further! Aven has you covered with this new hockey series, Chicago on Ice! In The Aubrey Rules, Aubrey lives by rules that she has come up with to help her get through life — anything from interviewing for a new job to her diet, Aubrey pens these guidelines down. The rules are good. They'll help her succeed. Until one morning, she stumbles into the captain of the Chicago hockey team and she finds herself adding amendments to all of her rules.
Each of Aven's books have the most unique and creative quirk to each of them. In The Aubrey Rules, each chapter starts off with a rule of Aubrey's and slowly, as she gets to know Beckett, the captain of the hockey team, we see the notes and amendments that she's adding. It's such a cool touch!
Captain Beckett Riley is amazing and you will fall in love with him! No doubt about it. He's so sweet and genuine and funny and a fantastic leader for his team. He's great on the ice and has a passion for hockey. But put a camera in his face? As long as it's hockey related, he's okay but veer away from that topic and he turns super shy and awkward. He may be famous and a professional athlete but he's shy! It's such a great combination especially as Aubrey helps him overcome some of his public speaking issues. Aubrey and Beckett together is THE BEST. Their banter is hilarious and I found myself chuckling out loud as I read. There IS a reason Aubrey nicknames Beckett "Captain Smart Ass". Ahh I seriously just have such a LOVE for Beckett and there are not enough words to describe this love.
Besides the amazingness of Aubrey and Beckett together, we get a glimpse into the hockey world and Aven knows her hockey, you guys. I love sporty books and I love how much I've actually learned about hockey! I really liked that side of the story too because yeah, as a professional athlete, you have to keep up appearances and maybe that involves social media but what if you're like Beckett? Really cool insight!
Another aspect I enjoyed is the focus on Aubrey's career. I loved seeing Aubrey's passion and dedication and determination! Plus, she is just so spunky and fiery. She is the perfect complement to Beckett!
As with all her books, Aven has great attention to fun details like fashion or food and honestly, I always come away from reading one of her books longing for something. In this case, it was french fries. Preferably french fries with a Canadian hockey player but… oh yeah, Beckett is fiction. SIGH.
In Short…
The Aubrey Rules is such a fun, sweet romance that will just leave you smiling! It features one of my absolute favorite sporty heroes, Captain Smart Ass aka Beckett. His witty banter and sweet personality will steal your heart. I highly recommend you pick this one up if you're a fan of sporty books, hockey or just simply an amazing romance story!
My Rating: 
Related Posts