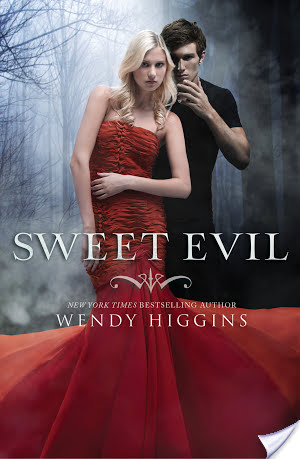 Sweet Evil

by Wendy Higgins
Series: The Sweet Trilogy #1
Published by Harper Collins on May 1st 2012
Genres: Young Adult, General, Love & Romance, Other
Pages: 464
Format: Audiobook
Narrator: Erin Mallon
Length: 11 hrs and 41 min
Source: Library
Buy on Amazon
Goodreads


Fans of Cassandra Clare's Mortal Instruments series will be drawn to Wendy Higgins's sexy, thrilling Sweet Evil series.
What if there were teens whose lives literally depended on being bad influences? This is the reality for sons and daughters of fallen angels.
Tenderhearted Southern girl Anna Whitt was born with the sixth sense to see and feel emotions of other people. She's aware of a struggle within herself, an inexplicable pull toward danger, but Anna, the ultimate good girl, has always had the advantage of her angel side to balance the darkness within. It isn't until she turns sixteen and meets the alluring Kaidan Rowe that she discovers her terrifying heritage and her willpower is put to the test. He's the boy your daddy warned you about. If only someone had warned Anna.
Forced to face her destiny, will Anna embrace her halo or her horns?
The Sound:
I think it was a mistake for me to listen to this one on audio… the whiny aspect of the main character Anna was magnified by actually hearing it. At about 72% I switched over to reading it on my kindle because the MC's personality grated on me so much and the audio was exacerbating how I felt.
The Story:
You know, I've heard so much about this series and so much about swoony boy Kaidan Rowe. This series has been on my list to read for forever. Unfortunately, this did not work for me. Let me tell you why.
Reason #1: The MC, Anna. The premise of the story is that Anna is the daughter of an angel of light and a demon so she's sort of unique. She feels a pull toward drugs, alcohol and the like because that is what her demon father specialized in but she's also very good and pure and all things light and pretty and good in this world. Not that that's bad. But she was a little too goody-goody. But my main complaint of Anna isn't that. It's the fact that she is really downright whiny. I'm not sure if the audio magnified this aspect more or not but man. Kaidan leaves her. "But Kaiii…. whyyy?" Kaidan does something else. "Nooo….." Like as I'm typing this, I can hear the whine in her little Southern twang. *wince*
Reason #2: Instalove. She meets Kaidan. They go on a road trip. For four days. At the end of said four days, she is IN LOVE. She refuses to eat or drink or do anything because he doesn't want to see her anymore. Dear. Lord. She pines after him and it's not as if they ever even had a relationship. It's just too much.
Reason #3: Preachiness. I don't often notice this in books… but this one seemed glaringly preachy to me and it really rubbed me the wrong way. Part of why this is preachy is most likely because of who Anna is as a character but gosh, I couldn't really get on board with it.
So there are my top three reasons why this book didn't work for me. It's really too bad because the world is really cool. The set up of the angels and Dukes (demons) and the Dukes' children (called Nephilim) is really interesting. The Neph have to work for their fathers in their respective "field" (ie: Anna's father is the Duke of Substance Abuse so she tries to lead others to abuse drugs, alcohol and the like). I feel like this had a lot more potential. As much as I enjoyed the history of how the Dukes came to be and all that, the characters grated on me so much that I really couldn't handle it.
Which brings me to the fact that I felt about 0% attraction to pretty boy Kaidan. I just don't get the allure. Sure he's British and in a band. But really, what else? I know I'm on the outs on this one though.
In Short…
The angel and demon world in this book is really cool and it was pretty fascinating. However, the characters, especially the MC, and I just did not get along. As a result, I won't be continuing the series. However, I do know plenty of people who really loved this series so if you are into paranormal or angels, you may still want to check this out!
My Rating: 
So have you read this one? Did you love it or did you have similar thoughts to me? What are some of your favorite angel books?
Related Posts