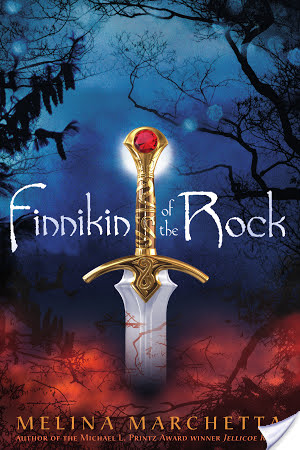 Finnikin of the Rock

by Melina Marchetta
Published by Candlewick Press on April 6th 2010
Genres: Young Adult, Fantasy & Magic, Action & Adventure, General
Pages: 416
Format: Paperback
Source: Bought
Buy on Amazon
Goodreads


Finnikin was only a child during the five days of the unspeakable, when the royal family of Lumatere were brutally murdered, and an imposter seized the throne. Now a curse binds all who remain inside Lumatere's walls, and those who escaped roam the surrounding lands as exiles, persecuted and despairing, dying by the thousands in fever camps. In a narrative crackling with the tension of an imminent storm, Finnikin, now on the cusp on manhood, is compelled to join forces with an arrogant and enigmatic young novice named Evanjalin, who claims that her dark dreams will lead the exiles to a surviving royal child and a way to pierce the cursed barrier and regain the land of Lumatere. But Evanjalin's unpredictable behavior suggests that she is not what she seems—and the startling truth will test Finnikin's faith not only in her, but in all he knows to be true about himself and his destiny.
Let me start off by saying that this series is supremely hard to review. What do I say that will describe the epicness that is this fantasy series? How can I tell you about how this series captured my heart and my emotions and a little bit of my soul? How do I explain how Melina Marchetta's words are like magic? How do I even begin to tell you about the all time most amazing ships (yes, PLURAL) of all time?
I'm not sure I can do these books justice but I will attempt to try.
I had previously read Finnikin of the Rock a few years ago but didn't get to continuing the series so I reread it before binging the whole series because it had been so long! Finnikin does start off a little slow but it soon caught my interest and I was hooked. Finnikin's home country of Lumatere is cursed — after the entire royal family was murdered, the kingdom was cursed and no one can enter or leave. No one even knows if the people trapped inside are alive or have also suffered the same fate as the royal family at the hands of the murdering army from a bordering country. The exiles of Lumatere have no home and are sort of wandering and lost. It's up to Finnikin and a young woman he meets in his travels to see if she can help him find the possible missing heir.
The story is really all about loyalty and hope and this amazing determination and strength seen in so many people. Melina writes the characters so wonderfully and builds such great back story that I was touched and I was right there with these characters hoping and dreaming and feeling with them.
In Froi of the Exiles, we see one of the absolute best character arc I've ever read. Froi grows SO much and he transforms and starts becoming the most incredible man. Melina knows how to write character growth. I mean, he's sort of a despicable character in Finnikin but oh gosh. I can't even emphasize enough how amazing it is to see Froi mature.
This book is really big, but I loved every single page. There are the coolest little intricacies and surprising reveals that made me gasp and get so excited. There's some crazy political intrigue that had me holding my breath. But the best thing of all? There are some damn fantastic SHIPS in this book! Not just one. There are so many and they ALL were just amazing and the absolute BEST and made my shippy heart swell and burst.
I really don't want to say much about the details of Quintana because it's fantastic to just experience it for the first time. This series is just so epic. Melina's writing is powerful and beautiful and I think she brings to life and captures the heart of each of these characters perfectly. Everything is just brilliant from all the little things clicking into place to the immensely beautiful history and setting and all the details of this gorgeous fantasy world. There are multiple story lines, all of which I loved but everything comes together perfectly.
I really feel like I'm not doing this series justice because I've been struggling to write this review for over a month. I can't seem to find all the words to express how much these books made me feel and cry and love and experience the most amazing journey with the best characters I've ever read. This series has locked itself onto my list of all time favorites and it owns a piece of my heart and soul. I strongly urge and recommend you to read this if you have not already! You won't regret it.
My Rating: 
Tell me some of your favorite epic fantasy series! Have you read this one? If so, tell me your favorite character (if you can even choose just one!)
Related Posts