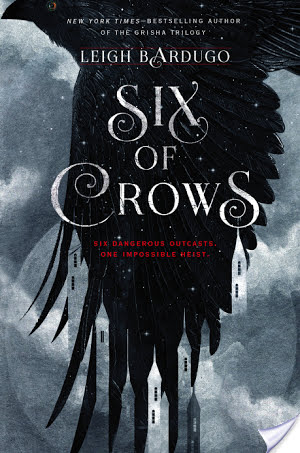 Six of Crows

by Leigh Bardugo
Series: Six of Crows #1
Published by Macmillan on September 29th 2015
Genres: Young Adult, Action & Adventure, General, Fantasy & Magic
Pages: 480
Format: ARC
Source: Borrowed from Rebecca at Library Canary
Buy on Amazon
Goodreads


Ketterdam: a bustling hub of international trade where anything can be had for the right price--and no one knows that better than criminal prodigy Kaz Brekker. Kaz is offered a chance at a deadly heist that could make him rich beyond his wildest dreams. But he can't pull it off alone...
A convict with a thirst for revenge.
A sharpshooter who can't walk away from a wager.
A runaway with a privileged past.
A spy known as the Wraith.
A Heartrender using her magic to survive the slums.
A thief with a gift for unlikely escapes.
Six dangerous outcasts. One impossible heist. Kaz's crew is the only thing that might stand between the world and destruction--if they don't kill each other first.
Why Did I Read?
The Grisha trilogy is one of my favorite fantasy series so I was beyond excited when I heard that there was going to be a new series set in the Grishaverse!
My Thoughts:
Leigh has a way with words! Her writing is amazing. Sometimes when I read, there are certain books that as I read, the words settle over me and I get this feeling of ahhh, yes, this is why I love reading. The descriptions place me right there in Ketterdam in the Grisha universe and her writing is just… beautiful to my brain. I'm not sure I'm quite conveying the sentiment I'm feeling but I just love the way she weaves words together!
Anyway, my obsession with Leigh's writing aside, I loved this story! First of all, while this is set in the Grishaverse, you in no way need to have read the Grisha trilogy in order to enjoy Six of Crows. You just have the same world but it truly is its own standalone series. Kaz is a criminal. He's a great criminal and good at what he does. He belongs to one of the many gangs in Ketterdam and is approached with a job, a near impossible heist but with a reward that just can't be turned down. I do love myself a good heist story!
Each person in Kaz's team that he puts together for this heist is super intriguing. They all have a history. Each and every one of them have such an complex background and I loved slowly getting to know how each person came to be the way they are and what happened in their pasts to drive them in the present. Besides the intriguing background of each person, you have the heist at hand which is crazy complicated and I could totally see this as a movie. I was on the edge of my seat, waiting to see what would happen and how they could be successful!
I felt like the pacing was spot on. I was hooked and couldn't wait to find out what would happen as well as finding out what had happened in the pasts of each of these characters. The flashbacks were perfect. I'm seriously so invested in everyone in this story and I am already dying for the next book to come out!
In Short…
If you are a fan of fantasy, you will love this one! Leigh's writing is simply amazing and I love love love it and her. I also love the Grisha world and I was so happy to be back in the Grishaverse! The characters, the heist, the story, it ALL was fantastic and I can see myself rereading this already!
My Rating: 
Related Posts