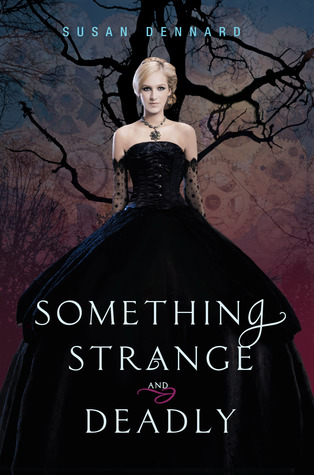 Something Strange and Deadly (Something Strange and Deadly, #1)

by Susan Dennard
Series: Something Strange and Deadly #1
Published by Harper Collins Harper Teen on July 24th 2012
Genres: Historical, Paranormal, Young Adult
Pages: 388
Format: eBook, Hardcover
Source: Bought
Buy on Amazon
Goodreads


Philadelphia 1876. The Dead are rising. A zombie delivers a letter to Eleanor Fitt. Whoever controls the Dead Army has her brother. She avoids her mother's choice of husband for the lab of Spirit Hunters, including the maddeningly stubborn yet handsome Daniel. The situation threatens her reputation, and the lives of everyone in the city.
This series has been on my list to read for quite awhile! First, the covers and dresses are gorgeous. Secondly, zombie aspect drew me in because I love zombie stories! I finally decided to do this for my August series.
The first book, Something Strange and Deadly is set in Philadelphia in the late 1800s. Eleanor Fitt is just your normal girl until mass numbers of zombies interrupts her day to day life. The Dead, as they are called in this series, is not something abnormal. Dead have been known to rise; there are even warning bells on coffins. But the occurrences are few and far in between. So the fact that large quantities are invading is not good.
When Eleanor gets an indication that her brother may be wrapped up in this, she seeks the help of Spirit Hunters who deal with the Dead. Together, they try to unravel what's happening and try to protect the city at the same time.
I really loved the historical fiction feel of the story mixed with the supernatural elements. There are cool inventions that the Spirit Hunters work with as well that was just really interesting. I enjoyed the mystery of trying to figure out who was controlling the Dead and unraveling the finer points of the lot.
Eleanor is also a strong character, determined and fiesty. I liked seeing her growing friendship with the Spirit Hunters and the beginnings of a slow burn romance between her and Daniel. I loved Daniel! He hasn't been dealt the best cards in life but he is so smart and passionate about his inventions!
The next two books take our characters to France and then Egypt. I loved the settings because France and Egypt are truly brought to life and wonderfully written. I did get slightly annoyed with Eleanor because she keeps information to herself and sort of pushes her friends away in the process. It was just frustrating to see that happen through the majority of the second book. It happens again in the last book which was a bit irritating as well.
I really did enjoy trying to figure out the nuances of the plot in A Darkness Strange and Lovely and there is a lot of new supernatural elements introduced that I thought were unique and fascinating. The slow burn romance and back and forth between Daniel and Eleanor continues and gosh, I really liked those two!
Strange and Ever After was somewhat disappointing to me actually. It felt a bit repetitive — I'm being purposefully vague, but it felt like the plot was similar to the second but just set in Egypt. That being said, I thoroughly enjoyed their adventures in Egypt and really cool to delve into the historical aspects in Egypt (just like it was in France) but I do wish it had more of a distinction plotwise from the second book.
So… the end really left me in kind of a shock. I didn't like the ending. It seemed pointless to me and sadly, I just… didn't like how things ended up. View Spoiler »A whole series building this amazing slow burn romance and then you go and KILL Daniel. The ending is supposed to be inspirational because Eleanor has sort of found herself and she'll always remember him and all that, but… it just didn't sit well with me because his death seemed sort of pointless! Joseph would rather have died than have Jie or Daniel die — he said so. So, to me, it ended up feeling like his death was a little empty. I've invested in Eleanor and Daniel for three whole books. Sigh. « Hide Spoiler I think people are kind of split, some have loved it! This was just me.
In Short…
I think I loved the first book the most. I loved seeing the friendships start, get introduced to necromancers and the Dead and awesome inventions from the Spirit Hunters. I loved the cool historical elements, seeing Philadelphia set in the 1800s and then France and Egypt to come. The plot of the second and last book felt too similar to me but with a different setting and the ending irked me. However, I do think this series was so unique and interesting and if you're a zombie fan, you may really love it!
Are you a zombie fan? Have you read this series? What did you think?
Related Posts