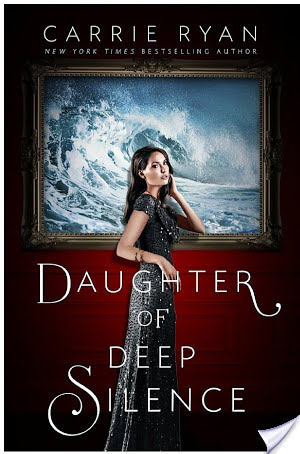 Daughter of Deep Silence

by Carrie Ryan
Published by Penguin on May 26th 2015
Genres: Young Adult, Action & Adventure, Survival Stories, Love & Romance, Social Issues, Death & Dying, Family, Orphans & Foster Homes
Pages: 384
Format: Audiobook
Length: 9 hrs and 33 minutes
Source: Library
Buy on Amazon
Goodreads


I'm the daughter of murdered parents. I'm the friend of a dead girl. I'm the lover of my enemy. And I will have my revenge. In the wake of the devastating destruction of the luxury yacht Persephone, just three souls remain to tell its story—and two of them are lying. Only Frances Mace knows the terrifying truth, and she'll stop at nothing to avenge the murders of everyone she held dear. Even if it means taking down the boy she loves and possibly losing herself in the process. Sharp and incisive, Daughter of Deep Silence by bestselling author Carrie Ryan is a deliciously smart revenge thriller that examines perceptions of identity, love, and the lengths to which one girl is willing to go when she thinks she has nothing to lose.
The Sound:
The narration was decent and enjoyable. I thought the narrator did a good job with infusing the emotion of the main character in her voice.
The Story:
So, I love myself a good revenge story. Mix in a covered up attack and murder of an entire cruise ship full of people? I am so in. I was really eager to see what exactly was going on with the attack and how Frances was going to go about her revenge. Unfortunately, I was disappointed for the most part.
It starts out super intriguing, opening with the attack on the Persephone where Frances escapes and is lost at sea for a week with her friend Libby. Ultimately, Libby dies right before they're found and rescued. In these seven days, the senator and his son are also rescued — except they're saying a rogue wave took down the ship. Knowing this is false, and having had her parents killed on the ship, Frances takes Libby's father Cecil's offer to take Libby's place and become his "daughter". This sounds like a great set up for her to escape notice and have someone to keep her safe from these killers who are probably suspicious of her — the only other survivor.
The story flashes forward four years, when Frances (acting as Libby) is now 18. She wants revenge. But I was really astounded at the fact that in these four years, Cecil did not really look into this incident. That didn't seem plausible. I would have thought he'd try to find out SOMETHING about the people who took his wife and daughter from him. Anyway, he dies (of natural causes) so he's not really in the story.
The other thing that bothered me… It's not until like the 70% mark that the question of WHO WERE THE MASKED MEN and WHY WAS THERE AN ATTACK was asked. She's so obsessed with the senator and like, okay, but what about the root of the problem? Plus, her plans seemed really haphazard and not foolproof at all. Often times, they were derailed by a single look or touch from lover boy Gray (the senator's son).
Which brings me to the romance in this book. The romance irked me. A lot. I think the biggest reason is because it keeps referencing how much she LOVED Gray, back on the ship when she met him. When she was fourteen. And had just met and known him for a few days on the ship. Hello young instalove. And it's being talked about like they were SO IN LOVE and now it's so hard to see him, etc. I couldn't deal with it. I was just like, seriously, you knew him for a few days. When you were in middle school. It made me roll my eyes.
I just didn't really get the revenge thriller "excitement" feel or "edge of your seat" feel. I did enjoy the end but there were just so many things that irked me throughout the book. It's unfortunate because I think it really had more potential! I know some people enjoyed this a lot more than me, so perhaps this just wasn't a "me" book.
My Rating: 
Related Posts