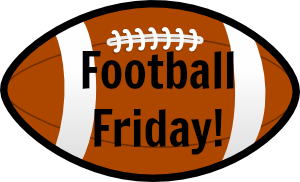 What is Football Friday, you ask? And what if you don't like football? DON'T LEAVE YET. There will be book talk too! Last year I was inspired to start this because I was so excited to have book friends who love football too and loved talking football with them! Basically, each week I'll feature a player. There will be a "football lite" section with a brief intro about him and why I chose to feature him. For those die-hard fans, I'll also have a "football fanatic" section where I'll have a discussion about the player!
To bribe non-football fans, I'll have a weekly football hottie picture (because football pants, am I right?) and I'll also feature a sporty book I've enjoyed!
This week I'll be featuring Calvin Johnson! 
Football Lite: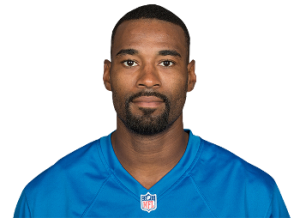 Position: Wide Receiver
Team: Detroit Lions
Why did I pick him? Why not pick someone nicknamed Megatron?? Calvin Johnson is one of the best wide receivers in the game! Did you know that his wingspan is 6 foot 10 inches?! That just boggles my mind. Check out this fun Sports Science video to get a sense of just how incredible his athletic ability is!
Football Fanatic:
Calvin Johnson was drafted as the number 2 overall pick in 2007 by the Detroit Lions. In his second season in the NFL, he had fantastic stats (12 touchdowns!) but the Lions, sadly, became the first team ever to have a 0-16 season. Megatron did help his team to the playoffs in 2011!
In 2012, he broke Jerry Rice's record for most receiving yards in a season with 1964 yards! Whew. That's pretty crazy. (I can't help but think, imagine if you had him in fantasy football that season!) He's also the first player to have consecutive seasons with over 1600 receiving yards!
Discuss: Will Megatron with his freakish athletic ability help the Lions out of their 0-3 slump? (But…if he does, let's not have that happen this week. They're playing the Seahawks this week. ;))
Football Hottie of the Week: 
Cam Newton, QB, Carolina Panthers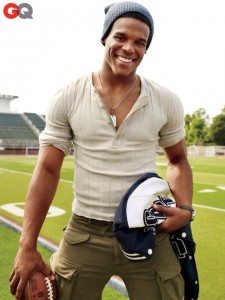 Look at that dimple!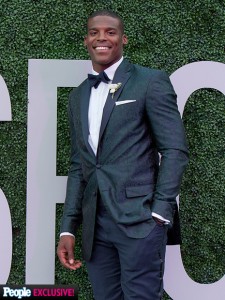 And he knows how to wear a tux!
Game to Watch For:
Green Bay Packers vs the 49ers
Umm, this is mostly because Aaron Rodgers threw for FIVE TDs last week and I would love to see the Niners blown out. I think it'll be fun to watch. 🙂
Sporty Book Spotlight: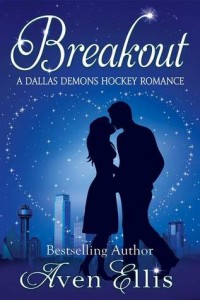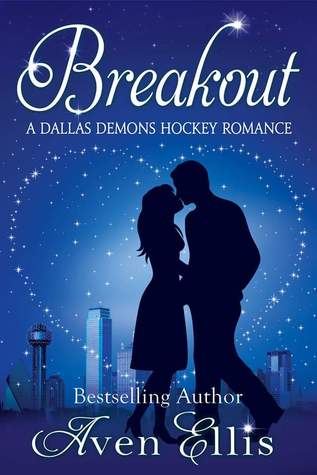 While Texas is known for loving football, Lexi Stewart has always been drawn to the ice. Hockey is her passion, and she wants nothing more than to pursue a career in video editing for the home network of the Dallas Demons hockey team.

Lexi has an editing job for a corporate account, but it's not fulfilling. Nor is her dating life, despite having the so-called help of The One Online Dating Service. Lexi knows there has to be more for her—on both fronts. She's ready to take the next step, but it doesn't seem like it's going to happen anytime soon.

Until a flying puck changes everything.

Niko Xenakis is the new Dallas Demons TV producer, and he's looking to make his mark in his new role and hopefully work his way back to his hometown of Baltimore. But once he meets Lexi, he might just change his mind on what he wants for his future . . .

But the road to love is never easy, complicated by the fact that they both carry emotional baggage from the past in their hearts. Can these two "breakout"of the past to find love in the present?
Aven Ellis writes the best sweet romance stories that are just perfect to curl up with! Her newest, Breakout, comes out November 4th but you can preorder it already! And isn't the cover just gorgeous?? Trust me, you want this book! Aven is singlehandedly making me a hockey fan. In this newest book, we get a behind the scenes look at TV producing for the Dallas Demons, as well as meeting sexy Niko! You can thank me for the introduction to Niko afterward.
What do you guys think about Megatron? Doesn't his crazy wingspan and athletic ability just boggle your mind?? I think it's pretty awesome. What game are you excited to watch this week? And did you preorder Breakout yet? You should!!
Related Posts