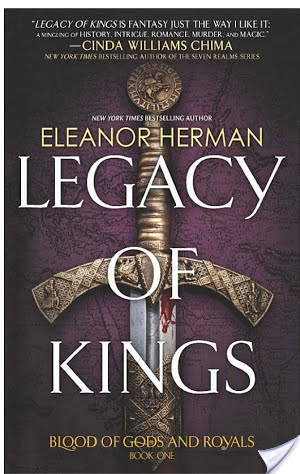 Legacy of Kings

by Eleanor Herman
Series: Blood of Gods and Royals #1
Published by Harlequin on September 1st 2015
Genres: Young Adult, Fantasy & Magic, Historical, Ancient Civilizations, Action & Adventure, General, Fiction, Fantasy, Romance
Pages: 304
Format: eARC
Source: Netgalley
Goodreads

"Readers who love myth and magic will devour it!"
—Alex Flinn, #1 New York Times bestselling author of Beastly
"Fantasy just the way I like it."
—Cinda Williams Chima, New York Times bestselling author of The Seven Realms series
Imagine a time when the gods turn a blind eye to the agony of men, when the last of the hellions roam the plains, and evil stirs beyond the edges of the map. A time when cities burn, and in their ashes, empires rise.
Alexander, Macedon's sixteen-year-old heir, is on the brink of discovering his fated role in conquering the known world, but finds himself drawn to a newcomer…
Katerina must navigate the dark secrets of court life while keeping hidden her own mission: kill the queen. But she doesn't account for her first love…
Jacob will go to unthinkable lengths to win Katerina, even if it means having to compete with Hephaestion, a murderer sheltered by the prince.
And far across the sea, Zofia, a Persian princess and Alexander's unmet betrothed, wants to alter her destiny by seeking the famed and deadly Spirit Eaters.
Weaving fantasy with the shocking details of real history, New York Times bestselling author of Sex with Kings Eleanor Herman reimagines the greatest emperor the world has ever known, Alexander the Great, in the first book of the Blood of Gods and Royals series.
I received this book for free in exchange for an honest review. This does not affect my opinion of the book or the content of my review.
My Thoughts:
I DNF-ed at 36%.
I was really looking forward to this. It's supposed to be a historical fiction story of Alexander the Great mixed with fantasy elements. It sounds amazing! It's totally something I'd be into. Unfortunately, this did not work out for me. And I tried really hard to push through.
First of all, the tense it's written in really threw me. It's written in 3rd person present tense and I struggled with this. It kept jolting me out of the story and was generally disconcerting.
Secondly, there are WAY too many POVs. There are SEVEN. SEVEN different POVs. It was like whiplash going to a different person chapter after chapter. It was too much. I don't usually have issues with multiple POVs so the fact that this was getting really irritating to me says something. Some didn't feel necessary.
Unfortunately, the characters didn't engage me, either. I was intrigued by the story itself though. I think this had potential to be really good but I couldn't keep slogging through all the different POVs especially with the tense it's written in. I'm sad this didn't work out for me! My interest in the plot itself just couldn't override my annoyance with everything else.
For those who have read, did you have the same issues as me? What did you think?
Related Posts