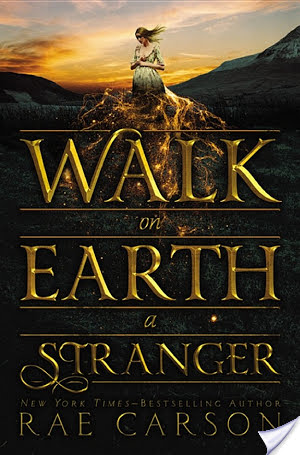 Walk on Earth a Stranger

by Rae Carson
Series: The Gold Seer Trilogy #1
Published by HarperCollins on September 22nd 2015
Genres: Young Adult, Fantasy & Magic, Action & Adventure, General, Girls & Women
Pages: 448
Format: ARC
Source: Publisher
Buy on Amazon
Goodreads


A National Book Award Longlist Title
The first book in a new trilogy from acclaimed New York Times–bestselling author Rae Carson. A young woman with the magical ability to sense the presence of gold must flee her home, taking her on a sweeping and dangerous journey across Gold Rush–era America. Walk on Earth a Stranger begins an epic saga from one of the finest writers of young adult literature.
Lee Westfall has a secret. She can sense the presence of gold in the world around her. Veins deep beneath the earth, pebbles in the river, nuggets dug up from the forest floor. The buzz of gold means warmth and life and home—until everything is ripped away by a man who wants to control her. Left with nothing, Lee disguises herself as a boy and takes to the trail across the country. Gold was discovered in California, and where else could such a magical girl find herself, find safety?
Rae Carson, author of the acclaimed Girl of Fire and Thorns series, dazzles with the first book in the Gold Seer Trilogy, introducing a strong heroine, a perilous road, a fantastical twist, and a slow-burning romance, as only she can.
I received this book for free in exchange for an honest review. This does not affect my opinion of the book or the content of my review.
Why Did I Read?
I was SO excited to hear that Rae Carson was coming out with a new fantasy series! I adored her Girl of Fire and Thorns series, so I could not have been more elated!
My Thoughts:
First off, this book was not what I expected at all. I think I was expecting a fantasy akin to Rae's previous series but Walk On Earth A Stranger felt primarily historical fiction with just a touch of fantasy. For me, this didn't pose a problem because I happen to love historical fiction and love this time period. (When I was younger, I was obsessed with the 1800s and obsessed with reading stories of the Oregon trail.) I just want to let it be known that it has very little fantasy (at least in this first book, I expect there will be heavier fantasy elements in the sequel) so people aren't expecting that.
That being said, I really liked this one! It's a slower paced book, most definitely a journey book, but I really loved that! Leah Westfall is such an amazing character. She's strong, determined and capable and I really admired her strength, especially in the events that happen in the beginning of the book. She pretends she's a boy as she embarks on the trip west, to California and the gold waiting there. And here is the touch of fantasy — Lee can sense gold and it calls to her. There's not much that's said about her ability, where it came from, etc, but I think it's going to play a bigger part in the next book.
I absolutely loved the journey of their wagon train going across the country. (I'm not kidding when I say I was obsessed with Oregon trail stories when I was younger — I read countless books and never got tired of it.) Rae fleshes out all these secondary characters that Lee travels with so incredibly well and I became attached to even the most minor character. Rae is just so good at character development and making you invested in each person and their story.
The romance is very light in this one and I was a little sad about that (I won't lie, I was hoping for someone akin to Hector, Lord Commander of my heart…) but I had to remind myself that this is a different series. The romance has a lot of potential and I think that it will develop a lot more in the next book!
In Short…
This is very much a historical fiction story with just a tad of fantasy, so be prepared for that. However, as a fan of historical fiction and this time period in particular, I loved the story! Leah is a fantastic character and I found myself rooting for her the whole time. I loved traveling with her on her journey and experiencing the ups and downs with her. I'm so eager to see what will happen next!
My Rating: 
What did you think about Rae Carson's new series? Do you think the fantasy element will come in play more in the next book? Tell me your thoughts!
Related Posts