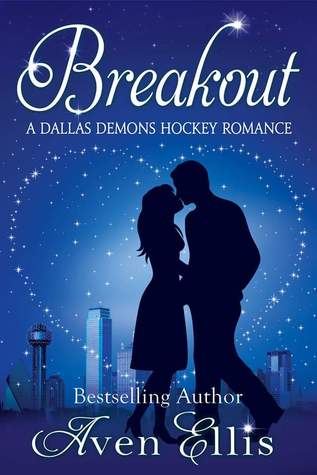 Breakout

by Aven Ellis
Series: Dallas Demons #3
Published by Soul Mate Publishing on November 4, 2015
Genres: Contemporary, Romance, Sports
Format: eARC
Source: Author
Buy on Amazon
Goodreads


While Texas is known for loving football, Lexi Stewart has always been drawn to the ice. Hockey is her passion, and she wants nothing more than to pursue a career in video editing for the home network of the Dallas Demons hockey team.

Lexi has an editing job for a corporate account, but it's not fulfilling. Nor is her dating life, despite having the so-called help of The One Online Dating Service. Lexi knows there has to be more for her—on both fronts. She's ready to take the next step, but it doesn't seem like it's going to happen anytime soon.

Until a flying puck changes everything.

Niko Xenakis is the new Dallas Demons TV producer, and he's looking to make his mark in his new role and hopefully work his way back to his hometown of Baltimore. But once he meets Lexi, he might just change his mind on what he wants for his future . . .

But the road to love is never easy, complicated by the fact that they both carry emotional baggage from the past in their hearts. Can these two "breakout"of the past to find love in the present?
I received this book for free in exchange for an honest review. This does not affect my opinion of the book or the content of my review.
My Thoughts:
Aven is the queen of sweet romances that leave you happy and smiling. I know that if I am ever in a down mood, I only have to pick up one of her books to be cheered right up. Breakout is no exception!
In Breakout, we get to see Lexi's story. Lexi loves video editing and she also LOVES hockey. She loves hockey with the same passion that everyone else in Texas loves football. She knows all about the sport and she loves putting together little edits of the Dallas Demons that she films. She's good at editing! Unfortunately, she's had no luck in getting a job in that field. She's also not had any luck on the dating scene either, and the online dating service she tries out is definitely no help.
But then she meets Niko Xenakis. Holy greek god of sexiness. Niko is not only hot but funny and amazing! He's also the new producer for the Dallas Demons and after seeing Lexi's work, hires her on. One of the things I love about Aven's books is that they always give me a glimpse into some other field or career that I knew nothing about. It was so interesting to see what the behind the scenes work for producing a sport for TV is like! (It actually made me think of the teases and clips I see for football! It makes me think: HMM, who put this together and was that a good music choice?) It's just really cool to see the producing aspect and Aven's hockey books have made me love hockey so I adored that aspect!
I love that Lexi is really driven and she knows she's good at what she does and wants to be recognized for it! She's determined and her passion of what she loves totally shines through and jumps off the pages. She and Niko together just make me smile. There are definitely some insecurities there but it's all very realistic! Loved that nothing is overblown.
If you've read Aven's previous Dallas Demons books (if not, you SHOULD), then you'll also see the other characters make their appearances and I loved seeing them!
In Short…
Breakout is a great, sweet romance that is just the thing to read if you want to be left smiling! Love these characters and loved seeing the hockey aspect!
My Rating: 
Related Posts