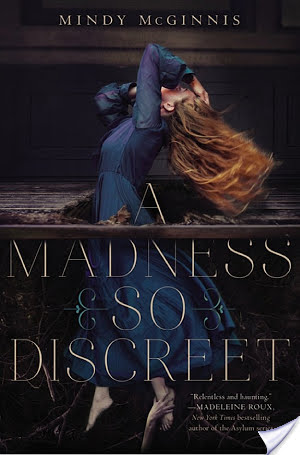 A Madness So Discreet

by Mindy McGinnis
Published by HarperCollins on October 6th 2015
Genres: Young Adult, Law & Crime, Mysteries & Detective Stories, Horror & Ghost Stories, Historical, United States, 19th Century
Pages: 384
Format: Audiobook
Source: Publisher
Buy on Amazon
Goodreads


Mindy McGinnis, the acclaimed author of Not a Drop to Drink and In a Handful of Dust, combines murder, madness, and mystery in a beautifully twisted gothic historical thriller perfect for fans of novels such as Asylum and The Diviners as well as television's True Detective and American Horror Story.
Grace Mae is already familiar with madness when family secrets and the bulge in her belly send her to an insane asylum—but it is in the darkness that she finds a new lease on life. When a visiting doctor interested in criminal psychology recognizes Grace's brilliant mind beneath her rage, he recruits her as his assistant. Continuing to operate under the cloak of madness at crime scenes allows her to gather clues from bystanders who believe her less than human. Now comfortable in an ethical asylum, Grace finds friends—and hope. But gruesome nights bring Grace and the doctor into the circle of a killer who will bring her shaky sanity and the demons in her past dangerously close to the surface.
I received this book for free in exchange for an honest review. This does not affect my opinion of the book or the content of my review.
The Sound:
I really enjoyed the narrator for this one! I think it helped set up just the right atmosphere for the book because her voice of Grace seemed spot on to me. She really brought to life all the secondary characters. I think my enjoyment level would definitely have taken a dive if I had read and not listened to it on audio.
The Story:
That being said, while I enjoyed the audio narration, the story was a little hit and miss for me. It's a super unique and interesting setting, and really intriguing set up. The historical fiction aspect was fascinating — to see what insane asylums were like and the gradual change they went through as time progressed. It talks of the beginning of criminal psychology and while everything was interesting, it never really grabbed me.
The beginning was a little slow for me to begin with. However, as we get settled in to the story, I kept expecting… more. It just didn't feel like much was really happening for a majority of the book. I understand it's a quieter sort of book, but the lack of events detracted from my enjoyment. I suppose I also thought that there would be more of a more intense mystery/thriller feel what with the murdered girls but I didn't really get that. There is a lot about Grace's growth as a character and yes, that was interesting to see and follow. But I guess I just got a little bored.
This book is also really dark, so keep that in mind. There's a lot of interesting delving into human nature and madness and psychology which I really liked. I took a few psychology classes in undergrad and that whole subject area is just fascinating. But as much as these certain things captured my interest, the overall story fell flat for me.
In Short…
This book was a truly fascinating historical fiction taking a look at the insane and criminal psychology. It has a dark atmosphere but features a strong heroine that I respected. It has a lot of interesting subject matter but unfortunately, for me, the plot just felt too slow for me. I was not captivated. However, I do think it's worth a try if it sounds like something you'd enjoy! I would definitely recommend the audio as well because I think the narrator does a fantastic job.
My Rating: 
Related Posts