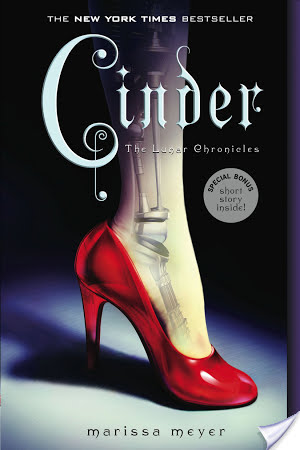 Cinder

by Marissa Meyer
Series: The Lunar Chronicles
Published by Macmillan on January 8th 2013
Genres: Young Adult, Fairy Tales & Folklore, General, Adaptations, Science Fiction
Pages: 448
Format: Audiobook
Narrator: Rebecca Soler
Length: 10 hours and 6 minutes
Source: Bought
Buy on Amazon
Goodreads


Humans and androids crowd the raucous streets of New Beijing. A deadly plague ravages the population. From space, a ruthless lunar people watch, waiting to make their move. No one knows that Earth's fate hinges on one girl.

Cinder, a gifted mechanic, is a cyborg. She's a second-class citizen with a mysterious past, reviled by her stepmother and blamed for her stepsister's illness. But when her life becomes intertwined with the handsome Prince Kai's, she suddenly finds herself at the center of an intergalactic struggle, and a forbidden attraction. Caught between duty and freedom, loyalty and betrayal, she must uncover secrets about her past in order to protect her world's future.
I will be writing a separate review for Winter but this will encompass Cinder, Scarlet, Cress and Fairest! I will be staying away from spoilers in case you have not read the series yet!
The Sound:
Rebecca Soler is seriously one of my absolute favorite narrators now. She is FANTASTIC. She does such an absolutely amazing job with this series! Her voices for each character are perfect and bring them to life! I loved her audios so much that I am currently listening to Winter on audio because I couldn't read it and miss out on hearing these characters for the series finale.
The Story:
I have spent years listening to my friends talk about the Lunar Chronicles and yet never picked it up. I think in the back of my mind I knew that I would have to wait for the next book. And then of course, the release for Winter kept on getting delayed and I saw the pain my friends were in and I just decided to keep waiting. Well, I finally binged it! So, I love fairytale retellings. Adore them. It's one of the reasons why I loved the show Once Upon A Time so much. It's just so fascinating to think about the what ifs and the different possibilities in my most loved tales. Therefore, it's no surprise that I really enjoyed these books! I will say that I am not on the same level of heavy duty LOVE for this series as a lot of people, but I do like them immensely. Let me explain.
I thought Cinder was such a cool retelling — Cinderella as a cyborg? Awesome! I really enjoyed seeing the events play out and spying the parallels. I also liked Cinder a lot because she was just so snarky and sarcastic and given her childhood past, I liked that nothing could bring her down. The world building is just crazy cool and at first I was totally taken aback because all this time I had thought this was a fantasy series! I remember being so surprised to realize it was sci-fi! But it works so well as sci fi. Which brings me to Iko, one of my favorite characters. She's an android but with a defect in her personality chip that makes her almost seem human — she's constantly obsessed with clothes and celebrity gossip and her swooning and comments about Prince Kai had me laughing out loud. I really enjoyed the story in Cinder and was eager to go into the next.
So what makes me really really like this series but not freak-out-obsessive-love it? The predictability of the plot. And not in the sense that you roughly know things because of prior fairy tale knowledge. For instance, in Scarlet, the synopsis basically tells you the entire plot. And I spent the majority of the book with this waiting feeling, waiting for us to get to a certain point. You just.. know what's coming next. In Cress, it's sort of the same thing. The synopsis is very telling but not only that, in the story, we get different POVs such that you as a reader can just see where things are going/how things will end up and I got more of that waiting feeling. Waiting for certain things to unfurl. It just felt like you know what events will happen, and then they happen. View Spoiler »For instance, the Scarlet synopsis says Scarlet and Wolf meet up with Cinder and I was basically like okay, Scarlet and Wolf will figure out they're on each other's side and then I was just waiting like, okay, when is Cinder going to get there. Then in Cress, you basically know everyone will be separated so I waited for that to happen, but then even once that happens, I could tell that they'd eventually find each other in the African village based on the different POVs. And then like… you KNOW Kai and Cinder will eventually reconcile so I was waiting and waiting for that last scene in Cress when they FINALLY get to talk. However, I will say that now I have no idea what will happen in Winter and it's the first time in the series I feel like the plot is not predictable. « Hide Spoiler That's my complaint of the series. (Edit: After finishing Winter, I just have to add that Winter was completely unpredictable and that's how Winter bumped into amazing five-star range! <3 For those curious, Cinder and Winter were five-stars for me, with Scarlet and Cress being four stars.)
However, Marissa's characters make up for it tremendously. Because that is where her series has made me fall in love. These characters. These amazing, awesome, unique characters that I have come to know so well and LOVE so much. Their interactions and friendships with each other MAKE the series. Do you like ships? Because my shippy heart was in ship heaven here. Like, hello beautiful ships and beautiful feels.
The characters constantly have me laughing and constantly do or say something that will just be so them and just make me love reading them being well, them! Scarlet is so determined and fearless and when she meets stubborn Wolf, it's like a rock hitting another rock because neither wants to budge but then you get to know more about the quiet, reserved and sometimes scary Wolf and it's perfect. And then you'll never look at tomatoes the same way again. Cress is dreamy and imaginative and so smart and it's so easy to underestimate her but she helps make this group tick! Thorne is THE LOVE OF MY LIFE. I fell in love with him like the first time we ever see him. He's so funny and upbeat and in really dire situations is the one to crack a line or make a joke. He has this facade of I'm-not-a-good-guy-I-steal-and-do-what-I-want but I see through you, Captain. He has so many of my favorite lines and while he acts like he just does things to save his own skin and nothing else, he constantly does things that show his loyalty to his friends. View Spoiler »Like when he gets Iko that escort droid?? What a sweet present!! « Hide Spoiler So I've talked about how much I love Cinder but let's talk about Kai. He shoulders so much responsibility and does it wonderfully and is a perfect diplomat and I just LOVE him. He cares so much for his people and I loved seeing that passion in him to do what is right.
In Short…
The characters and the tightness of this rag tag group of friends MAKE this series wonderful and amazing. I love the world Marissa has written and think the retellings are well done and very creatively woven together. While I feel like the plot was predictable for the first three books, that is the only downside of the series for me. I think everyone needs to experience this series and I can't recommend the audiobooks highly enough! They are perfect.
What do you think about these first three books? Is there anyone out there that haven't read these yet? Tell me your favorite character!
Related Posts