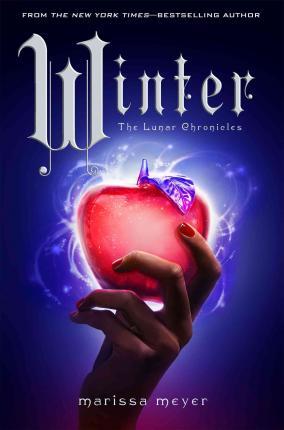 Winter

by Marissa Meyer
Series: The Lunar Chronicles #4
Published by Macmillan on November 10th 2015
Genres: Young Adult, Fairy Tales & Folklore, General, Science Fiction
Pages: 400
Format: Audiobook, Hardcover
Narrator: Rebecca Soler
Length: 23 hours and 30 minutes
Source: Bought
Buy on Amazon
Goodreads


Princess Winter is admired by the Lunar people for her grace and kindness, and despite the scars that mar her face, her beauty is said to be even more breathtaking than that of her stepmother, Queen Levana.
Winter despises her stepmother, and knows Levana won't approve of her feelings for her childhood friend--the handsome palace guard, Jacin. But Winter isn't as weak as Levana believes her to be and she's been undermining her stepmother's wishes for years. Together with the cyborg mechanic, Cinder, and her allies, Winter might even have the power to launch a revolution and win a war that's been raging for far too long.
Can Cinder, Scarlet, Cress, and Winter defeat Levana and find their happily ever afters? Fans will not want to miss this thrilling conclusion to Marissa Meyer's national bestselling Lunar Chronicles series.
The Sound:
I've mentioned last week in my series review of Cinder, Scarlet, and Cress how much I LOVE the narrator and that obviously has not changed. This audio book is the longest I've listened to. TWENTY-THREE AND A HALF HOURS. I loved every second of it and fell into such a book slump after this book because I not only missed the world and the characters but I missed their voices. Rebecca Soler is amazing. She captured each character perfectly and it definitely enhanced the book experience. I could not recommend this series on audio enough.
I was so glad I read this along with Rebecca because I could not have survived without her to text-yell all my thoughts!
The Story:
(My review is spoiler-free!)
Series enders are so scary. There are expectations and fears and the feeling that oh-my-gosh-this-is-the-end. But I could not have asked for a more perfect last book. Winter was perfect. Marissa delivered a masterpiece that I won't soon forget and that had me not read any books for like weeks afterward. A book hangover like that is a sign of an amazing book.
So I mentioned in my series review that the only thing that I didn't like from the previous books was that it was so predictable and I felt like I was just waiting for certain things to happen. However, that was NOT the case at all with Winter. I had absolutely NO idea what was in store for my precious beloved characters. I had no idea how things could be OKAY and how things would end up. I was forever on the edge of my seat!
Winter also really displays one of the reasons I love retellings so much. I absolutely LOVE seeing the parallels to the original fairy tale and seeing how that meshes with the brand new world in the retelling. There were things that happened in Winter where my mouth would drop open when I realized certain things clicking into place and I was just like WOW that is SO cool! So many little details that was so incredibly cool to see. I think the fairytale retelling in Winter was my favorite just because of the accumulation of everything that has happened in the previous books all falling into place. It was just so brilliant. Marissa's world that she has written is just amazing. I was continuously astounded at how perfectly things fit together and how things from the previous books would tie in. I tip my hat off to you, Marissa!
So let's talk about the most amazing cast of characters ever. Seven main characters may sound overwhelming but it never once seemed like it was too much or too repetitive. Each character is so unique and they each bring something so special to the group. I LOVE each and every one of them. And THE SHIPS. The SHIPS are out of this world! Literally, because Winter takes places on Luna so. 😉 The ships have so much heart and swoon and they are just so lovely and perfect. Marissa is the master of ship-writing in my book. And not only that! The FRIENDSHIPS. They are so strong in this book and there were scenes that brought tears to my eyes at how close these characters are and how they would do anything for each other. <3
In Short…
Winter was unpredictable and action packed! I loved every minute of it and I miss the Rampion crew so much. The characters MAKE this series. I haven't fallen in love with a cast of characters like this in a long time. The retelling aspect was so cool and intricately done with all sorts of little details falling into place that made me aghast with wonder. Marissa is so talented at story telling and I highly recommend this series. I suffered the worst book hangover from Winter and am eagerly awaiting the short story compilation of Stars Above! (AND THAT EPILOGUE, I NEED IT.)
My Rating: 
Have you read Winter yet? Did it meet your expectations? If you haven't read the series yet, I hope I have convinced you to try it!
Related Posts