The End of the Year survey is hosted by Jamie at the Perpetual Page Turner! Graphics courtesy of Jamie.
Number Of Books You Read: 123
Number of Re-Reads: 15
Genre You Read The Most From: Contemporary (37) with fantasy coming in second at 29
1. Best Book You Read In 2015?
Check out my top ten tuesday for my top 10 of this year but for the purposes of this survey… and TRYING to give ONE, I'll narrow it to top books released this year. Which I'd have to say Six of Crows, Illuminae and Winter.
2. Book You Were Excited About & Thought You Were Going To Love More But Didn't?
Hahahahaha. I will direct you to my review of Queen of Shadows where you can read my thoughts about it. If you are real curious, in my end of year survey from LAST year, my MOST anticipated book of 2015 was Queen of Shadows so…
3. Most surprising (in a good way or bad way) book you read?
Umm the big one that's jumping to my mind is the same as the above, I guess.
 4. Book You "Pushed" The Most People To Read (And They Did)?

HARRY POTTER. I reread the series this year and then was aghast that some of my friends had not read it so I wouldn't shut up about it and now Danielle and Nick are both reading the series FOR THE FIRST TIME. It makes me insanely, ridiculously and absurdly happy that they are discovering the series of my heart.
 5. Best series you started in 2015? Best Sequel of 2015? Best Series Ender of 2015?

Best series starter: Illuminae! I can't wait for Gemina! Oh wait, also Six of Crows. 🙂 
Best sequel: hmm. I actually can't think of a sequel that was released this year that I loved. I did really enjoy Conspiracy of Blood and Smoke though. 
Best series ender: Winter! It was the perfect ending to the series <3
 6. Favorite new author you discovered in 2015?
Maggie Stiefvater. Yes, hi, I read my first Maggie Stiefvater book this year and I know I'm way behind the times on this. I read and LOVED The Scorpio Races so now I need to go read her other books, obviously.
7. Best book from a genre you don't typically read/was out of your comfort zone?

I haven't really read steampunk and this duology was probably lighter steampunk but I really enjoyed it! The Dark Unwinding duology by Sharon Cameron. I definitely have to read more steampunk in 2016.
 8. Most action-packed/thrilling/unputdownable book of the year?

I listened through 23.5 hours of Winter on audio at record speed! And I'm beginning to sound like a broken record here but I could not put down Illuminae and read it in one sitting and was not expecting that! I also thought The Fixer was really edge-of-your-seat thrilling and I'm excited for The Long Game!
9. Book You Read In 2015 That You Are Most Likely To Re-Read Next Year?
I already want to reread Harry Potter again even though I just reread the series this year. I also want to reread Six of Crows before the sequel next year. I'd also love to read the Lumatere Chronicles again! I also loved the audios of the Lunar Chronicles so much that I want to re-listen again at some point!
10. Favorite cover of a book you read in 2015?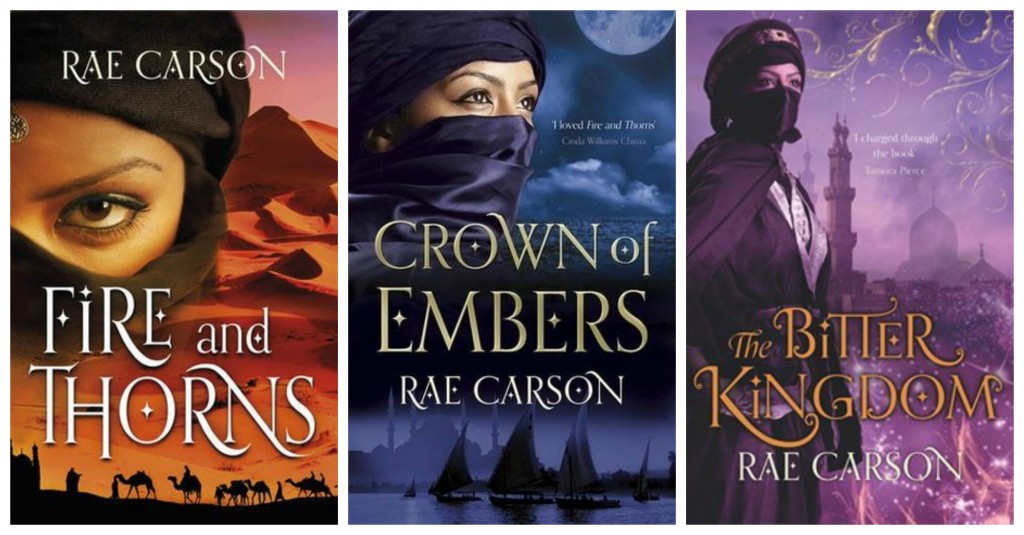 I LOVED the UK covers of A Girl of Fire and Thorns! So pretty. Another love is Six of Crows — it is GORGEOUS. Black edged pages and beautiful cover.
11. Most memorable character of 2015?

Froi from the Lumatere Chronicles. What a FANTASTIC character arc. So complex and layered and one of my favorites ever.
 12. Most beautifully written book read in 2015?
I want to say The Scorpio Races by Maggie Stiefvater. It was just so beautiful and I loved the book so much.
13. Most Thought-Provoking/ Life-Changing Book of 2015?
I'm drawing a blank!
 14. Book you can't believe you waited UNTIL 2015 to finally read?
I got to a lot of series I've been meaning to get to for a long time this year! I'm excited I finally read them. Under the Never Sky series, A Girl of Fire and Thorns series, Graceling and The Sea of Tranquility.
15. Favorite Passage/Quote From A Book You Read In 2015?
Unfortunately passing on this one because I am the worst at keeping track of quotes/passages and while I know I've had faves, I couldn't even begin to tell you which ones.
16.Shortest & Longest Book You Read In 2015?
Longest: It says Harry Potter and the Order of the Phoenix at 870 pages.
Shortest: Serenity: Leaves on the Wind #6 at 28 pages (graphic novel)
How I did this: Went to my read books on Goodreads and sorted by page number and just looked for what I knew I read this year that was the shortest and longest.
 17. Book That Shocked You The Most

(Because of a plot twist, character death, left you hanging with your mouth wide open, etc.)
There was a certain part of Illuminae where I legit felt my jaw drop and I kept going "oh my god, oh my god, wait, WHAT". It was very surprising.
18. OTP OF THE YEAR (you will go down with this ship!)

(OTP = one true pairing if you aren't familiar)
I have to pick two, I'm sorry, I just have to! As far as new releases go, Cress and Thorne (seriously how adorable is Cress and THORNE <333 I chose him as my book boyfriend to feature if that's any indication of how much I love him).
As far as older titles go, Elisa and Hector!! Could not ship them any harder. I'm so happy I finally read that series this year.
19. Favorite Non-Romantic Relationship Of The Year
Cinder and Iko, Finnikin and Froi, ARIA AND ROAR MY GOD I LOVED THESE TWO. Like, seriously, they are the perfect example of how not all relationships between a guy and girl HAS to turn romantic. They were the most amazing friends and I loved their friendship.
20. Favorite Book You Read in 2015 From An Author You've Read Previously
Six of Crows!
21. Best Book You Read In 2015 That You Read Based SOLELY On A Recommendation From Somebody Else/Peer Pressure:
Hmmm, I think The Deal! I hadn't read anything by Elle Kennedy before and I had friends that wouldn't stop raving about Garrett Graham. So of course I had to read it and I loved it!!
22. Newest fictional crush from a book you read in 2015?
Asking me to just choose one is impossible. It just is! Josh Bennett, the Travises, the respective Wallflowers' significant others, Ezra Mason, Garrett Graham, THORNE, Sean Kendrick, Nate Johansson.
23. Best 2015 debut you read?
I really enjoyed An Ember in the Ashes! I was not a fan of the romance aspect but everything else was super intriguing — the world set up, the characters, the action. I'm excited for the sequel!
24. Best Worldbuilding/Most Vivid Setting You Read This Year?
I want to say the Lumatere Chronicles. I loved that world. And I could picture everything so well. Coincidentally, right after I finished binging the series, I went on a hike where as I looked out at the view, thought "this could be the Valley of Phaedra!"
25. Book That Put A Smile On Your Face/Was The Most FUN To Read?
It's a toss up between The Deal and the Lunar Chronicles! I found myself laughing out loud at the things Garrett Graham would say or do. In the Lunar Chronicles, there is SO MUCH amazing humor, it is the actual best. I'd laugh out loud so much while I listened to the series and I can't get over how funny some of these characters are! From Thorne's quips to Iko's statements and antics to Cinder's smart ass retorts — it's all there!
26. Book That Made You Cry Or Nearly Cry in 2015?
So I reread the Harry Potter series this year and cried many a time. <333
27. Hidden Gem Of The Year?
I've got nothing… :/ whaaat
28. Book That Crushed Your Soul?
The Time Traveler's Wife. It doesn't matter that this was my billionth reread. Every. Single. Time.
29. Most Unique Book You Read In 2015?
Illuminae. I mean… I'm trying not to repeat and failing, obviously, but this book was crazy cool! Maps, IM transcripts, video feeds, blood splattered pages?! It's super unique and just plain awesome.
30. Book That Made You The Most Mad (doesn't necessarily mean you didn't like it)?
*cough* ummm I guess I just had a lot of thoughts about this one right here that I already mentioned was the one that disappointed me the most.
1. New favorite book blog you discovered in 2015?
This was rather recent but Lauren at Bookmark Lit! I didn't know Lauren really before this past football season when a bunch of fellow bloggers and general book AND football fans formed a fantasy football league! This was the most fun league ever. I love this group of girls and I'm glad I met Lauren and her blog because of it!
2. Favorite review that you wrote in 2015?
Maybe my review of Winter? It was more recent so I remember it more clearly and I just thought it was interesting how while the previous two books were four star reads for me, I became so in love with the finale and the series still.
3. Best discussion/non-review post you had on your blog?
This one where I ask if you've had a series or book that shaped you/your childhood. I talk about how Harry Potter was my defining series and I really love the post mostly because I felt compelled to write it because I had a lot of strong, emotional and passionate feelings as I reread this year and I simply HAD to share. Check it out if you haven't already, whether you be a hardcore HP fan or a HP newbie (or an HP virgin?!)
4. Best event that you participated in (author signings, festivals, virtual events, memes, etc.)?
I looooved going to the Winter launch party that was a LUNAR BALL. It was so much fun to get all dressed up!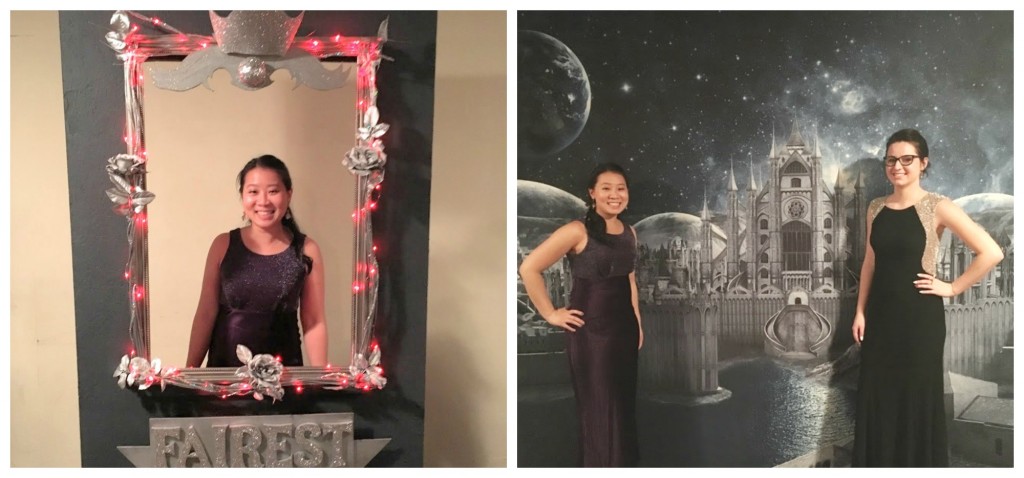 5. Best moment of bookish/blogging life in 2015?
I got even closer to my "book" friends but I shouldn't even call them that because they're just my dear friends and I love them so! <3
6. Most challenging thing about blogging or your reading life this year?
Writing reviews. I get so behind and then the thoughts aren't as fresh in my mind. I want to be better about that this year!
7. Most Popular Post This Year On Your Blog (whether it be by comments or views)?
Ack! I actually really don't keep track.
8. Post You Wished Got A Little More Love?
Ditto as above!
9. Best bookish discover (book related sites, book stores, etc.)?
Audiobooks! I used to think I'd never ever want to listen to them but now I have seen the light! I have one going basically all the time (and actually I wouldn't have made my GR goal without audiobooks!) Overdrive is so convenient for getting audiobooks from the library and I discovered that this year, plus I've used Audible occasionally too! It's changed my book reading life, seriously.
10.  Did you complete any reading challenges or goals that you had set for yourself at the beginning of this year?
Yes! I completed my GR challenge for the first year ever! (123 of 120) I also completed the Flights of Fantasy challenge! (29 of 25) 🙂
1. One Book You Didn't Get To In 2015 But Will Be Your Number 1 Priority in 2016?
I meant to read The Royal We in the summer. And I never got to it despite how excited I was when I got it! It's a #1 priority for sure.
2. Book You Are Most Anticipating For 2016 (non-debut)?
I'm REALLY excited for Traitor Angels by Anne Blankman and I NEED Stars Above by Marissa Meyer! (I need that epilogue!!)
3. 2016 Debut You Are Most Anticipating?
The Crown's Game by Evelyn Skye! The Russian setting sounds fascinating and combined with fantasy? I'm so in!!
 4. Series Ending/A Sequel You Are Most Anticipating in 2016?
Gemina!
5. One Thing You Hope To Accomplish Or Do In Your Reading/Blogging Life In 2016?
Get more of my owned books read! I have so many I've owned and are just sitting on my shelves that I haven't gotten to. When my 2016 challenges post goes up, you'll see that this fits with the Rock My TBR challenge that I'm really excited to do for 2016!
6. A 2016 Release You've Already Read & Recommend To Everyone:
You know. I haven't read any 2016 releases yet! I'm about a quarter of the way into Passenger and enjoying it so far though! 🙂
Related Posts