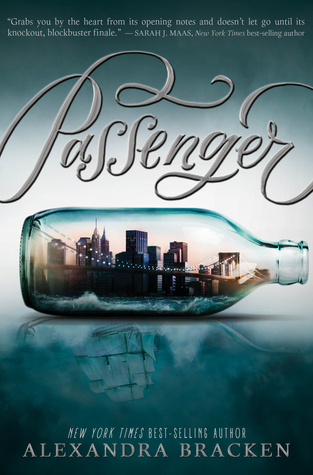 Passenger

by Alexandra Bracken
Published by Disney-Hyperion on January 5th 2016
Genres: Young Adult, Action & Adventure, General, Fantasy & Magic, Love & Romance
Pages: 496
Format: ARC
Source: Borrowed
Buy on Amazon
Goodreads


In one devastating night, violin prodigy Etta Spencer loses everything she knows and loves. Thrust into an unfamiliar world by a stranger with a dangerous agenda, Etta is certain of only one thing: she has traveled not just miles, but years from home. And she's inherited a legacy she knows nothing about from a family whose existence she's never heard of. Until now.
Nicholas Carter is content with his life at sea, free from the Ironwoods-a powerful family in the Colonies-and the servitude he's known at their hands. But with the arrival of an unusual passenger on his ship comes the insistent pull of the past that he can't escape and the family that won't let him go so easily. Now the Ironwoods are searching for a stolen object of untold value, one they believe only Etta, his passenger, can find. In order to protect her, Nick must ensure she brings it back to them-whether she wants to or not. Together, Etta and Nicholas embark on a perilous journey across centuries and continents, piecing together clues left behind by the traveler who will do anything to keep the object out of the Ironwoods' grasp. But as they get closer to the truth of their search, and the deadly game the Ironwoods are playing, treacherous forces threaten to separate Etta not only from Nicholas but from her path home forever.
Why Did I Read?
I'm a big fan of time travel books and so of course, the sound of this one hooked me in!
My Thoughts:
I am all about time travel and historical fiction so Passenger seemed to be the perfect fit for me! For the most part, I really enjoyed this one! It started off really slowly for me though. There's a large segment in the beginning where our main character Etta goes back in time and she really doesn't know what is going on, exactly when in time she is, why she is there or why any of this is happening. It felt like this section dragged and I was just in limbo, waiting for the story to start. It also felt kind of choppy in the beginning.
After that first 100 or so pages though, things do pick up and Etta and Nicholas end up jumping through different passages to different time periods in search of an item. I became much more invested in the story at this point and the action drove the pace much faster and I really liked the scavenger hunt feel. I also really liked seeing all the different locales they visit as well as the different times through history. My only complaint there is that each new place they go to, it would feel a little info dump-y at first. In my opinion. But I still very much liked being placed into all these different times and felt like the places were brought to life.
I liked Etta and Nicholas together but as much as I felt like the plot was slow at first, their attraction to each other seemed way fast to me. And because of that, it took me awhile to actually warm up to the two of them together.
The end is definitely a bit of a cliffhanger so while Passenger definitely had a slow start, I'm eager to find out more and to see what happens! I need to know!
In Short…
Passenger got off to a slow start and while it definitely dragged for a good chunk of the beginning, once the action picked up, I was engrossed in jumping to all these different times and places. I can't wait to see what happens next!
What did you think about Passenger? What are some other time travel favorites of yours?
Related Posts