This book may be unsuitable for people under 17 years of age due to its use of sexual content, drug and alcohol use, and/or violence.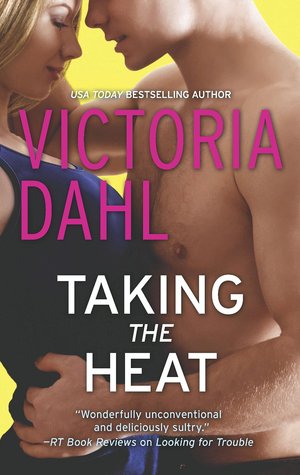 Taking the Heat

by Victoria Dahl
Published by HQN Books on July 28th 2015
Genres: Contemporary, Romance
Pages: 384
Format: eARC
Source: Netgalley
Buy on Amazon
Goodreads


Passion this hot can't be faked...

All revved up for bright lights and steamy nights, writer Veronica Chandler chased her dreams to New York City. When she hit a dead end, reality sent her back home to Jackson Hole, Wyoming. Saving her pride and her new gig--writing a relationship advice column!--requires some faking. No one can know the truth about her big-city flop or her nonexistent sex life. But the town's irresistibly rugged librarian is determined to figure her out...and give her hands-on lessons in every wicked thing she wants to know.

Gabe MacKenzie's heart might be in Wyoming, but secretly his future's tied up in his family's Manhattan legacy. Getting down and dirty with Veronica is supposed to give him a few memorable nights--not complicate his plans. But the thing about heat this scorching is there's just no going back...and it might be too hot for either of them to take.
I received this book for free in exchange for an honest review. This does not affect my opinion of the book or the content of my review.
My Thoughts:
I enjoyed this one! Veronica is a very relatable character. Everyone thinks she has everything together but inside she has a lot of insecurities and concerns and feels like she can't show anyone who the real her is, not even her closest friends. Then she meets Gabe. Gabe is the sexy librarian you wish your library had! He's super sweet, adventurous and loves the outdoors. He rock climbs, volunteers at the fire station and is all around just amazing.
What I really liked here is that Gabe doesn't "fix" Veronica's problems. But he helps her face her issues and helps give her the courage to open up. I loved seeing the two of them together because at one point or another, they both lean on each other and they both need the advice the other dishes. I loved that!
Their chemistry is off the charts, there's no denying that. Every time they're together, they made me smile! I also liked the family aspect as well as seeing Veronica open up with her friendships more. This is the only book I've read by Victoria Dahl so I know there are actually stories of the other girls which I'm now interested in going back to read!
In Short…
Overall, the characters are so relatable and I also loved the friendships and Gabe and Veronica together! It lagged a bit in the middle for me but for the most part, very enjoyable! I would recommend this to any romance lovers out there!
My Rating: 1/2
Related Posts