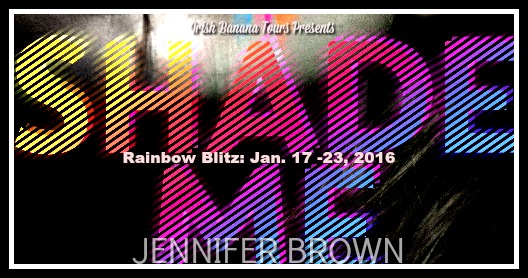 I'm so excited to be a part of the Shade Me Rainbow Blitz tour and spotlight this book! Thanks to Hannah at Irish Banana Tours for hosting this fun blitz! There are seven days and seven bloggers and seven colors. My stop is all about my favorite green things! Don't forget to check out the giveaway at the end for a chance to win a copy of Shade Me and check out the other tour stops!
My obsession with green, more specifically lime green started in high school when I thought "lime green" sounded so much cooler than "green" when asked about a favorite color. Kind of shallow, I know, but give me a break, I was young. 😉 And then, as I became obsessed with football, the Seahawks incorporated a very LIME green in their uniforms, and I knew my obsession with "lime green" was the best decision I'd ever made. Here are some of my favorite green things!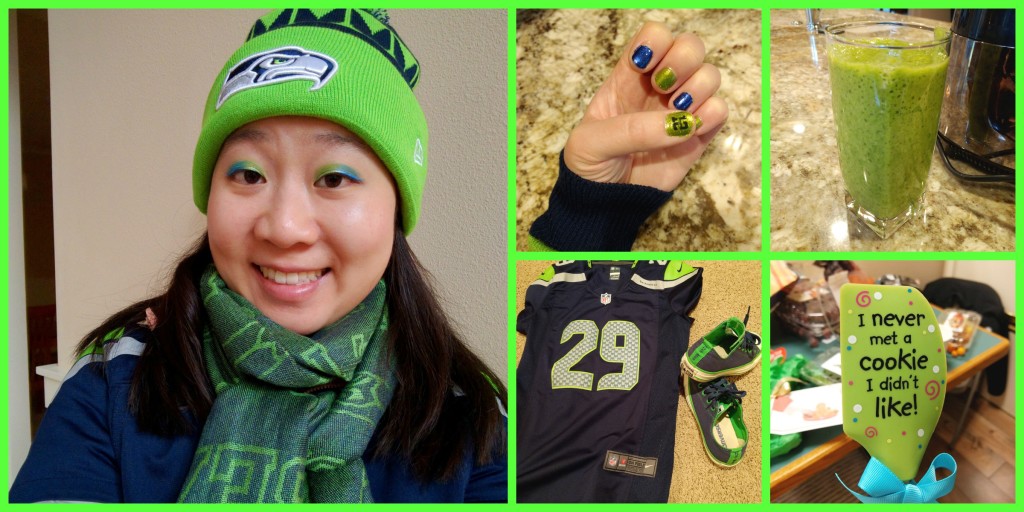 1. Lime green Nyx liquid eye liner. It's an essential part of my game time eye make up ritual! Plus, my hat and new scarf!
2. I actually have multiple shades of lime green nail polish. <3
3. Green smoothies! This is helping me eat healthier and incorporate veggies every day!
4. Okay, healthy doesn't mean I can't have a cookie occasionally and I love this lime green spatula of mine!
5. My trusty jersey is a must have as well as my blue and green Converse kicks!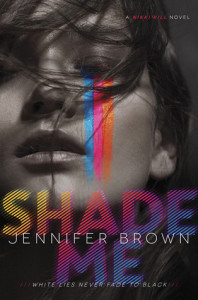 ABOUT SHADE ME:
Nikki Kill does not see the world like everyone else. In her eyes, happiness is pink, sadness is a mixture of brown and green, and lies are gray. Thanks to a rare phenomenon called synesthesia, Nikki's senses overlap, in a way that both comforts and overwhelms her.

Always an outsider, just one 'D' shy of flunking out, Nikki's life is on the fast track to nowhere until the night a mysterious call lights her phone up bright orange—the color of emergencies. It's the local hospital. They need Nikki to identify a Jane Doe who is barely hanging on to life after a horrible attack.

The victim is Peyton Hollis, a popular girl from Nikki's school who Nikki hardly knows. One thing is clear: Someone wants Peyton dead. But why? And why was Nikki's cell the only number in Peyton's phone?

As she tries to decipher the strange kaleidoscope of clues, Nikki finds herself thrust into the dark, glittering world of the ultra-rich Hollis family, and drawn towards Peyton's handsome, never-do-well older brother Dru. While Nikki's colors seem to help her unravel the puzzle, what she can't see is that she may be falling into a trap. The only truth she can be sure of is that death is a deep, pulsing crimson.

LINKS: Goodreads | Amazon | B&N | Indiebound | The Book Depository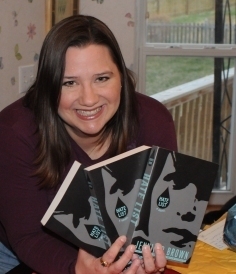 ABOUT JENNIFER BROWN:
Two-time winner of the Erma Bombeck Global Humor Award (2005 & 2006), Jennifer's weekly humor column appeared in The Kansas City Star for over four years, until she gave it up to be a full-time young adult novelist.

Jennifer's debut novel, HATE LIST (Little, Brown Books for Young Readers, 2009) received three starred reviews and was selected as an ALA Best Book for Young Adults, a VOYA "Perfect Ten," and a School Library Journal Best Book of the Year. HATE LIST also won the Michigan Library Association's Thumbs Up! Award, the Louisiana Teen Readers Choice award, the 2012 Oklahoma Sequoyah Book Award, was an honorable mention for the 2011 Arkansas Teen Book Award, is a YALSA 2012 Popular Paperback, received spots on the Texas Library Association's Taysha's high school reading list as well as the Missouri Library Association's Missouri Gateway Awards list, and has been chosen to represent the state of Missouri in the 2012 National Book Festival in Washington, DC. Jennifer's second novel, BITTER END, (Little, Brown Books for Young Readers, 2011) received starred reviews from Publishers Weekly and VOYA and is listed on the YALSA 2012 Best Fiction for Young Adults list and is a 2012 Taysha's high school reading list pick as well.

Jennifer writes and lives in the Kansas City, Missouri area, with her husband and three children.
Tour Schedule:
1/17:  That Artsy Reader Girl – Red
1/18:  Lisa Loves Lit – Orange
1/19:  Avid Reader – Yellow
1/20:  Book Scents – Green
1/21:  Andi's ABCs – Blue
1/22:  Fiery Reads – Indigo
1/23:  Such A Novel Idea – Violet
Related Posts