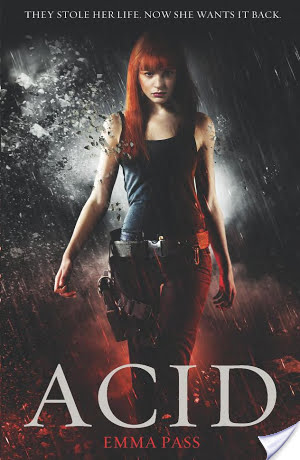 ACID

by Emma Pass
Published by Random House on April 25th 2013
Genres: Young Adult, Love & Romance, Science Fiction
Pages: 448
Format: Audiobook
Length: 10 hours and 50 minutes
Source: Library
Buy on Amazon
Goodreads


2113. In Jenna Strong's world, ACID – the most brutal, controlling police force in history – rule supreme. No throwaway comment or muttered dissent goes unnoticed – or unpunished. And it was ACID agents who locked Jenna away for life, for a bloody crime she struggles to remember.
The only female inmate in a violent high-security prison, Jenna has learned to survive by any means necessary. And when a mysterious rebel group breaks her out, she must use her strength, speed and skill to stay one step ahead of ACID – and to uncover the truth about what really happened on that dark night two years ago.
Fiona Hardingham narrates this one and she is like my all time favorite narrator. That was probably one of the best parts of this listen for me. Acid is about a girl named Jenna Strong, who has just been broken out of prison by a group she knows nothing about, and now she is on the run from ACID – a crazy police force that basically runs the city. I felt like this one had a lot of potential. It's an interesting dystopian set up but I felt like the world building was a little shaky. I got a little confused if ACID was the controlling force in London and nowhere else or what. Details come later but I still remember being iffy about details about the world.
I liked Jenna to begin with and it started off action packed and interesting but then I felt like the plot completely stalled, floundered and then never found its direction again. About halfway through, I sped up the audio a lot because I started getting frustrated and bored. View Spoiler »There's also a part where Jenna gets her memory wiped and she lives a few days in the life of the memory wiped girl and it dragged on for WAY too long. We obviously know she's still Jenna and will get her memory back so this period where she lives this other life just seemed boring and pointless. « Hide Spoiler Plus, the romance aspect I was definitely not on board with. I didn't like it. I didn't ship it. I got annoyed by it. Sigh.
In Short…
It had the potential to be a really interesting dystopian but unfortunately I felt like the plot derailed. I got bored and disinterested which is a bummer because it started off really strong.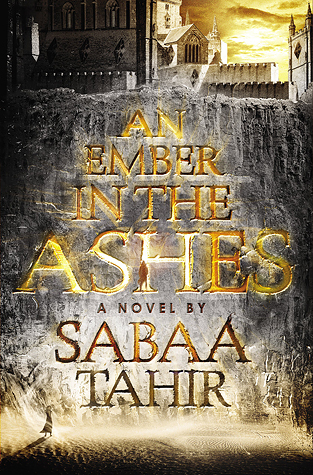 An Ember in the Ashes

by Sabaa Tahir
Series: An Ember in the Ashes #1
Published by Razorbill on April 28th 2015
Genres: Fantasy, Young Adult
Pages: 446
Format: Audiobook
Narrator: Steve West
Length: 15 hours and 22 minutes
Source: Library
Buy on Amazon
Goodreads


Laia is a slave.
Elias is a soldier.
Neither is free.
Under the Martial Empire, defiance is met with death. Those who do not vow their blood and bodies to the Emperor risk the execution of their loved ones and the destruction of all they hold dear.
It is in this brutal world, inspired by ancient Rome, that Laia lives with her grandparents and older brother. The family ekes out an existence in the Empire's impoverished backstreets. They do not challenge the Empire. They've seen what happens to those who do.
But when Laia's brother is arrested for treason, Laia is forced to make a decision. In exchange for help from rebels who promise to rescue her brother, she will risk her life to spy for them from within the Empire's greatest military academy.
There, Laia meets Elias, the school's finest soldier—and secretly, its most unwilling. Elias wants only to be free of the tyranny he's being trained to enforce. He and Laia will soon realize that their destinies are intertwined—and that their choices will change the fate of the Empire itself.
I love when Steve West and Fiona Hardingham narrate books together! Best ever.
In Ember in the Ashes, we get introduced to this really cool fantasy world. I was fascinated by everything and I loved the ancient Rome feel combined with all the fantasy aspects. Laia is a Scholar in this empire (Scholars basically mean nothing and are ruled by the Martials) whereas Elias is in the academy where they are trained to become Masks — Masks are like elite soldiers that keep the people in the empire in check. They are from completely opposite places. They only meet because Laia poses as a slave at the Academy in order to spy for the Resistance to help free her brother (who has been captured).
I loved the world building, I loved the comradrie that we see at the Academy and the book is really intense and I was riveted. I wasn't expecting how brutal some aspects could be and that was hard to listen to but overall, very invested in the story and the characters. I could almost see this play out like a movie. It'd definitely make for good movie material!
My issue was the romance aspect. There's like a love… square going on. Laia has this other Resistance guy, Keenan that is there, and Elias has his best friend Helene. I actually really liked Helene and liked their dynamic and to be honest, I like him with Helene more. Keenan as a love interest seems thrown in like… well, Elias has another possible love interest, let's give Laia one too. I just felt like it was so unnecessary to have this love square! If I'm supposed to be shipping Laia and Elias, let's develop that. Let's not have them each get pulled in another direction because it didn't feel like it added anything to the book. I can understand Helene as an interest but Keenan was just super unnecessary.
All that to say, I still really enjoyed the story and this fantasy world and I'm excited to see what happens in the sequel!
In Short…
Very cool ancient Rome + fantasy world, beautiful writing and exciting plot. The romance square aspect left something to be desired but I think we should have that behind us as we move into the sequel — which I'm very excited for and eager to continue!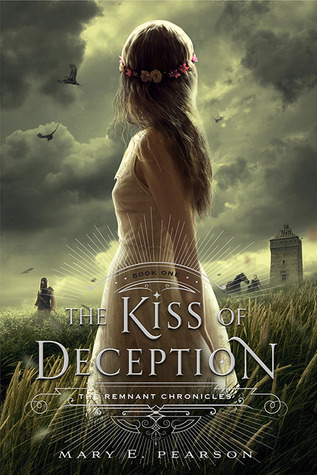 The Kiss of Deception (The Remnant Chronicles, #1)

by Mary E. Pearson
Published by Henry Holt and Co. (BYR) on July 8th 2014
Genres: Fantasy, Young Adult
Pages: 489
Format: Audiobook
Length: 13 hours and 31 minutes
Source: Gifted
Buy on Amazon
Goodreads


A princess must find her place in a reborn world.
She flees on her wedding day.
She steals ancient documents from the Chancellor's secret collection.
She is pursued by bounty hunters sent by her own father.
She is Princess Lia, seventeen, First Daughter of the House of Morrighan.
The Kingdom of Morrighan is steeped in tradition and the stories of a bygone world, but some traditions Lia can't abide. Like having to marry someone she's never met to secure a political alliance.
Fed up and ready for a new life, Lia flees to a distant village on the morning of her wedding. She settles in among the common folk, intrigued when two mysterious and handsome strangers arrive—and unaware that one is the jilted prince and the other an assassin sent to kill her. Deceptions swirl and Lia finds herself on the brink of unlocking perilous secrets—secrets that may unravel her world—even as she feels herself falling in love.
This makes me sad because I totally thought I was going to LOVE this series. It has all the makings of my favorite things. Fantasy. An assassin! A prince! A runaway princess! Like, hell yes, this will be the best ever! Sadly, it turned out mediocre for me.
Firstly, the set up of the book is really intriguing. There are chapters titled "the assassin" and "the prince" as well as "Rafe" and "Kaden" and you don't know who is who. I actually really enjoyed trying to look at the details and figure out which one was which. Anyway, the book started off strong for me. Lia runs away from an arranged marriage and then you have the jilted prince come after her (because she did what he wasn't brave enough to do) and an assassin to kill her before that marriage alliance can be made. However, once Lia settles at this remote village and works as a tavern maid, I started to get bored. Because nothing happens. For a really long time. Lia works at the tavern and talks to Rafe and Kaden. I just felt like okay… what's next? I was so bored! It isn't until the end of the book that something actually happens and gets interesting and I think, okay, great, it's picking up! But it doesn't. It drags again. Until the ending which was pretty good.
I guess even though I liked the characters enough, I just felt like everything dragged. There felt like huge lulls in the book. And I also felt like the "fantasy" aspect of this series is very low. I was just disappointed, I guess. I expected there to be so much more.
In Short…
While this had all the ingredients for the perfect book for me, it fell short. I felt like parts really dragged and the plot was just so slow moving. The ending definitely ended things with a bang though, so I'm intrigued enough to continue the series. I'm also definitely in the minority when it comes to my feelings about this book — I know many people who adore this series! So I would still recommend it because you may be one of those who loved it!
Have you read these books? What were your thoughts on them?
Related Posts