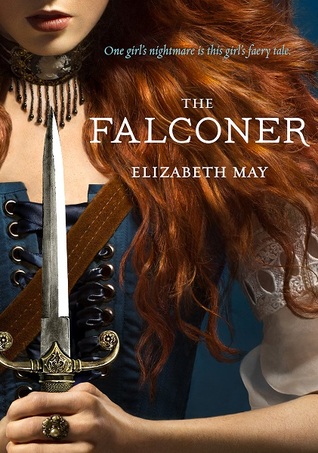 The Falconer

by Elizabeth May
Series: The Falconer #1
Published by Chronicle Books on May 6th 2014
Genres: Action & Adventure, Fantasy, Historical, Young Adult
Pages: 378
Format: ARC
Source: Gifted
Buy on Amazon
Goodreads


One girl's nightmare is this girl's faery tale
She's a stunner.Edinburgh, 1844. Eighteen-year-old Lady Aileana Kameron, the only daughter of the Marquess of Douglas, has everything a girl could dream of: brains, charm, wealth, a title—and drop-dead beauty.
She's a liar.But Aileana only looks the part of an aristocratic young lady. she's leading a double life: She has a rare ability to sense the sìthíchean—the faery race obsessed with slaughtering humans—and, with the aid of a mysterious mentor, has spent the year since her mother died learning how to kill them.
She's a murderer.Now Aileana is dedicated to slaying the fae before they take innocent lives. With her knack for inventing ingenious tools and weapons—from flying machines to detonators to lightning pistols—ruthless Aileana has one goal: Destroy the faery who destroyed her mother.
She's a Falconer.The last in a line of female warriors born with a gift for hunting and killing the fae, Aileana is the sole hope of preventing a powerful faery population from massacring all of humanity. Suddenly, her quest is a lot more complicated. She still longs to avenge her mother's murder—but she'll have to save the world first.
The first volume of a trilogy from an exciting new voice in young adult fantasy, this electrifying thriller combines romance and action, steampunk technology and Scottish lore in a deliciously addictive read.
Why Did I Read?
Okay so when I first heard about The Falconer coming out a few years ago, I was so excited and wouldn't stop talking about it. So much so that Betty was super nice and snagged a copy for me when she was at ALAMW that year (thank you!) And guess what. I JUST now read it. Major fail on my part!
My Thoughts:
I have finally found a new series to fall in love with! So Aileana Kameron is the daughter of the Marquess of Douglas — she runs in the upper class circles and she looks every bit the part of a proper lady. Except that's not truly who she is anymore, not after she witnessed a faery murder her mother. Every since that night she is driven to kill as many faeries as she can, with the ultimate goal of killing the one who took away her mother.
So firstly, I loved seeing the dichotomy of her trying to act her part in society, with all the mannerisms late 1800 Scottish etiquette calls for, compared to her in full kill mode. She's pretty vicious. She was trained to kill the faeries by a faery, Kiaran, and though he is every bit as much a killer as she is, he cannot kill humans. So they hunt together and he trains her. I loved these scenes because Aileana emphasizes the dangers of fae and you can see all the horrible monstrous things Kiaran has done before but you also will glimpse other facets of him. He's a super complex character and I had so many questions about him but I think his development was spot on perfect.
Aileana also has a pixie faery friend — in this world (and I don't know, maybe others? I am not all knowledgeable about pixies? Haha) pixies have a proclivity for honey and love sewing and well, stealing. Derrick is her pixie friend and oh my gosh, he is hilarious! He's super loyal to Aileana and besides loving their friendship, I just love his personality! He has some of my favorite lines in the book and brings such fantastic humor to the book!
Another reason I loved this book was the steampunk aspect! Aileana builds a lot of devices and it was not only fun to see her put them together but really cool to see them in action! It was all very imaginative and riveting and I loved it.
In short…
The plot is action packed. The world of faeries is VERY complex and I adore how May has created this lush, beautiful, scary world. I loved the historical fiction feel of Edinburgh in the 1800s plus steampunk PLUS faeries. You really, really don't want to miss out on such an amazing world and characters!
My Rating: 1/2
Have you read this yet? I feel like this is an underrated series! What other steampunk or fae books have you read and enjoyed?
Related Posts