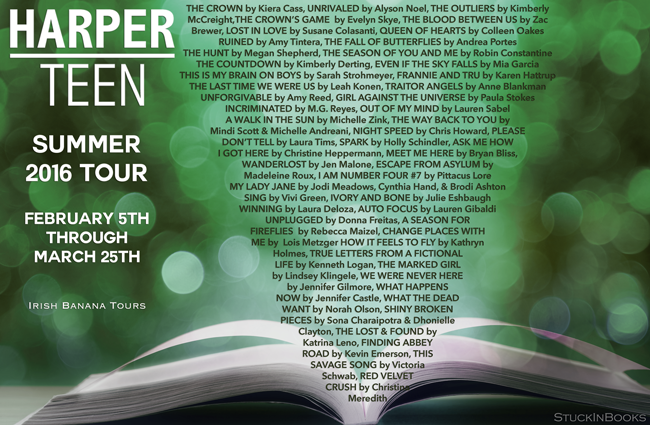 Welcome to my stop on the HARPER Summer Tour! I'm so excited to be joining in to spotlight one of the many books Harper Teen has in store this summer! Don't forget there are some epic giveaways to join in!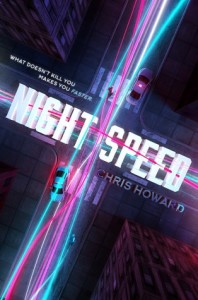 Only those young enough can survive the pulse-pounding rush of tetra, a dangerous and addictive new drug that fuels a nine-minute burst of superhuman strength and speed. Alana West has been trained to use the drug so she can pursue the young criminals who abuse its power—criminals like the breakneck who nearly killed her kid brother.

On tetra, Alana is unstoppable. The rush makes her an explosive blur as she surges through New York City, battling to bring down breaknecks before they leave more people dead or injured in their wake. But with the clock ticking down to her eighteenth birthday, Alana will soon be too old for the rush…when just one more dose will prove deadly.

Supported only by her strong and steady handler, Tucker, Alana goes undercover, infiltrating an elite gang of breaknecks to stop the supply of their drug. But when Alana gets trapped on the wrong side of the law, she learns the breaknecks are not quite what they seem—especially Ethan, the artistic boy whose bottomless brown eyes seem to see the truth inside her. With her own dependency on tetra increasing, Alana must decide where her loyalties lie before the rush ends. Forever.
About the Author:
Chris Howard was awarded a Publishers Weekly "Flying Start" in Fall 2012, following the release of his debut novel, ROOTLESS (Scholastic Press), which has been published in seven different languages to date. The follow-up, THE RIFT, came out on ARBOR DAY, April 25, 2014, and the final book of this fantastical sci-fi trilogy will be out in early 2016, followed by a brand new story, NIGHT SPEED (Katherine Tegen Books, HarperCollins) which is out on May 3rd, 2016. Before he wrote stories, he wrote songs, studied natural resources management, worked for the National Park Service, and spent eight years leading wilderness adventure trips for high school students. He was born and raised in the UK, but now lives in Denver, CO, with his wife. They enjoy mountains, music, and mugs of good coffee.

Chris is represented by Laura Rennert of the Andrea Brown Literary Agency, as well as Lucy Stille at APA for film/TV rights, and Taryn Fagerness for print rights outside the US.
Facebook Chat!
Make sure to Like the HARPER SUMMER 2016 TOUR page! There will be a chat coming up in March to chat with authors and join in giveaways!
Giveaways!
#1 – A HARPER TEEN SUMMER 2016 CATALOG PRIZEPACK OF 45 BOOKS*
*Titles not included: The Crown by Kiera Cass, Escape from Asylum by Madeline Roux, Sing by Vivi Greene, The Countdown by Kimberly Derting, & United As One by Pittacus Lore
In addition to the one massive prize winner, we will also have 4 winners who will be able to select 3 titles they want from the Summer 2016 Catalog. US Only
#2 – 5 FINISHED COPIES FROM THE HARPER TEEN WINTER 2016 CATALOG
5 books are: Front Lines by Michael Grant, Revenge & the Wild by Michelle Modesto, The Lifeboat Clique by Kathy Parks, Symptoms of Being Human by Jeff Garvin, & The Girl from Everywhere by Heidi Heilig. US Only
How to enter:
Collect the daily word from each blog stop during the Harper Summer 2016 Tour (a total of 50). Once you've collected them all, email the complete saying to: HarperTeenTour@gmail.com
Prize Rules:
1.) Winner must have a valid US mailing address to receive the prize
2.) Winner must be over 13
3.) Only one (1) entry per person for Prize #2 – duplicates will be deleted.
4.) Only a completed phrase will be accepted as an entry – do not email
each word/phrase daily. Wait until you have the complete saying and then email in.
5.) All email submissions must be received by 11:59 PM EST 3/31/2016.
6.) Winners will be selected 4/1/2016 and will have 48 hours to claim their prize before another is selected.
7.) Participating blogs and bloggers are not responsible for unsent, damaged, and/or stolen prizes offered by the publisher.
#3 – LEAP YEAR GIVEAWAY – 4 OF THE MOST ANTICIPATED ARCS FROM SUMMER 2016
Books are: My Lady Jane, Ivory & Bone, The Crown's Game and This Savage Song. US Only
How to enter:
This giveaway will only run on February 29, 2016. The rafflecopter form will work for 24 hours and a winner will be chosen on March 1, 2016.
Check out the rest of the blogs!



Related Posts